Grand Canyon
A natural wonder
The Grand Canyon National Park, located in Northern Arizona, is often named as one of the great natural wonders of the world and a must-see on any list of places to visit around the world in one's lifetime.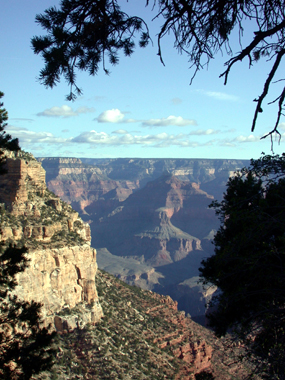 The national park was established in 1919.
The canyon is millions of years old, of course, and stretches for 277 miles. It is, on average, 10 miles wide. It is more than 5,000 feet from the rim at 7,000 feet to the bottom of the canyon, the site of the Colorado River.
To understand the park and its features, as well as the many activities for visitors, we invite you to read the feature articles and multimedia about the Grand Canyon National Park that were prepared by our writers and photographers on our two trips to the park.
We have highlighted mule rides into the canyon and along the rim, photography, hiking and canyon trails, nature, favorite spots such as the classic El Tovar Hotel in the Village, Hermit's Rest on the west end of the South Rim trail, and Desert View at the easternmost South Rim, and more. Simply click on the links below.
We hope you enjoy our work.
Latest Stories