South Florida
Everglades National Park, Biscayne National Park, the Dry Tortugas National Park, and the Big Cypress National Preserve are South Florida's natural treasures.
| | |
| --- | --- |
| | A pair of alligators rest in the sun at Shark Valley in Everglades National Park (Photos by Bruce Garrison). |
Both Everglades National Park and Biscayne National Park have been listed among the nation's most endangered areas by experts. For the last six years, including spring 2004, the Everglades has been listed among the nation's ten most threatened national parks by the National Parks Convervation Association. The reason? Funding questions and management. In 2004, Biscayne National Park was placed on the list because of overfishing and water pollution. The Big Cypress National Preserve, located to the north of the Everglades, has also been listed in recent years as one of the nation's most endangered areas.
In this project, our writers have visited the parks of South Florida. Over the past several years, we have headed to the Everglades, to Biscayne Bay, to the Big Cypress, and to Fort Jefferson in the Dry Tortugas to describe the activities for visitors and to tell other stories about these special places. We hope to add new content to the site in 2004.
Biscayne Bay from Convoy Point Visitors
Center at Biscayne National Park.
We invite you to take a look at our work. You will learn something about our parks if you do. We offer feature articles about the unique activities, the special features, the wildlife, and the amazing people of these parks. To see the feature articles prepared by our writers on this project, simply click on the links to the left.
Enjoy …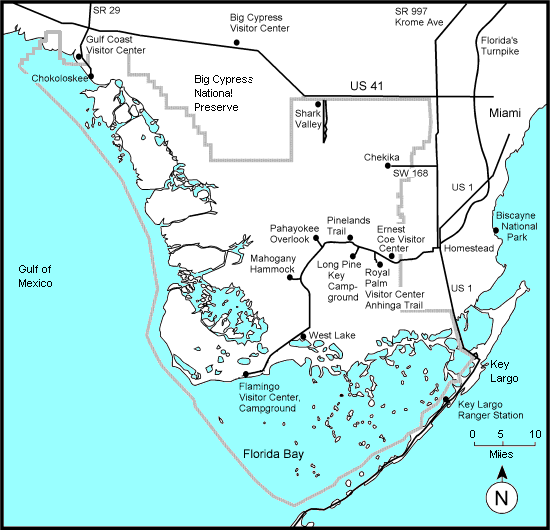 South Florida's parks and preserve (Map courtesy of the National Park Service).
Latest Stories