West
The American West gives our nation a rich variety of people, places, and history. From our border with Mexico in the southwest to our connection with Canada in the Northwest, the region encompasses an large, but amazing part of the United States.
The western portion of our work on the Our National Parks Project focuses on California, Utah, and Nevada. We hope to add more visits and stories from the West in the months ahead.
| | |
| --- | --- |
| | Alcatraz Island, part of Golden Gate National Recreation Area (Photo by Jessy Schuster). Below, eastern Santa Cruz Island in the Channel Islands National Park (Staff photo). |
Our stops include the City of San Francisco and its numerous national parks and recreation areas. We also visit one of America's first national parks, Yosemite National Park, and we head to Las Vegas and Boulder City areas of Nevada to visit Hoover Dam and Lake Mead National Recreation Area. We have recently added work from our journeys to Channel Islands National Park and to the Santa Monica Mountains National Recreation Area in Southern California. We have also recently taken trips to Zion National Park and Bryce Canyon National Park in Southern Utah.
Each of these locations are exciting to visitors for different reasons. The beauty of the Golden Gate Bridge, one of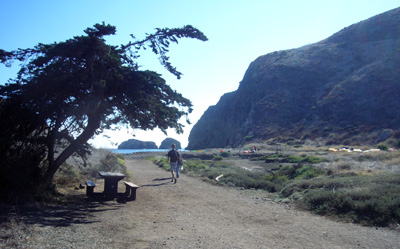 the icons of the West, is breathtaking to all visitors and is in the middle of much of the Golden Gate National Recreation Area of San Francisco Bay.
Yosemite, known worldwide for its stunning views and Giant Sequoia trees, should not be missed.
In the heart of the Sierra Nevada mountains, the park offers glaciers, rivers, and rock formations of all sizes and shapes.
The Channel Islands and Santa Monica Mountains near Los Angeles offer remarkable experiences with their diversity in wildlife, history, and visitor activities.
And the dramatically different desert region of Las Vegas and Boulder City in Nevada gives us Lake Mead National Recreation Area and the Boulder Dam along the famed Colorado River as it heads toward the Pacific Ocean.
Not far from the urban area of Las Vegas, the canyons and mountains of Zion National Park and Bryce Canyon National Park beckon with their many scenic vistas and outdoors experiences.
Join us as we visit these places and explore them for you….
| | |
| --- | --- |
| A tour group learns about Boulder Dam, also known as Hoover Dam, at Lake Mead National Recreation Area near Boulder city, Nevada (Photo by Diana Offutt). | |
Latest Stories