Pelican Island NWR
Pelicans everywhere!
Pelican Island National Wildlife Refuge is located in Indian River County, Fla., and is under supervision of the U.S. Fish and Wildlife Service. The site was created in 1903 as the nation's first national wildlife refuge. The area was so designated to protect its rich wildlife, including a rookery on Pelican Island.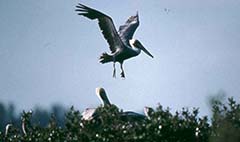 The wildlife refuge is more than 5,400 acres and encompasses marsh and lagoon habitat for migratory birds. Visitors may see endangered wood stork and more than 130 other species of water birds and other types of birds in the refuge. Needless to say, it is a bird-watcher's paradise.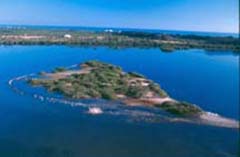 Our work at Pelican Island focuses on the past century's history and activities at this national wildlife refuge. You will find feature stories about the wildlife, refuge history, and many of the outdoor activities at Pelican Island. We have photographs and multimedia to accompany the stories.
We invite you to take a look. And we hope you will enjoy our visit to Pelican Island National Wildlife Refuge and that we provide some helpful ideas for your own visit to the park. We also thank the U.S. Fish & Wildlife Service for use of some of its photographs on our pages.
Latest Stories