Philadelphia Metro
Independence city
Philadelphia is the birthplace of American Independence. With Independence Hall, where the Declaration of Independence was signed in 1776, the nearby Liberty Bell, and historical homes, churches, monuments, and other sites, there is much to see and learn about American history in this city.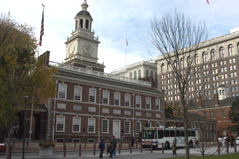 The center of the American story in Philadelphia is Independence Hall and the Independence Mall. Nearby visitors will find the Liberty Bell, the new National Constitution Center, the Gloria Dei Church, and the Edgar Allan Poe House. A bit further out of the center of the city is the Deshler-Morris House, America's oldest remaining executive residence.
Visitors to the parks and historic sites of Philadelphia will certainly leave with a deeper knowledge and understanding of the foundations of our nation and the steps taken toward independence and the birth of a new nation in the 1770s and 1780s.
Latest Stories