7,000 feet above the Canyon on a mule
I hope you will not have … anything … to mar the wonderful grandeur, the sublimity, the great loneliness and beauty of the canyon. Leave it as it is. You cannot improve on it. The ages have been at work on it, and man can only mar it."
—Teddy Roosevelt
GRAND CANYON VILLAGE, Ariz.—I looked out over the 18-mile wide crevice God had constructed and could see where His hands molded the flesh of each stone. There were patterns like doilies and layers of ancient rock stacked like a delicate Neapolitan pastry.
Light broke through heaven and rained down on the walls of the canyon, the Colorado River secretly streamed along below. The air was brisk and for a moment all sound broke away. All I could do was look beyond myself in awe and with graciousness for the blessing of standing above God's work of art.
It's not often you get to say you went on a class field trip to Grand Canyon National Park. As a junior journalism major, I wanted to explore as much of this natural wonder as I could and find a bit of travel time for myself.
In fulfilling that goal, I found myself signing off on an insurance waiver and swiping a credit card worry free, to spend half of my Friday sitting atop a large mule looking out at the view from the South Rim.
Let it be known I had done this once before except it was up the side of Santorini, Greece and I'm pretty sure I perched on a much smaller donkey.
The veterans at the front desk of the Bright Angel Lodge recited their standard rules, regulations and warnings to me, as if it were ritualistic at this point. A part of protocol, they took my weight since it is required that every three-hour rider is below 225 pounds while fully dressed. Other qualifications, as listed on the official website, include a height of at least 4-feet-7, good health and no fear of heights or large animals.
Before I could change my mind, I was hurrying to the shuttle bus with nothing but two layers of sweatshirts, a baseball hat, a Grand Canyon complimentary canteen, my camera and cellphone, which I knew would lose all service eventually.
| | | |
| --- | --- | --- |
| At right, the mules we would soon be riding, lined up along a fence at the ranch. Lining them up side by side prevents them from kicking each other. Below, a view over the edge of the South Rim at our first stop. From there you can see the red and white switchbacks of the Kaibab Trail (Photos by Gianna Nolte). | | |
Five miles east of the historic Grand Canyon Village, the shuttle dropped all passengers off at a small ranch with a couple portable toilets, a barn and an extensive corral.
There, lined up against the fence, heads hanging over the rail were a line of mules. As we clustered closer to the mules, wrangler Jewell Case debriefed us on details of the ride and introduced us to our personal wrangler and guide, Darby Kelly.
Originally from Colorado, Kelly made it seem as though she had been riding mules and horses since she could walk. She was already saddled on a mule and together the unit glided forward toward our group.
After a quick intro, Kelly dove right into a lesson about how to appropriately and forcefully use a whip, which they referred to as a "motivator." She reassured us that the "motivator" wouldn't hurt the animals, but rather wake them up a bit if they were getting lazy on the trail.
After, she re-informed us that cell phone use is strictly limited to stopping points only. In addition, Kelly said she'd continuously nag us like a mom to hydrate with water along the trail because 7,000 feet above sea level isn't something to mess around with.
Now it was time to be paired up with our respective mules. At a mere 5-foot-2, I absolutely needed a boost. Even with the extra push, I still clumsily slide into my saddle, feeling like a little girl on top of an elephant.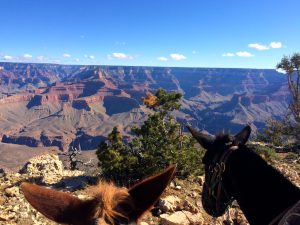 Before I had time to process much of anything, we were off. We swiftly crossed a main road and were into the woods. Light was dancing between holes in the trees and a cloud of dust was spinning around us.
Kelly informed us that some of our three-hour trip would be in the forest and the majority would be near the edge of the rim.
For any nervous, first-timers, the first 15 minutes weaving through trees is a nice way to acclimate.
Along the South Rim, there were stopping points when Kelly shared riddles, stories and facts about the canyon with us. You knew we were leaving the woods when blue sky started coming into focus.
Once we were on the actual South Rim trail, I knew why they said to opt-out of the trip for fear of heights. At 7,000 feet above sea level, it was definitely a long way down looking over the edge of the rim.
At our first stop Kelly had us line up, side-by-side facing out towards the canyon.
Apparently, mules tend to kick each other and this line formation prevented them from accidentally hitting a person.
Once we were in unison, Kelly paused a minute so we could take in the canyon. Colors were flooded the landscape and the area that nature had dug out went on forever.
Once we faded back into reality, she pointed out the South Kaibab Trail with its red and white switchbacks. She also explained the history of the trail and, more specifically, how the red Mormon Flats came to be.
"They [Mormons] lived on that butte [an isolated hill with steep sides and a flat top] for nineteen months," said Kelly. "They went to school there. They had church there. They did absolutely everything for 19 months on that butte."
| | | |
| --- | --- | --- |
| Some of the riders prepping for a family photo op. Wrangler Darby is attempting to get the mules in a straight line so, they don't kick each other … or the riders. | | |
Little snapshots of the canyon were exposed to our group that morning. We learned that most of the trees in the forest were ponderosas and you could tell if they were more than 300 years old because the bark turns a pink color and smells like vanilla. The trees that had been struck by lightning were the ones that were stripped of their bark and coiled into a twisted, contorted position. If the trees were black, that indicated a fire.
We also learned of how Native Americans living in the woods used juniper berries and trees.
"The bark of the tree was used to make diapers," said Kelly. "The dried out berries were used to make laxatives and bracelet beads, in order to keep bad omens away. Juniper berries are also used to make gin, for those of you gin drinkers in the group," she joked.
When we came to our last stop in a dirt roundabout a few yards from the rim, Darby directed her attention to the mules.
| | | |
| --- | --- | --- |
| | | On the paths through the woods, many of the trees had been destroyed by lightning (twisted trees) or fires (blackened trees). |
"These are the retired mules that used to travel down to Phantom Ranch overnight. Most of them are 20 years or older."
For 20 years of hard work and rocky terrain, I'd say the mules were holding up pretty well. And, Darby was impressed and thankful for them as well.
"A mule is not a donkey," she continued. "A mule is the offspring of a horse and a donkey."
To explain all the terminology, the parents are a male donkey called a jack and a female horse, a mare. If the gender roles are reversed and the horse is a male stallion and the female is a donkey called a jenny, the offspring is actually called a hinny, not a mule. Because of the odd number of chromosomes in a mule, they are extremely unlikely to reproduce successfully and are almost sterile.
| | | |
| --- | --- | --- |
| Darby noticed the greek Alpha Delta Pi letters on my shirt and told me that she was in Tri Delta at her school. | | |
"There have been few cases in the world when a mule has reproduced. And, for natives in those countries, they see it as an omen rather than good luck. I would think it'd be good luck."
Kelly closed with a thank you to our group and led us back to the main trail.
On our venture back to the ranch, Kelly asked that we don't try to dismount on our own because people usually get caught in the tapaderos.
"As entertaining as it is to watch it happen," she chuckled. "We don't like it."
I took one last look over the canyon and heard the wind whistling past the walls. The sun was shifting in the sky, altering the patterns and the shading of the rocks. I breathed a sigh filled with gratitude.
This was exactly the adventure I needed.
| | | |
| --- | --- | --- |
| My personal shot at the edge of the South Rim. | | |
RIDE GUIDELINES

Qualifications
Weigh no more than 225 pounds, fully clothed
Four feet, seven inches (at least)
Speak and understand fluent English
Good physical condition
Not pregnant
Not afraid of heights or large animals
Things to Know

Check in at least one hour before the ride departs
Schedule your ride in advance. South Rim rides can be booked 13 months ahead of time.
To make last minute plans, see the Bright Angel Lodge front desk to be added to a wait list. The wait list rarely guarantees you a spot, but cancellations do occur.
What to Wear & Bring

One camera, compact video camera or binoculars per rider. They must be on a strap or string around your neck
Gloves recommended from October to May
Layered clothing. The rides start off cold in the early morning and will warm up as the ride carries on.
Sunglasses and sun protection
Reservations

Contact: 303-297-2757 or http://www.grandcanyonlodges.com
3-hour rides are $135.08 with a souvenir water bottle included.
From March 15 through Nov. 30 rides departs at 8 a.m. and 12 p.m.
From Dec. 1 through March 14 ride departs at 9 a.m.