U.S. Virgin Islands
A stunning island getaway
The U.S. Virgin Islands National Park offers many surprises.
Visitors will find the extraordinary Caribbean island scenery to be memorable. From the deep forest greens of the trails to the many shades of blue in the waters along the secluded white-sand beaches, the park offers one photo opportunity after another.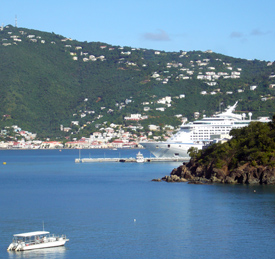 But it is not all scenery. The park, which is located on several of the islands that form the U.S. Virgin Islands, is mostly situated on St. John Island. On St. John, visitors will discover a wonderful community known as Cruz Bay, old-style Caribbean culture, and centuries of history of the groups of people who have called the region their home.
Visitors will discover the stunning beauty of the park in all directions, regardless of whether they walk, swim, dive, fly, boat, sail, or drive around the 7,000-plus acre park.
With our stories and photographs in this section, we give you a diverse close-up look at this tropical national park— from the nearby gateway community of Cruz Bay to St. John's forests and vegetation to the coral reef to the hiking trails, and diving, kayaking, and parasailing adventures.
Latest Stories