ATVs offer up-close views of Kaibab Forest
TUSAYAN, Ariz.— Two of the most popular complaints about going on guided tours are that tourists do not get their own seat and that they miss a lot of the sites because the tour guide is talking too fast.
But, at the end of an all-terrain vehicle tour with Grand Canyon ATV Adventures, the riders did not share those thoughts, or their seats, and enjoyed seeing all the sites obstruction-free.
The Kaibab National Forest is known for its ponderosa pine trees and abundant wildlife such as elk, deer and bobcats, all of which may make an appearance on your next tour.
Known as the "land of many uses," the Kaibab Forest allows hunting and fishing, as well as hiking and biking. Kaibab is located about a 10-minute drive from the Grand Canyon National Park.
The one-and-a-half-hour trip guides you through some of the brown-and-green forest's wooded areas.
Since it is a guided tour, riders are given helmets equipped with built-in headphones where they can listen to every word of the detailed live narration about the history, wildlife, geology and other facts about the forest, without interruptions.
| | |
| --- | --- |
| | Canyon cactus flowers (Photo by Manuela Picq). |
The ATVs have automatic transmissions, so they promise a smooth and easy ride; just ask any of the 80 percent of riders who have never ridden one before taking the tour.
"The ride was surprisingly smooth and a lot of fun," said first-time rider Seung-Jing Jin, 18, visiting from Michigan. "They were easier than I thought. We got to see a few elk and ravens."
Well, almost smooth. The terrain in the Kaibab Forest can get a little bumpy along the unpaved road, but the tour guides have chosen a path that is fun for everyone.
Although the National Park Service limits where the ATVs are allowed to go, there is still much to see. Visiting riders view the Grand Canyon Railroad and the aromatic vegetation. The ponderosa pine trees' bark smells like vanilla and tourists can take a minute off the ATV to take a sniff.
| | |
| --- | --- |
| | Canyon wildlife on the prowl (Photo by Manuela Picq). |
Tourists are asked to arrive at least 30 minutes before departure for a brief training session. They are also asked to dress appropriately for the activities— long pants are recommended and closed-toe shoes are required.
Before heading out, tourists are given a 15- to 20-minute training session to learn to operate the vehicles. They are also given a thorough briefing on safety.
"Safety comes first for us," said Bret Koohns, general manager for GC ATV Tours. "If there is any doubt at all that they don't feel safe, we will turn back."
GC ATV Adventures encourages riders to bring cameras and an extra change of clothing. The vehicles have a small compartment to stow personal belongings and complimentary bottled water.
In order to drive an ATV, visitors must be 16 years or older and must have a valid driver's license. Children may ride with adults.
Unlike other commercial tours, ATV Adventures allows riders to stop, to gaze, and to photograph any sights or wildlife that may be encountered. The company also prides itself by providing "the best unrestricted views" of the Kaibab and its beauty.
| | |
| --- | --- |
| | The Kaibab National Forest near the Grand Canyon National Park has numerous trails for hikers, horseback riders, and ATV riders (Photo by Tiffany Rainey). |
Along the trails in the spring, there are still patches of leftover snow from last winter amidst the ponderosas. Every now and then one can spot a grazing elk hiding behind the trees.
"Sometimes the guide may be zooming by in order to get through with this group and go on to the next," said 45-year-old Sonja Tucker, also a first-time ATV rider from Tucson, "They'll point out an elk or something and before you can take out the camera you're about 100 feet away and it's gone. This is a lot better, you see everything, hear everything and can take good pictures."
The weather was perfect on the day Tucker went on the tour— it was in the lower 60s in mid-afternoon with a warm sun and crisp breeze.
In its second season, ATV Adventures is a big hit with families. Each tour group can take up to seven riders. Reaching speeds of only 5 to 15 miles per hour, the ATVs are child-friendly.
"Our tours are mostly family oriented, but there is something for everyone," said Koohns. "But everyone is always having fun the whole time. This tour is meant to be interactive."
Starting in July 2003, ATV Adventures will be introducing Night Adventure, a unique evening tour through a carefully researched trail in the Kaibab.
This two-hour tour will give riders a better sense of the nightlife in the forest as well as take pleasure in the amazing Arizona sky.
| | |
| --- | --- |
| | Visitors pause to enjoy a viewpoint (Photo by Tiffany Rainey). |
Hot beverages like cocoa and coffee will be served during a 30-minute break at a designated spot.
The purpose of the evening tour is "to take you away from the community lights and noise." This is the first season they will be having these nightly tours. The guides spent months researching the best areas that has something for all.
With paid admission, ATV Adventures includes shuttle services to and from the facilities for guests staying in the Tusayan area. They also provide taxi shuttle services to those outside the Tusayan area at an additional cost.
"Next to hiking, there's nothing that really comes close to smelling the forest, breathing the dust than our tours," said Koohns.
If You Go
For reservations call: 866-638-4FUN. Visit http://www.grandcanyonatvadventures.com.
Grand Canyon ATV Adventures is located on State Route 64, in Tusayan, next to the Tusayan Fire Department station.
Safari Adventure: 1½ hours (approx.) – $85 – Adult (16+ years);
Children ages 5 to 15 are half price.
Beginning in July to August: Night Adventure: about two hours— $105 – Adult (16+ years); ages 5 to 15 pay half price.
Tours depart at 10 a.m., 12, 2, and 4 p.m. for the Safari Tours. Tour hours subject to change according to seasons. Check with the company.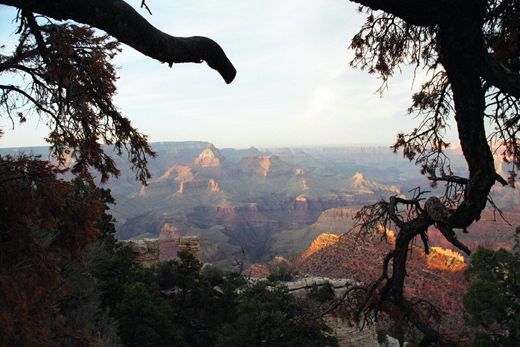 The Grand Canyon from the South Rim (Photo by Tiffany Rainey).