Gulf Islands Seashore
More than a beach
The Gulf Islands National Seashore of Florida and Mississippi offers visitors a day, week, or more at the beach. This preserved stretch of barrier islands is the nation's largest national seashore.
On the northern shores of the Gulf of Mexico, the Gulf Islands National Seashore includes recreational areas and historic sites. Among the recreational areas are long stretches of pristine beaches ready for swimming, diving, boating, fishing. and camping.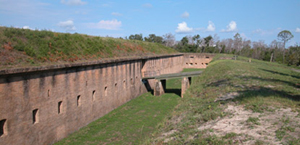 The historic sites include 19th century fortifications constructed as part of the national defense system that offer a look at our national military history.
The Gulf Islands National Seashore consists of 10 different units— Okaloosa, Santa Rosa, Naval Live Oaks, Fort Pickens, Fort Barancas and Perdido Key, Davis Bayou, Cat Island, West Ship, East Ship, Corn Island, and Petty Boy— that are dispersed along the Florida Panhandle and Mississippi Gulf Coast.
The beaches and other sites within this park are open every day. We hope you will enjoy our look at this extraordinary place….
Latest Stories
Park protects Gulf of Mexico islands, seashore, forts