The challenge: Hiking Canyon's best trails
GRAND CANYON VILLAGE, Ariz.— Even for seasoned hikers, venturing below the rim at the Grand Canyon is not easy.
"It's the hardest around, because unlike mountain climbing, here you go down first, which is relatively easy, but puts strain on your legs, then you have to go up again when you are tired," said Doug Hellwig, 45, who spent three days hiking in the canyon to build up to an epic 26-mile day hike combining several trails.
Hellwig hikes once or twice each week in the mountains near his Seattle home, where he manages a Walgreen's store. Usually he hikes with his wife and son, but that day they chose a shorter trail.
Hellwig said that the heat makes hiking in the Grand Canyon harder still, but the temperature is good in April. His previous three trips to the park were in May and he said a 26-mile hike would have been impossible then.
Hiking into the canyon may be tough, but it's worth it.
"You have to go down to really appreciate it, to see all the layers of rock," Hellwig said, telling me about the pretty spring flowers and cactus down there.
Hiking along Bright Angel Trail deep into the canyon yields spectacular views (Photo by Susannah McManus).
I told him I could not wait to see it for myself, but would settle for a 12-mile hike.
Hiking is the cheapest and most satisfying way to see the Grand Canyon from top to bottom—and back up again. Yet the changes in temperature and altitude, as you climb from 6,800 feet down to 3,770 feet, are challenging even for some experienced hikers.
If hikers cannot manage to climb back up themselves they have to pay $3,000 for a helicopter rescue—a much more expensive way to see the canyon.
| | |
| --- | --- |
| | The head of Bright Angel Trail (Photo by Tiffany Rainey). |
Although not a frequent hiker, I keep fit by running and recently trained for a half-marathon. When planning a trip to the Grand Canyon, I decided to spend my time hiking in and around the canyon with another runner, Manuela Picq, who is currently training for a full marathon. We run in the heat and humidity of Miami, so we were not too worried about the heat in the canyon. Living at sea level, our main concerns were the altitude and the elevation changes.
Hiking obviously isn't for everyone, but if you're fit enough to cope with the altitude, heat, and climbing, it is an incredibly exhilarating and rewarding way to see the canyon. You cannot help feeling a sense of superiority over fellow visitors who do not make the effort to step down below the rim.
| | |
| --- | --- |
| | An oasis in the canyon desert, water at Indian Garden gives life to cactus and other plants and animals (Photo by Susannah McManus). |
Spring is an ideal time to hike, while summer can be dangerously hot for long hikes. But at any time of year, check the weather report before heading out. A couple of days after my 50 degrees hike there were four inches of fresh early morning snow. Also carry plenty of water and check where fresh water will be available for refills.
In April on the Bright Angel Trail, water was only available at Indian Garden, 4.5 miles into the 12-mile hike. I carried two bottles of water and one of Gatorade and refilled two on the way down and again on the way back up (at 7.5 miles). I almost finished all three bottles on the climb up, even though the temperature was not especially high. So I drank nearly seven bottles, or about one per hour.
HIKING THE WEST RIM TO HERMITS REST
Alarmed by the many warnings not to hike too far in one day, I tried an easy route around the east rim on my first day to test my fitness at this altitude. Hermits Rest Trail is eight miles (one way) with little elevation change. Some parts are steep, narrow and close to the rim edge, but in general the terrain is not challenging. The early stretch overlooks the Bright Angel Trail. As I walked, the beautiful views became even more breathtaking, as the light changed the color of the rocks from brown to orange to red.
The trail also runs close to the shuttle bus route, so tired walkers can finish the trip by bus. Many family groups hop off buses at viewpoints, take photos and wait for another bus to take them to the next scenic spot. Others walk out and return by shuttle.
My friend Manuela thought the trail was too easy to hike, so she ran all the way to Hermits Rest and half the way back before slowing to a walk. Running at 7,000 feet is no picnic, but Manuela grew up in the French Alps and is accustomed to the altitude.
At Hopi Point, a crowd of 25 people gazed down at the Colorado River and were thrilled when a California condor flew past. On this walk I also saw blue jays, common ravens, squirrels, lizards, and butterflies. Another unusual sight at Hopi Point was a denim-clad bearded man with a cowboy hat and shiny belt buckle, but with hiking boots where his cowboy boots should have been.
Caroline Spencer, 32, from Surrey, U.K., was spending one day of her four-week U.S. honeymoon in the park.
"We love the way they have done the park and haven't got McDonald's everywhere. They are really trying to take care of everything. We would like to come back and do the white water rafting," she said.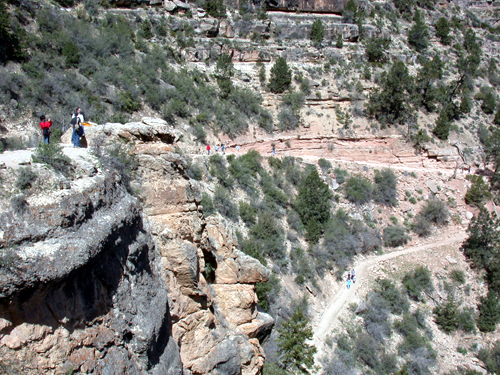 Switchbacks are common along Bright Angel Trail (Photo by Bruce Garrison).
Groom John Spencer, 37, added: "It's so huge, it's difficult to get a perspective on it."
Between the Abyss and Pima Point, I met a couple using beautiful handmade hiking sticks carved by a friend. Harry Tower, a retired truck driver, and Linda Tower, a retired accountant, live in Shingletown, 4,500 feet up Mt. Lassen in Northeast California.
"I was here once when I was about 9 years old with my parents and I kept telling my husband, we have to go there, you have to see it," said Linda. "Words do not describe what this canyon is like for me."
Shortly before Pima Point, the trail leaves the rim edge for a while and meanders through Pinyon pine trees, with grey-brown trunks and edible pine nuts, as well as larger Ponderosa pines, with red-orange trunks and bark that smells of vanilla. With the pine smell and pine cones on the gravel path, this part is more a mountain walk than the desert trail I expected.
I met a group of six young women from Turkey who live in California after leaving Pima Point. When I mentioned that I had finished my water, they kindly shared theirs with me. Then they tried to teach me a cheerful Turkish marching song to chant as we walked.
I bought water when I reached Hermits Rest, looked at the building for a while, then rode back by bus and chatted to Doug Hellwig, who had just finished his 26-mile hike that day.
Feeling humbled by Hellwig, who had walked three times as far as I had that day (not to mention a 4,000 feet elevation change), I told him I planned to take the Bright Angel Trail the next day.
CHASING MULES ON BRIGHT ANGEL TRAIL
The next morning Manuela and I began the 12-mile roundtrip hike into the canyon at 8 a.m. Park signs describe the Bright Angel Trail to Plateau Point as an eight- to 12-hour walk because of the elevation drop from 6,800 to 3,770 feet.
| | |
| --- | --- |
| | Mules kick up dust in the dry canyon along Bright Angel Trail, on their way to Plateau Point (Photo by Susannah McManus). |
We set off about 30 minutes before the mule tour and stayed ahead for a while. After it passed, we followed the mules' dusty tracks closely, even though they moved fast. We were able to keep up because they stopped a lot and Manuela likes to move fast, too.
At the 1.5-mile rest stop, over 1,000 feet below the trailhead, we met Robyn Niedzwie from Indiana, who had camped in the canyon for two nights, at Phantom Ranch and Indian Garden. She had never been on a long hike before, but does step aerobics every other day.
"I enjoyed it, but it's hard on the muscles."
Niedzwie said she would never do the hike again, but agreed that the Grand Canyon is a little more attractive than her gym. She was hiking with her father.
"He's 67 and he wanted to do this," Niedzwie said. "He's hurting too, but I think he's enjoying it." As they were not experienced campers, they hiked with a guide, Dean Hoffman, from Four Season Guides, who she found through the internet.
Indian Garden was a welcome sight after 4.5 miles, with its lush grasses, cactus, blossoming trees and colorful wild flowers against the background of red rock—not to mention the restroom and fresh water.
Eating lunch at Plateau Point, the six-mile turnaround point, we sat on huge rocks overlooking the turbulent Colorado River. Manuela was so close to the edge that I got nervous, but a nearby hiker, Tony Walton, reassured me that she would be fine and we got talking over our sandwiches.
Walton, 46, from Altringham, U.K., was touring the United States for three months and camping on the South Rim for two nights.
"My mum took me camping in the Lake District when I was about 10 and I loved it," Walton said. "I've been walking about ever since." The Lake District is in the north of England and its highest points are about 3,000 feet. Walton said the higher altitude at the Grand Canyon made more difference than he expected: "It starts to become more difficult at about 5,000 feet."
Even so, Walton was not daunted by the prospect of the six-mile climb back up the trail: "My theory for walking is that I always do the most difficult bit first and I actually prefer going uphill rather than downhill as it happens."
After 30 minutes rest at the bottom, Walton joined Manuela and I as we started back up the trail, taking short water breaks at regular intervals. Our hearts beat quicker and our legs began to ache as we climbed. We soon lost sight of the mules.
Peeling oranges with a penknife at the rest stop 1.5 miles from the top was Catherine Schalk and her boyfriend Martial Kiene from Strasbourg, France.
| | |
| --- | --- |
| | Looking back at the canyon South Rim at Indian Garden (Photo by Susannah McManus). |
"I was here 10 years ago with my parents," said Schalk. "We made this trail until the Indian Gardens, but we thought it would be shorter, so we were surprised by the length. Today we were more organized."
Schalk agreed that walking the final section from Indian Garden to Plateau Point to see the river made a big difference: "We didn't think it would be so nice."
"We'd like to come again, but to sleep some nights—to do a two or three day hike," she added.
Overnight hikers must apply for camping permits four months in advance, but the park service rations these permits and demand exceeds supply.
Manuela and I finished the Bright Angel Trail in eight hours. I estimated 10 hours, so I'm very proud. This was the point where my hiking smugness began to set in.
Exhaustion set in too, so I did not join Manuela and Tony Walton on the 17-mile hike they decided to take the next day down to the river on the South Kaibab Trail. Knowing your limitations is an important part of hiking. But I cannot wait to go back for an overnight hike all the way down to the river.
Bob Spoelhof volunteers as an interpretive ranger at the Canyon View Information Plaza on the east rim while on holiday from his regular ranger job at Yellowstone National Park. Part of Spoelhof's job is to spend a half-day each week walking trails as a "Roving Ranger" to check visitors are OK. They carry water, Gatorade, and first aid supplies, but do not help hikers unless in serious trouble. Usually they give them some water and tell them to get up to the top themselves.
"Although the park has five million visitors annually, only 4 to 6 percent even take one step into the canyon," said Spoelhof. The time factor is the problem, especially for those who come in on tour buses. The average visit to the park is four hours.
Even four hours is enough for a brief taste of hiking in the canyon. It will be the highlight of your trip.
| | |
| --- | --- |
| | Bright Angel Trail, with its frequent switchbacks, offers numerous spectacular views (Photo by Tiffany Rainey). |
HIKING TIPS
Web sites about day and backcountry hikes: http://www.nps.gov/grca/grandcanyon/trip_planner/dayhike/index.htm and http://www.nps.gov/grca/backcountry/corridor_hikes.htm
Phone: 928-638-7875 for backcountry overnight camping passes
Day Hike Checklist: Water (about three 24 fluid ounce bottles), Gatorade powder, pretzels or similar salty snacks, energy bars, fresh or dried fruit. Check the weather forecast and water availability. Take sunscreen and wear layers to adjust for temperature changes. Don't forget a hiking companion:—Never hike alone.
Tips: Eat each time you drink and avoid hiking in midday heat to prevent headaches and nausea.
| | |
| --- | --- |
| | One of the tunnels cut into the canyon wall allows hikers to pass along Bright Angel Trail and stop for a memorable view of the canyon below (Photo by Tiffany Rainey). |
Consult national park website or Grand Canyon rangers for further advice before heading out. http://www.nps.gov/grca/backcountry/hiking_info/index.htm
Day or Overnight Hike Guides: Dean Hoffman, trip leader, Four Season Guides, 107 W. Phoenix Ave., Flagstaff, AZ 86001, 928-226-8798 and 877-272-5032, http://www.fsoutfitters.com. A full list of official guides is available on the National Park Service web site http://www.nps.gov/grca/backcountry/guided_services.htm.
If You Go
Directions: Fly to Phoenix, Ariz. Four- to five-hour (231 miles) drive from Phoenix Sky Harbor Airport to South Rim Village area of Grand Canyon National Park.
Park Web site: http://www.nps.gov/grca/
Information Stations: Open daily. Ranger talks on history or ecology, art displays, and gift shops. Call ahead to book tours and check prices.
Other useful web sites: http://www.gcroa.org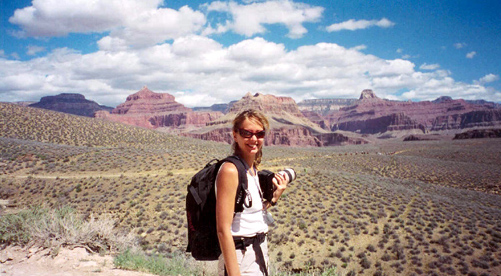 Photographer Manuela Picq hikes to Plateau Point (Photo by Susannah McManus).