Rocky Mountain
A Rocky Mountain high
Rocky Mountain National Park in Colorado is one of the nation's most significant national parks. It is also one of the most majestic in the system with its scenic alpine views, expansive open spaces in its grass-covered valleys, and its diverse wildlife.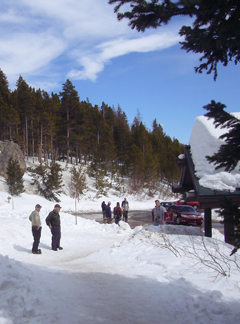 The park, located northwest of Denver, was created in 1915 and is one of the nation's oldest major public parks. Encompassing mountains as high as 14,000 feet, it crosses the continental divide.
The park, because of its altitudes, is often covered with snow. Its mostly winter environment offers much to visitors who love hiking, snowshoeing, observing wildlife, mountain climbing, and scenic drives along high mountain ridges.
Summer is the best time to visit for many people. Roads to the highest elevations are open during the short June to September season, affording opportunities to drive the Trail Ridge Road and other roadways into the clouds.
Yet winter, fall, and spring also give visitors the chance to see the mountains and valleys in different colors and with plant and animal life at their most active.
Bear Lake is a popular destination at any time of the year. Moraine Park is also widely visited to see its herds of elk, deer and other grazing animals.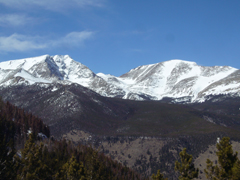 We offer numerous features in this section about interacting with park wildlife, the native trees, waterfalls, the scenic roads, backcountry hiking, mountain camping, lakes, survival in the rugged region, and our favorite activities in the nearby town of Estes Park.
We hope you will enjoy our stories, photos, and slideshows from our visit to the park and the Estes Park area.
Latest Stories