Gettysburg
The great American war
The name of this small Pennsylvania town elicits images of many kinds … Lincoln giving his famous address … Union and Confererate soldiers fighting and falling for their causes … the pastoral home of former President Dwight D. Eisenhower.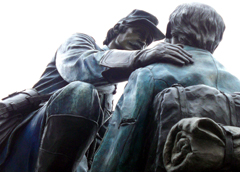 Just a couple of hours' drive from Philadelphia, Baltimore, and Washington, visitors to Gettysburg are given the chance to experience the site of the American's Civil War's largest, and perhaps most significant, battle that occurred in the summer of 1863.
Visitors may tour the battlefield and the sites of its most famous engagements in this key moment and turning point of the war between North and South that changed America.
And a short shuttle bus ride away from the battlefield Visitor Center, visitors can walk through home and farm of World War II U.S. Army general and 34th president of the nation, Dwight D. Eisenhower.
There's a lot of history packed into this small rural community. But it leaves a lasting impression on visitors. We think you will agree.
Latest Stories