Visitors unwind at Snowy Peaks Winery
ESTES PARK, Colo. — Tracey Martens, a tourist from Oklahoma City, Okla., and frequent Colorado visitor, shared that while she initially drove past Snowy Peaks Winery, its quaint and inviting atmosphere led her to pay it a visit.
"I usually frequent wineries. This one has a great atmosphere of gift-type shopping, outdoor seating and plenty of indoor seating with board games," Martens said. "We love the outdoor seating option and it's a great place to hang out and talk to locals."
Whether a wine enthusiast or new to wine, Snowy Peaks Winery needs to be at the top of the list of places to visit here at the east entrance to Rocky Mountain National Park. Its hand-crafted, award-winning wine, charming location, and family-friendly environment is known to steal the hearts of park visitors.
Located less than a minute from the busy and bustling downtown Estes Park, the now 12-year-old winery and tasting room is the perfect place to unwind, drink and learn about wine.
The relaxing outside patio of Snowy Peaks Winery (Photos by Amanda Torres).
Candice Mohr, the owner of Snowy Peaks Winery, refers to it as a "family destination with a huge selection of wine options."
From Riesling Dry, a white wine with aromas of green apple, caramel and honeysuckle and with a taste of tangerine and pear flavors, Oso Red, a red, semi-sweet wine with raspberry flavors and soft tannins, Ose rosé, a dry rosé wine, to Black Muscat, a dessert wine with aromas of strawberries, violets and blackberries, Snowy Peaks Winery indeed offers a myriad of wine selections. In total, there are 10 white wines, 13 red wines, two rosé wines, two dessert wines and six wines from other wineries from which to choose.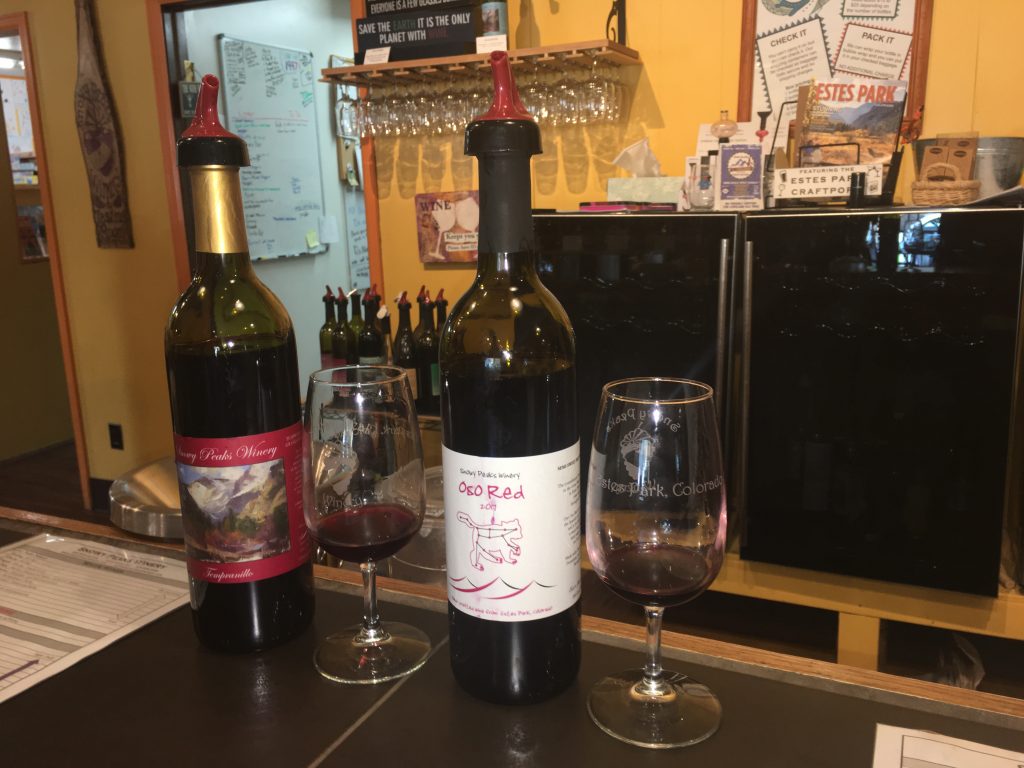 Each wine is handcrafted at Mohr's Winery in Estes Park. The grapes used are Colorado-grown and are bought from various vineyards from locations like the Colorado Western Slope, which is 4,000 to 5,400 feet, and Colorado's Eastern Plains, which is 4,200 feet above sea level.
Grape maturation months are from August to September, where day to night temperatures range from 60 to 65 degrees.
When there is warmth in high altitude areas, the grapes are able to sustain natural sugars, whereas cold evenings allow for the grapes to retain acids that are essential for the process of making wine.
For visitors who are new to drinking wine or know little about wine, do not worry. There is a wine tasting option where visitors can try up to five different wines for only $8.
"I tried a variety of whites, Riesling, rosé, Pino Grigio, and reds, Malbec, Tempranillo, and Cabernet,"  said Martens. "I love wine tastings. This place is overall so fun and the staff are attentive and friendly."
Lauren Baulch, a visitor from Austin, Texas, was pleased with the prices and the customer service.
"Our favorite was the Riesling and we are going to bring a bottle home. After the tasting, we came onto the patio and had one more drink," Baulch said. "The customer service was excellent and they made us feel very welcome and part of the family."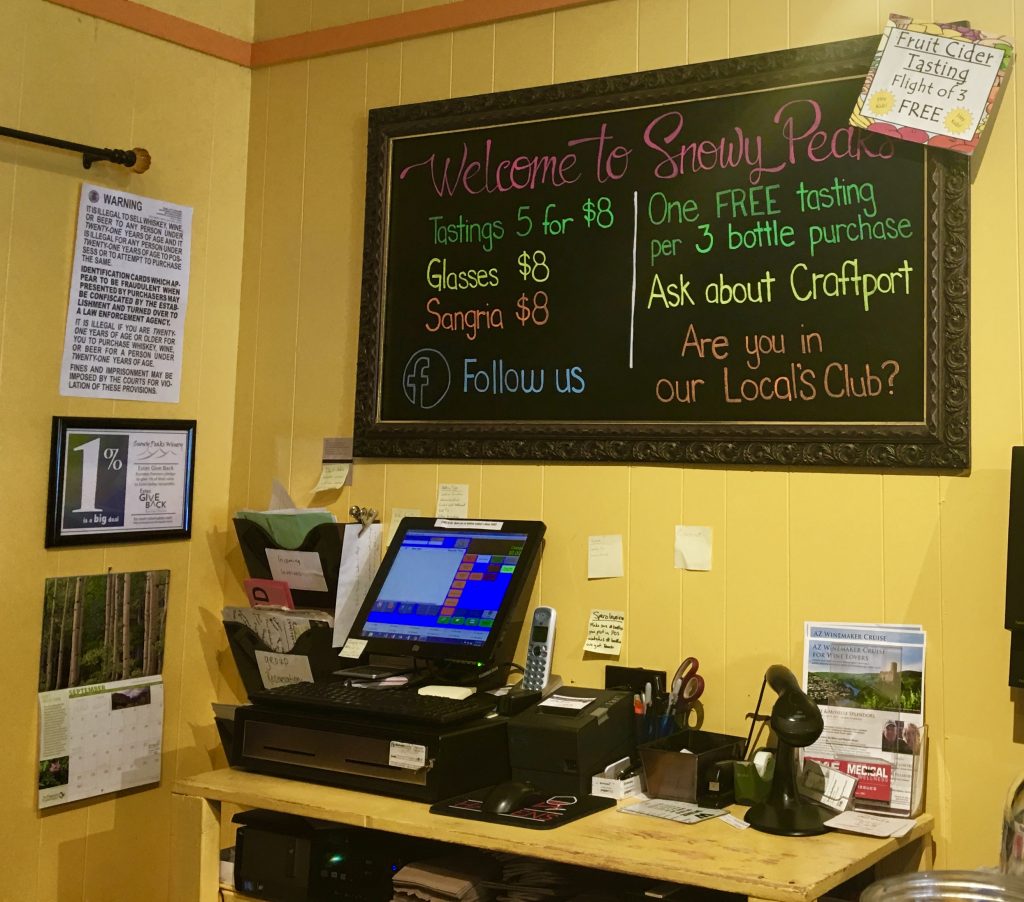 Snowy Peaks Winery also sells foods to compliment wine choices, such as cheeses and chocolates, jams and jellies, small batch sodas and, for the none-wine drinkers, there is fruit cider to drink.
Lynne Graham, a visitor from Van Buren, Ark., was delighted when describing her experience.
"The wine tasting consisted of five tastes of one ounce for $8. I had my choice of 34 wines with categories and descriptions," Graham said. "I ended up purchasing a bottle of my favorite wine, along with a box of chocolates and a corkscrew."
Besides drinks and food, there is also a music night every Friday. Local artists like John Mieras, Roy Dearen, Idlewhile, and Sharon Glassman are performing in the coming weeks.
Snowy Peaks Winery has won more than 128 awards from competitions like the Finger Lakes International, Colorado-Governor's Cup, American Wine Society Competition, Colorado Mountain Winefest Competition, Southwest Wine Competition, Eastern International Wine Competition, and the Tasters Guild.
Whether to drink wine, unwind or mingle, make sure to visit Snowy Peaks Winery when in Estes Park.
If You Go: 
Address: 292 Moraine Ave., Estes Park, Colo.
Directions: From Bond Park, head south on Park Lane towards Virginia Drive. Next, turn right onto East Elkhorn Avenue and then left onto Moraine Avenue. The winery will be on the left. Keep in mind that parking may be tricky.
Open Monday through Thursday from 11 a.m. to 6 p.m. and Friday through Sunday from 11 a.m. to 7 p.m.
Website: www.snowypeakswinery.com. Phone number: 970-586-2099.
No need to make a reservation.
Tastings are $8 for five tastes of choice. There are 34 wine options, including red, white, rosé, dessert, and options from other wineries.
Take the tour of the winery for no charge.
Have kids? Bring them! There is a "no wine-ing" area. There is free juice.
Want to snack? There are cheeses, hams, spread and crackers from which to choose.