Estes Park celebrates elk with festival
ESTES PARK, Colo.  — As we drive along Trail Ridge Road, high into Rocky Mountain National Park, our ears begin to pop. We're at almost 10,000 feet, when all of the sudden, the cars in front of us stop suddenly. We peer through the windshield, as our car slows to a halt. There we are, on the side of the mountain, time frozen, as we watch four monstrous elk cross the road.
This happens frequently in the Estes Park area. After all, according Jim Tallent, a volunteer at Colorado Parks and Wildlife, Colorado has more elk than any other state in the U.S., with an estimated 280,000 elk.
| | | |
| --- | --- | --- |
| A large male elk stands at Alpine, above the tree line, in Rocky Mountain National Park (Staff photo). | | |
Elk stand about four to five feet tall at the shoulder and mature males, also known as bulls, may weigh more than 1,000 pounds. Bulls have large, impressive antlers that can weigh up 40 pounds. With their size and presence, it is very important to let them be, especially when they are attempting to cross the road.
They won't usually charge your car, unless they perceive you as a threat. As Tallent states, elk are the most aggressive when they're "trying to find their females and they're in the rut."
Tallent's friend Dave Ullrich, who is another Colorado Parks and Wildlife volunteer adds, "when they're not in a rut, they're the best of friends."
The rut typically begins in early September and runs into the first week of October, where you can hear the haunting call of the bull elk. This elk call is named the "bugle" and is an unmistakable loud sound that you can hear from miles away during the rut. The call begins with a deep, low tone that quickly rises into a high-pitched screeching squeal, which is followed by a series of grunts.
Elk in Estes Park are absolutely everywhere and keep the outdoors lively, especially specifically during the fall. People in Estes Park love the elk so much that they've dedicated an annual festival to celebrate the elk rut and learn about the "wapiti," the Native American name for elk.
Each year in the city's Bond Park, the free festival begins featuring elk-inspired arts and crafts, elk exhibits, Native American music, dancing, storytelling, food vendors, and jewelry makers from all over the U.S. and a craft beer garden. About 15,000 people attended Elk Fest in 2018, according to a festival spokesperson at Visit Estes Park.
| | | |
| --- | --- | --- |
| | | Aaron Harsch, owner of Redemption Road Coffee, greets festivalgoers at the entrance of Elk Fest (Photo by Elyse Waterman). |
This year was National Coffee Day on the same day as Elk Fest.
Aaron Harsch, the owner of Redemption Road Coffee, greeted festival-goers at the entrance. Harsch discovered his love of coffee in 2010 and began roasting his own in a Whirley-Pop crank-handle popcorn maker.
Once he perfected his roast, he decided to create his own coffee roasting company. However, Harsch and his wife, Jessica, had just created a non-profit organization called Redemption Road in 2012.
Redemption Road is a men's ministry that is designed to help men live their faith through ministry weekend retreats. The organization is currently focusing on men, but they will expand to women in the future. Harsch wanted to find a way to combine his love of coffee with his personal need to heal men.
He realized that he needed to fund these programs, but was lacking the financial support; therefor, in 2015 he created his coffee roasting company to support his nonprofit. By combining both of his passions, Harsch made his vision a reality. His business has expanded since then; now 10 percent of profits support Redemption Road and other causes.
According to Harsch, these causes include "women's education, children's education and rain forest conservation."
He strives to support individual hardworking families across the globe, as well as his own, which is why he names every coffee roast after the country it originates. The beans are shipped from each country to his nearby farm in Mead where he personally roasts them, packages them and sells them. He travels to Elk Fest each year to share his passion with the people of Estes Park.
| | | |
| --- | --- | --- |
| Lance Grabowski, at right, travels from Wyoming each year to attend Elk Fest where he sells handmade costumes and props out of buffalo hide, elk hide, deer skin and wool. Below, one of his hand-made bags (Photo by Elyse Waterman). | | |
Another passionate vendor, Lance Grabowski, traveled from Wyoming to be at Elk fest. For 51 years, he has been researching living Mountain Men. He lives 50 miles north of Cheyenne, Wy., in Chugwater, on a historic ranch. His home is located on Swan Land and Cattle Co., headquarters and was the first homestead in the valley in 1868. It was declared a national historic landmark in 1964.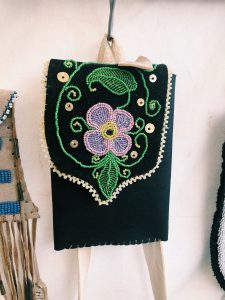 Living on 550,000 acres of land, Grabowski immersed himself in design, creating costumes he showcases each year at Elk Fest. He hand-makes costumes and props out of buffalo hide, elk hide, deer skin and wool.
His pieces have been on the sets of movies, showcased in art galleries, and used as interior decorators. He also advised over 50 western artists about historical accuracy, to preserve the very nature of the Mountain Men.
"If you have ever looked at a John Clymer, Frank McCarthy or Howard Terping, you are looking at my clothing and accoutrements," he stated.
Working with America's best-known Western artists, Grabowski sells pieces for thousands of dollars. A small purse with beading may sell for $140; however, a cotton lined, silk ribbon trimmed beaded coat can sell for $3,995.
Next to Grabowski's stand, a yellow Labrador retriever named Sam sat in the arms of a woman named Jill Flegal. The dog seemed ecstatic to be outside, around all of the people and children, and he was wearing a yellow harness that read "adopt me" in big blue letters.
| | | |
| --- | --- | --- |
| | | Festival visitor Jill Flegal lovingly pets yellow Labrador retriever Sam at the Estes Park Elk Fest. Below, Native American teepees dot the Elk Fest site (Photos by Elyse Waterman). |
The woman who was with him lovingly pet him, as he attempted to lick every single person that passed. Flegal is on the board of the Pet Association of Estes Park. She brings in dogs from kill shelters around the area.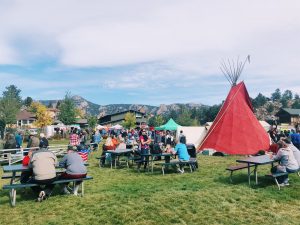 For the past 25 years, she has dedicated her life to saving dogs by rescuing strays and surrenders.
She currently has four dogs in her care and she cares for them as if they were her own, taking them on two long walks a day to "make sure they don't lose their spirits."
Elk Fest attracts an extremely diverse group of passionate individuals each year and is one of the most unique festivals in September. Locals love Elk Fest so much, that the Estes Park official website, www.visitestespark.com, casually renamed October "Elktober."
If You Go