Hiking offers pristine views, wildlife
ESTES PARK, Colo. — At high noon, the blue sky breathes in cool steady wind. The cirrus clouds offer a thin layer of contrast to the pure sky, interrupted by welcomed subdued sunrays. Lower your gaze, and you are enveloped by blankets of snow.
White, untouched, soft snow — the kind you just want to step in to make sure it's real — covers the ground. Hopeful hikers at Rocky Mountain National Park did just that early April at one of the park's most popular spots: Bear Lake. At an elevation of 9,475 feet, the high altitude produces crisp air, amazing views and some chilly weather.
| | | |
| --- | --- | --- |
| Click on the video at right to view a slideshow photographed and narrated by writer Alexandra Roland about hiking in Rocky Mountain National Park. | | |
"You are going to see beautiful scenery," Ranger Dave Chamber said.
He and two fellow rangers stand at the beginning of the trail to answer any questions the passersby might have about hiking conditions. Even in late winter and early spring, conditions can be challenging and sometimes dangerous. According to the rangers, Bear Lake is one of the most popular trailheads, meaning that it leads to other hiking paths.
Past the Bear Lake Ranger Station and through some shady pine trees, hikers traipse through the slippery snow carefully. It comes up to your calf at some points and, if you are not aleet, you find yourself a lot deeper than you thought judging from the look of the surface.
| | | |
| --- | --- | --- |
| | | Two visitors prepare to go on a hike at Bear Lake  One adjusts her snow shoe while the other waits (Photo by Spiridoul Koutrokois). Below, Ranger Dave Chamber stands with two other rangers to answer questions from hikers at the entrance to the trailhead (Photo by Alexandra Roland). |
After much trepidation though, a prize is waiting just around the bend. A clear white open expanse sits surrounded by tree-covered mountains. Just under the snow is a frozen-over a lake.
Daring visitors meander to the center, the snow turning to slush in the wake of each footprint. Some take a few snapshots, make a snow angel, or wander around the edge of the lake for a closer look at the icicles hanging from a nearby slab of mountain.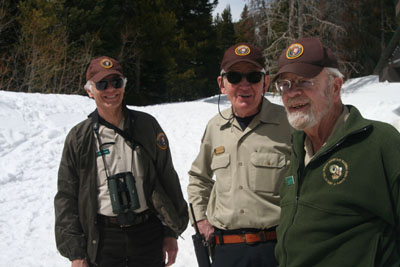 Rocky Mountain National Park is home to approximately 352 marked hiking trails. The winding paths vary from the narrow and desolate to the snowy frequented and footprint covered.
Hikers brave the elevation spike for a chance to observe the pristine scenic views, the raw sounds of nature and the feeling of welcomed alienation from the rest of the world, even for just a few moments.
The trails attract hikers of all expertise, ages and interests.
Some of the more unprepared visitors eager for a quick look at the now-frozen and snowed-over Bear Lake, slip and slide over the icy snow in flip flops and shorts quick enough to take a fast picture and then rush back to the heated car.
Others donned in snow jackets, gloves, and sunglasses seem a little bit more prepared. These hikers are ready to use their hiking sticks and snowshoes to brave the snowy conditions and progress farther along the trail. Many are no strangers to hiking conditions at high altitudes and have ample supplies. They also take proper precautions.
| | | |
| --- | --- | --- |
| | | At left, top, hikers who ventured near the middle of the lake left slushy wet snow in the path of their footprints. If you venture on to iced over surfaces, rangers recommend that you test its steadiness before each step (Photo by Alex Roland). Left below, the writer makes a snow angel atop the frozen and snowed over Bear Lake (Photo by Rebecca Lattanzio). |
Bridgett Monahan and friend Jenaette Lostracco, visiting from nearby Boulder traveled for just a few hours to the national park. They have hiked all over the world, but Rocky Mountain National Park offers some of their most favorite climbs.
"It's gorgeous," Monahan said. "One of the best."
On this particular sunny day, they were looking for a loop hike and a possible water feature sighting. They passed an information board and got situated.
"All the interp info is great, very helpful." Lostracco said.
| | | |
| --- | --- | --- |
| A view of the entrance to the Bear Lake trailhead from the parking lot (Photo by Alex Roland). | | |
With that, they were headed further along the path in the deep footprints of the visitors before them.
"It's a good chance to get out in snowshoes before it's too late," Jeremy Sanders from Colorado Springs said. He was off to the side, bending down in the snow, helping his friend adjust her snowshoes. Both were eager to see some wildlife.
According to Chamber, wildlife usually stays away from hikers on the trails because the animals are frightened by the noise. However, careful and quiet hikers may be fortunate enough to catch a glimpse of a chipmunk or a bull elk.
If you do happen on a wild animal, rangers advise that you be quite careful. It is, after all, their backyard. If an elk is foraging on the vegetation ahead of you, stop a good distance away and watch.
Seasonal Back Country Manager Dale Kosewick suggests that you and your party take a break and wait for the animal to move on, so as not to spook or disturb it.
| | | |
| --- | --- | --- |
| | | The Ranger Station at the entrance to Bear Lake trailhead. The parking lot is about 200 feet from the actual lake (Photo by Alex Roland). |
Other precautions are necessary as well. Because of the increase in elevation, it is important to bring ample clothing as the temperature can vary greatly from lower altitudes.
But just because it is colder, doesn't mean that there is no sun. Be sure to bring sunscreen as well. Natural occurrences such as avalanches and fallen trees are also possible.
"The old motto of 'be prepared' is your best bet," Kosewick said.
If You Go
Hiking Do's and Don'ts
Dress appropriately. Layers are suggested. Bring extra clothing.
Pack high-energy snacks, water, and sunscreen.
Check weather conditions before hand and bring snowshoes if necessary.
Use a map or compass if necessary.
Do not rely on the use of cell phones. Cell phone service is unreliable in the mountains.
Be wary of deep snow and iced over ponds, lakes and rivers. If you choose to venture out onto the ice, test out your steps before with a hiking pole.
Travel in groups and stay with your party.
Be careful of falling and fallen trees.
If you are hiking in an area where an avalanche could occur, take a beacon and shovel. If caught in an avalanche, make swimming motions with your arms and try your best to remain on top of the snow.