Encounters with wildlife risky for visitors
ESTES PARK, Colo.— In Rocky Mountain National Park, there are approximately 20-30 mountain lions, 350 big horn sheep, 600-800 elk, 500 deer and countless other native species.
Three million species of a different kind also frequent the valleys, mountains, camping grounds, and hiking trails of the national monument.
Humans.
With the constant traffic of mobile visitors and the omnipresence of the native residents, interaction often occurs. It is, however, when those encounters are too close in proximity or when the actions of both humans and animals become increasingly connected, that danger can occur.
| | | |
| --- | --- | --- |
| | | A poster in the Backcountry Office that encourages visitors to "enjoy them (animals) at a distance" (Photos by Alex Roland). |
Trying to get the perfect photograph of an animal in its habitat or leaving small bits of food to attract foraging creatures, human encounters with wildlife often provides visitors with more than which they bargained.
"The worst story I ever heard was of young parents with an infant and they spread peanut butter on the infant's face to get pictures of the chipmunks licking it off," said Dale Kosewick, seasonal manager of the Backcountry Office at Rocky Mountain National Park.
Although this may be an extreme case, human interplay with wildlife is a continual problem. Visitors come to the park in the hopes of catching a glimpse of an elk, or a deer grazing in a valley. At times, onlookers get too close.
But with more than 700 different species in the park, the paths of humans and animals are bound to cross. From moose and mule deer to chipmunks and marmots, the Rocky Mountains are full of life. Visitors have the unique opportunity to see these creatures in their own habitat and they are taking it.
| | | |
| --- | --- | --- |
| At right, Dale Kosewick, seasonal Beaver Meadows Visitor Center Backcountry Office manager at Rocky Mountain National Park. Next, elk crossing the street in Estes Park. Next, elk near the side of a highway near the park entrance. And last, a poster in the Beaver Meadows Visitor Center explaining proper human and wildlife interaction. | | |
Some animals are more territorial than others. The black bear is known to be bellicose at times. Male elks tend to be territorial and somewhat abrasive during the mating season in the fall. Yet, aggression is spurred when an animal feels that it or its space is threatened. Usually, that space is often invaded by humans or human structures.
For the wildlife, the man-made boundaries of roads, bridges or even hotels do not restrict or limit their movement and migration. However, as a result, as the animals stray close to these well-traveled and visitor populated fixtures within the park, human encounters are very common.
At the same time, humans have a duty to limit this interaction. Kosewick said that patrons have to be aware that they are visitors. Too much purposeful or accidental intrusion into the wildlife habitat poses risk for both animals and humans.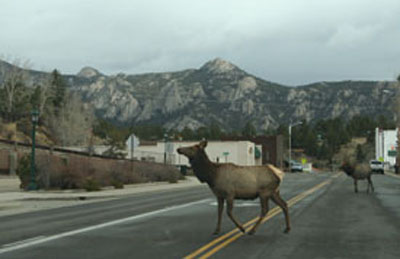 Brave visitors attempt to feed animals or deposit food on trails or in their used camping sites. This human food is, in fact, dangerous to animal health.
"They really do become addicted," Park Ranger Susan Langdon said. "Then they end of having a stomach full of human food and they starve to death."
The food left by humans, and eventually consumed by animals does not at all have a nourishing quality.
In fact, it fills the animal's stomach, limiting the amount of appropriately accessible foods that the animal can then ingest and preventing natural foods from properly sustaining the its body.
"There's a sign as you enter the national park and it says, feeding or approaching wildlife is prohibited," Kosewick said.
Directly feeding the wildlife as well as carelessly leaving leftovers and garbage in and around campsites amplifies the issue. The black bears, for example, have become increasingly aggressive in their search for food because of this. Langdon said that they will even break into cars expecting to find human food. New protocol within the park has been adopted to help neutralize human carelessness and bear dependence on human food.
In 2009, the park issued a mandate for the use of bear canisters while utilizing camping sites. Campers are now required to lock their food in tightly sealed containers , preventing bears from foraging for food in the campsites and coming into close contact with individuals. These canisters are available for rent or purchase in Estes Park or at local sporting goods stores.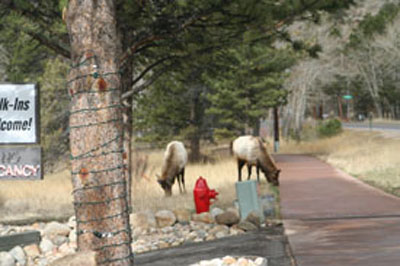 According to Langdon, informing the public is crucial.
"We are trying to do as much education as possible to stop feeding the wildlife," she said. Volunteer programs such as "Chowbusters," was put into place to stress the mantra, "Leave No Trace," a detailed portion of the "Rules and Regulations" brochure for the backcountry office.
The program also encourages visitors to minimize their impact on the section of the park they are visiting and the employ the use of ethics when spending time in the park and nearby wildlife.
Habitat disruption and animal health aside, humans also endanger themselves by straying too close to the wildlife.
"Often we have to warn people about approaching the animals. They don't realize what a large animal will do to them," Kosewick said.
Several years ago within the park a 10-year-old child died because of an encounter with a mountain lion.
"They (the parents) let their child leave food along the trail to feed the little animals," Kosewick said. His food attracted little animals, which attracted the mountain lion, and then he was there, just the right size. The child died on his own asphyxiate."
While such incidences are rare, the park rangers stress the importance of caution. Rocky Mountain National Park is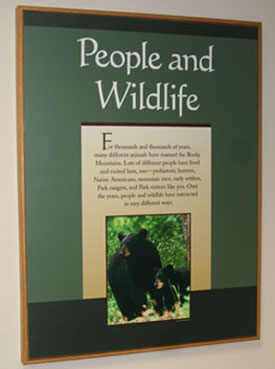 an aesthetic fixture in the Midwest of America. Visitors come from everywhere to capture the park's scenic views, breathtaking landscapes, and raw wildlife existence. However, according to park rangers, humans must respect their place as visitors for their own safety and the safety of the animals.
"It's a shared existence and they were here first," Kosewick said.
If You Go
Suggested Precautions
While camping, use canisters to secure your food as stipulated by Rocky Mountain National Park policy.
Make sure to leave no trace after you have used your campsite. Pick up any garbage and dispose of it properly.
When hiking, stay on the designated trails with your party.
Avoid water sources at daybreak or nightfall.
Observe animals from afar and respect their space. If an animal notices your presence, than you are most likely too close.
For more information visit www.nps.gov/romo or call the Rocky Mountain National Park Visitor Center at (970) 586-1206.