Snowy Hidden Valley offers adventure
ESTES PARK, Colo. — Hidden Valley, a 1,200-acre ski area in Rocky Mountain National Park, has somewhat an emblematic past.
During the past century, it has transitioned from a proving ground for self-taught skiers to a hotspot for Estes Park tourism to its present status, as far as can be determined, one of the few federally sanctioned sledding locations in the country.
| | | |
| --- | --- | --- |
| The warming hut at the parking lot at Hidden Valley in Rocky Mountain National Park offers relief from the cold as well as restrooms (Photos by David Sargent). | | |
What hasn't changed is the spirit of the place. The big playground of trails, ski runs and majestic pines is as inviting as ever to the soul that seeks adventure, expansion, fun and some really fresh air.
"It's like an exodus," said Brandt Garrison, a Fort Lauderdale native who, months ago, moved to Nederland for the simplicities of Colorado life. "If it's not here sledding, it's mountain biking and hiking. It's all free."
Hidden Valley is uniquely narrow, composed of steep ranges divided by a comparatively short distance. It's microclimate traps snow better and allows for trees to grow larger, having relative shelter from the wind. Prior to the national park's existence, the area was logged for its large trees and some of its timber was used to construct the famed Stanley Hotel in Estes Park.
| | | |
| --- | --- | --- |
| | | At left top, the breezeway at the warming hut at Hidden Valley offers shelter from the snow and wind as well as a place to adjust gear and to meet friends. At left below, the Aspen ski run at Hidden Valley is a favorite of visitors. |
When Congress acted to create Rocky Mountain National Park in 1915, as the lines were drawn, Hidden Valley fell right in the middle in of the park, just east of the Continental Divide.
For the next 15 years, it was only accessible by hiking at least five miles through varied terrain. As the area was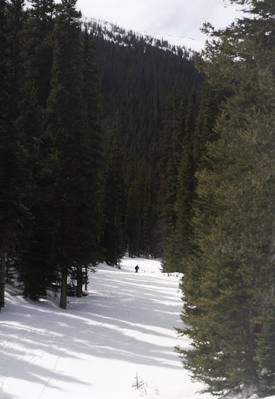 only a small part of fover the more than 260,000 acres of the park, it is presumed that the valley was visited by few park-goers.
With construction of Trail Ridge Road in the early 1930s, much of Rocky Mountain National Park, including Hidden Valley, suddenly became easily accessible to thousands of visitors.
The untouched powder of Hidden Valley became a favorite area for a strong remnant of backcountry skiers.
The variety of challenges was appealing for beginners and backcountry enthusiasts alike. And, Trail Ridge Road happened to neatly divide the easier slopes below it, from the more advanced slopes above.
"It was an unofficial ski resort from the early 30s," said Russ, a member of the Sled Dawgs, a longstanding group of volunteer safety rangers in Hidden Valley.
As the popularity of area caught wind, the park service, acting in the spirit of true American industrialism, sought to expand and commercialize it to visitors.
Park officials purchased the area from the Estes Park Recreation District and opened the Hidden Valley Ski Resort in 1955.
The resort included five lifts and a base lodge, which included restrooms, a cafeteria and a ski patrol headquarters. And, it soon became a popular destination for skiers of all types, as the range of difficulty within the slopes was evenly distributed and lift ticket prices were comparatively low.
"It was the ski resort in Colorado. No. 1." said Jim Cope, a ranger with Sled Dawgs. "It was the only action."
From 1955 to 1991, Hidden Valley Ski Resort was a popular destination for skiers and families. But, as a result of being just east of the Continental Divide, a boundary line that represents precipitation drainage between the Pacific Ocean and the Gulf of Mexico,
it was soon in competition with newer skiing spots to the west that generally received as much as 10 times the amount of snowfall in a given season.
| | | |
| --- | --- | --- |
| | | At left top, Jim Cope, a ranger with Sled Dawgs at Hidden Valley. At left bottom, sledders take advantage of the snow at Hidden Valley. Next below, the T-Bar ski run at Hidden Valley. |
Attempts by the resort's operators to compensate the difference in snowfall with snow-making machines were foiled by lack of an ample water supply and eco-conscious park officials.
"Newer resorts got more snow fall, were on main roads and could develop the real estate at their bases," said Larry Frederick, chief of interpretation and education at Rocky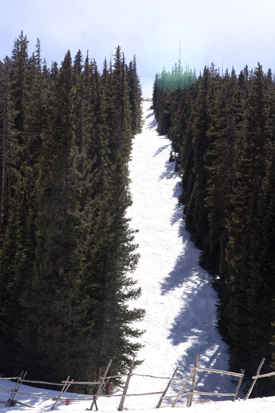 Mountain National Park. "Hidden Valley was just a traditional ski area, offering only a lodge and runs."
Not being able to longer justify the increasingly large difference in snowfall, the resort eventually succumbed to financial difficulties in 1991 and its lifts were auctioned off.
Despite the closure, a few skiers kept coming and soon found for themselves an exclusive, nearly untouched playground of runs and trails. Some of the trails also serve mountain bikers in the summer.
In 2004, the National Park Service began a restoration project of the area at Hidden Valley that included the construction of a new warming hut with restrooms, a new (and smaller) parking lot, picnic areas and a designated area just for sledding, tubing and/or other means of sliding on snow.
The area can even accommodate weddings of up to 100 guests.
The park service also successfully has rehabilitated some of the natural areas of Hidden Valley, making it somewhat of a living parable about our country's potential to correct environmental problems we see today.
"When they were restoring the area, scientists were able to determine that the wetlands underneath the parking lot were still alive," said Kyle Patterson, public information officer for Rocky Mountain National Park. "This has been very nice, as we're losing wetlands more and more in other parts of the country."
While the area no longer offers the lifts or snow grooming services that it did when the resort existed, it has not lost its appeal. A given weekend during the ski season (October to March) brings hundreds of people to Hidden Valley to ski, sled, snowshoe, hike, snowboard, and to experience other winter recreational activities.
It's also substantially cheaper and, for many visitors, just a short drive away. "Here you can buy an annual pass for $40 and come whenever you want," Frederick explained. "At other resorts, you can spend $80 for just a day."
| | | |
| --- | --- | --- |
| | | At left top, no-parking sign at Hidden Valley is temporarily covered by an ice warning for visitors. At left bottom, the boundary point for snow play is marked with a red sign. Below, sledders wipeout as they glide downhill. |
The snowplay area at the base is usually packed and iced over, making it ideal for sledding.
"We tell everybody that you must, by law, have fun," said Russ during one of his shifts overlooking a family of sledders.
From the looks of things, most follow the rule well. Visitors freely move around the valley. Some hike half of the day in order to ski the runs that, up until the past two decades, were enjoyed by thousands of people on a given weekend.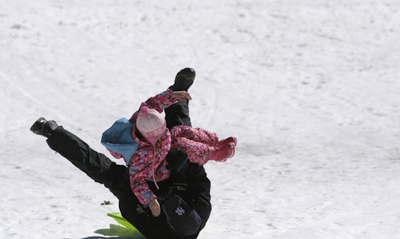 Now, rather than crowds, lifts or lines, such skiers find open trails, quietness and, occasionally some very pristine powder.
"I'd call it skiing Colorado the old fashioned way," said Cope. "There's no lift here, you earn it."

If You Go
Rocky Mountain National Park is open 24 hours a day, year round.
Park entrance fees are $20 per car or $10 per pedestrian/cyclist. Annual park passes start at $40.