Mountain trails offer peaceful, scenic views
ESTES PARK, Colo. — On the way up the mountain on a very long, windy road, to the Rocky Mountains, one will pass the small mountain town of Estes Park. This town is charming in its own way; it was lined with Christmas trees and lights and even had Santa Clause out in the streets waving and taking pictures with the kids.
Estes Park is filled with moderately priced lodges and log cabins where many hikers and visitors to Rocky Mountain National Park will stay. It is also a hot destination, after a long day of hiking the various mountains, for visitors to stop and have a hot cup of chili and some hot chocolate.
| | | |
| --- | --- | --- |
| Click on the video at right to view an audio slideshow about trail hiking in Rocky Mountain National Park prepared by writer Rachel Janosec. | | |
Estes Park is also the location of the legendary hotel in the scary old movie called "The Shining," and this is a huge tourist spot.
Highways out of Estes Park lead into the mountains. Visitors will see numerous lakes and trails where people can hike and get their fill of the great outdoors. My family did some research and discovered on of the best trails to hike, which was called Bear Lake.
It was a surprisingly warm and gorgeous day in Colorado for the end of November, and it was also Thanksgiving weekend, so every single trail and lake location was packed. The Bear Lake Trail is known as the favorite destination for tourists and hikers because it has two trails with two lakes and some of the best and most beautiful views in the entire park.
The Bear Lake parking lot was almost filled as we pulled in a little after noon. We planned to arrive earlier, but underestimated the time it took to get up the mountain and also weren't aware of the major construction and restoration that was going on in the park. This area features two different hikes from which to choose. Dream Lake is a two-mile hike both there and back and Emerald Lake is a four-mile round-trip hike.
So we put our fuzzy gloves and hats on, bundled up in our warmest coats and socks, and were ready to hike the trail up to Dream Lake, the shorter of the two paths. In our group, we had two experienced hikers and then the rest were nervous and didn't know how far they would make it, especially because the paths were covered in icy snow.
| | | |
| --- | --- | --- |
| | | At left, on the way up to Rocky Mountain National Park, the sign for Estes Park is a popular photo opportunity for visitors. Estes Park is a small mountain town with a beautiful background (Photos by Rachel Janosec). Next, two hikers walk on a frozen lake overlooking on the way to Dream Lake. |
Even in the end of November, there was still plenty of ice and snow on the trails. It had only snowed in this part of Colorado twice before we arrived in the park, but the snow still didn't melt from the previous winter, not even over the summer months. Most of the paths don't see the light of day because so much trees canopy cover surrounds them.
On the way up to Dream Lake, the scenery is just surreal. It is so peaceful and beautiful out in the open air and nature on these trails. We passed one smaller lake on the way to Dream and Emerald Lake where many people were attempting to ice skate on the frozen lake and take pictures with their families. Some people were just sitting on the ice, taking in the amazing mountain view. It was truly a magical winter wonderland.
T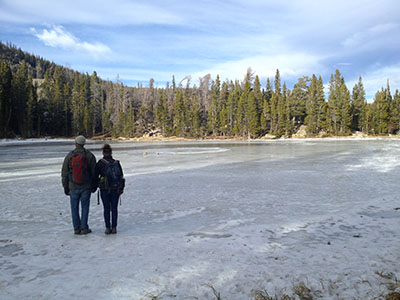 he hike up the mountain seemed like a race in a way. Since it was so crowded and everyone was taking the same trail to the two lakes, we constantly had people behind us and in front of us and people on our tail that must have been pro-hikers because they were racing up the mountainside.
Many hikers would slip and fall, including me, because the trail was basically a shelf of ice, so this was very dangerous. Everyone had to take their time hiking up it but you felt pressured because people were behind almost hurrying you along.
There were small park service signs from time to time pointing us in the right direction up the mountain and that was good because it is really difficult to tell where the trail leads.
On the way up, we saw some birds and a few elk far into the woods. We also saw some people ice fishing at some of the smaller lakes that line the path.
The trail was also filled with many small children, toddlers even, who were running up these trails. My brother stated that mountain children are a whole different breed of children, which I could see.
The trail was especially hard to hike due to the change in altitude. I am so used to being in Miami where we live on the beach at sea level and I truly suffered from this change. Bear Lake is at about 9,450 feet altitude, almost two miles high, and far different where I live these days.
While Boulder, where I was staying that weekend, is a mile high at the east edge of the mountain range, I started feeling lightheaded, dizzy and my ears started to pop on the drive to the park. The change is a lot to get used to and hard on new hikers especially when they are hiking on a slippery four-mile path up a mountain that they have never been to before.
| | | |
| --- | --- | --- |
| | | At left, a view of one of the Rocky Mountain peaks through some trees over a lake. Below, a scenic view of mountain peaks surrounded by trees. |
Molly Cohen, a resident of Boulder and frequent mountain hiker and visitor of the park, said people need to become acclimated to the altitude change.
"I moved here from New York and at first it took a lot of getting used to. When I first moved I could feel the higher altitude even when I was just in my apartment in Boulder. I had to get used to it and learned that drinking water really helps. Up here in the mountains, the level is about 9,000 and I have hiked up to 14,000, so I am used to it now, but I know many first time hikers of the park greatly suffer with this. Just drink water," Molly said.
The altitude change is a lot to get used to and did tired me out on my four-mile hike, but it was worth it. Around an hour and a half later, we arrived at Dream Lake. My mom and dad turned back after deciding they couldn't make it further.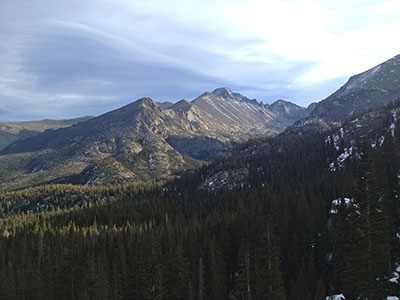 "I could have made it further but I was just nervous of the ice and snow that was all over the trail and I didn't want to slip like so many people were. The half of mile that I did hike was just astonishing though and I wish we could have made it to the lake. We settled for Bear Lake, which was closer and just as good of a view of the mountain peaks. Overall it was a great family experience and bonding session," said my mom, Leigh Janosec.
It was the most astonishing and perfect view I have seen in a while. The huge crystal white lake was frozen over and lined with huge pine trees with icicles hanging off them.
And through the trees was a view of the tallest mountain peak, which is around 14,259 feet and is the mountain peak that Molly climbed back in the summer. There is no point higher than this peak any further east in the United States.
Dream Lake is the most-photographed, talked-about and post-carded spot according to Jon Olsen, who is the volunteer park ranger at the site of Bear Lake.
"We have people travel from all over the world just to come to this lake and experience it for themselves and take pictures. It is a fairly easy hike and path to this point and that also attracts people.
The least athletic person can make it the two miles to Dream Lake. And if you just keep going one more mile or so you can reach Emerald Lake, which is another beautiful spot for mountain views and pictures," Olsen said.
And for the person who can't do the two or four mile hikes up the mountain to the lake, right at the trailhead, there is the actual Bear Lake, which is just as beautiful.
This is the path my parents took because my mom was too afraid of the ice, which is understandable because I fell a few times and I was wearing hiking boots.
Ranger Olsen also commented about the wildlife in the park and what people do in the park besides hiking.
| | | |
| --- | --- | --- |
| At right, a distant view of the smoke from fires occurring in the park. Last, the snow-covered path that led to Dream and Emerald Lake inside the Bear Lake Trail. | | |
"As for the wildlife in the park we have many deer, squirrels, birds and elk occasionally. Bear Lake of course has bears but not many, the official number is about 20 bears in the park and most are in hibernation now for the winter so you won't see any of them and you definitely won't see people hunting these animals. But what you will see people back in the woods of the park snowshoeing and cross-country skiing. They cross-country ski along the flatter trails on very thin skies. It is quite the sight to watch," said Olsen.
Christopher St. John, another ranger, talked about Long's Peak.
"I work at the Long's Peaks Ranger Station in the summer, which is the highest peak in the park, and there we see the more experienced and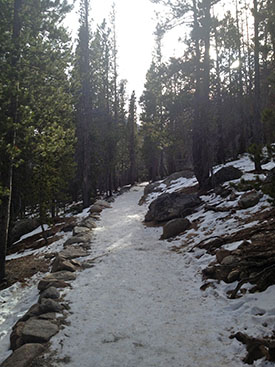 serious climbers, but it is also a very whole-family site. Bear Lake is more of a general tourist route and best for new hikers and climbers," St. John said.
This trip to the Rocky Mountain National Park was filled with adventure and opened my families' and my eyes to more hikes and trips like this in the future, hopefully next time with just a little less snow.
If You Go
Rocky Mountain National Park is located at 1000 U.S. 36, Estes Park, Colo., 80517.
The website is: http://www.nps.gov/romo
Phone: 970-586-1206
The entrance fee is $20 per car for as many people you can fit in the car and is good for seven consecutive days.
Be sure to be prepared, be aware, dress warm and bring water/food.
Bring a camera for photos and video.