Franklin Court recalls life of city's resident
PHILADELPHIA— Franklin Court was once the site of Ben Franklin's home, where he lived until he died in 1790. His years serving in the Continental Congress and the Constitutional Convention were spent in this home on Market Street.
Franklin's heirs tore down the house in 1812 and the property was sold for development. An alley filled with homes and businesses replaced the house and gardens, leaving only the arch on Market Street that served as a passageway to Franklin's home.
| | |
| --- | --- |
| | Historians and park experts envision Franklin's home through this "ghost" structure (Photo by Niccole Burns). |
"I was surprised to find out that Franklin's own family were the ones to sell his property and have his house torn down. They should have known more than anyone how important he was to the United States," said Charles Bregg, a financial consultant visiting from Ohio.
When Independence National Historical Park was established in 1948, work began to uncover Franklin's past. For 30 years, archeologists gradually re-discovered Franklin Court, exposing original foundation walls, parts of the kitchen and privy pits.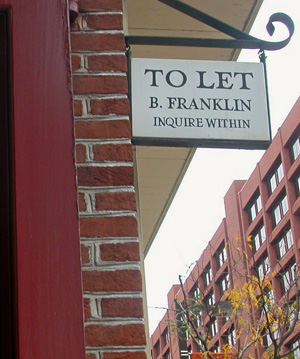 Although researchers discovered Franklin's brick home was three stories high, covered 33 square feet and included 10 rooms, they lacked complete evidence to reconstruct the building.
Instead, the National Park Service hired Philadelphia-based architect Robert Venturi to design the "ghost structure" that stands in place of Franklin's home today.
Within the ghost structure, visitors to Franklin Court can look through portals to see privy pits, wells and foundation of his former home.
"Looking through the portals to see only the remains of where Ben Franklin lived and died really put something into perspective for me. When we're tearing down old building to build a new highway or parking lot, we are tearing down someone's legacy and one day, we'll regret it," said Jennifer Glaven, an elementary school teacher from Baltimore.
Still standing today, however, are five rowhouses on Market Street, three of which were built by Franklin for rental income.
The restored houses now serve as an archaeology exhibit about Franklin's experiments to develop fire-resistant buildings, a U.S. Post Office, a museum gift shop and an operating 18th Century printing and binding office.
"I loved seeing how the printing press worked. It was definitely much more work that typing something on the computer and pressing the print button," Bregg said.
| | |
| --- | --- |
| The "ghost" version of the Franklin print shop (Photo by Niccole Burns). | |
To protect the remains of Franklin's home, the Underground Museum is set about 20 feet below ground level.
The museum contains paintings, objects and inventions, including the glass armonica, a favorite of many visitors and Franklin himself.
"The glass armonica makes such a beautiful sounds and it's a big hit with school children that visit," said Beverly Morris, volunteer coordinator for Independence National Historical Park.
Franklin's invention improved upon playing music on water-filled glasses. Thirty-seven glass discs were placed on a spindle, which was turned by a foot treadle. The glass armonica is played by rubbing the rims with wet fingers.
"My kids and I really enjoyed the glass armonica. It's very impressive that there are park rangers that have learned to play it," said Connie Maston, a mother of two visiting from Pittsburgh.
Park Ranger Tony Brown has learned to play many different songs on Franklin's instrument.
"Mozart composed music for the glass armonica, but I like to play music from the 70s," Brown said.
Visitors can also see one of the three movies played in the museum theater—"Portrait of a Family," a 1976 play, "Ben and Me," a cartoon, and "The Real Ben Franklin," a Discovery Channel special.
The main room of the museum has a telephone bank where you can listen to testimonies about Franklin based on the words of George Washington, Mozart, and many others.
"I was a little disappointed by the lack of content in the main room. The telephones barely had my kids' attention for ten minutes, and then we were done with the museum," Maston said.
| | |
| --- | --- |
| | A few of the exhibits that are part of the Underground Museum (Photo by Niccole Burns). |
Some park rangers agree that the museum needs more exhibits that appeal to children.
"The Underground Museum needs to be much more hands-on for kids. It's the best way for them to have fun while learning. The real problem is that the museum is so out-of-date. It hasn't changed much since it opened in 1976," said Don Stanko, a park ranger.
Missy Hogan, chief of Operations for Interpretation and Visitor Services at Independence National Historical Park, started her work with the National Park Service at Franklin Court.
"I'm a huge Franklin Court fan and it will always have a special place in my heart because it's where I got my start here," Hogan said.
She agrees that the museum does not live up to its full potential.
"The museum was built in preparation for the bi-centennial. The National Park Service just hasn't gotten the money since then to make that building something," Hogan said.
Although no major changes have occurred at the museum since its opening 30 years ago, some small cosmetic changes have been made in the past few years.
| | |
| --- | --- |
| Park Ranger Tony Brown plays the glass armonica (Photo by Niccole Burns). | |
"We had to replace the turn-dial phones in the main room during the 90s to touch-tone because the kids didn't know how to use the old phones anymore," Hogan said.
The lack of funding has forced visitors to rely on the stories and enthusiasm of park rangers.
"The park rangers all seem to really love their jobs. They're full of information and emotion. Even though the small museum didn't have much to see, the park rangers make it worth visiting," Maston said.
If You Go
Important Information:
316-322 Market St.
Philadelphia, Pa. 19106
215-597-8974
http://www.nps.gov/inde/franklin-court.htm
No tickets are required and admission is free.
B. Free Franklin Post Office
Open Mondays to Saturdays 9 a.m. to 5 p.m.
Courtyard
Open daily 9 a.m. to 5 p.m.
Museum Shop
Open daily 9:30 a.m. to 4:30 p.m.
Underground Museum
Open daily 9 a.m. to 5 p.m.
Programs at the Underground Museum
Franklin Film Festival
Daily 9:15 a.m. to 4:15 p.m.
Franklin's Glass Music—Armonica demonstrations
Daily 12:30 p.m., 2:30 p.m. (15 minutes).