Independence Hall is city's crown jewel
PHILADELPHIA– Independence National Historical Park has a lot to offer, but a trip to the park would not be complete without a stop at arguably one of the most well known buildings in the United States: Independence Hall itself.
"Everyone all over the world has heard of Independence Hall," Beverly Morris, Volunteer Coordinator of Independence National Historical Park, said. "We get near five million visitors a year and a lot of them are international because it is studied like Mecca."
| | |
| --- | --- |
| | Independence Hall is framed by trees on a recent fall day (Photo by Sarah Oline). |
Your tour of Independence Hall, a World Heritage Site, actually begins at Independence Visitor Center to obtain a ticket. The park ranger distributing tickets will also give you a map and tell you the recommended time to arrive at Independence Hall security.
"Tickets are free, but timed so everyone gets a chance to see it and so you can plan your day around it," Morris explained.
The full tour actually includes three separate buildings: Old City Hall, Independence Hall, and Congress Hall.
"We had to ask what we were going to see," Arkansas visitor Larry Haves said. "But it was nice to see the building where the Constitution and the Declaration were signed."
In case you are in the same boat, both the Constitution of the United States (1787) and the Declaration of Independence (1776) were drawn up and signed by budding American politicians within the walls of Independence Hall.
"It's a symbol of our freedom," Larry's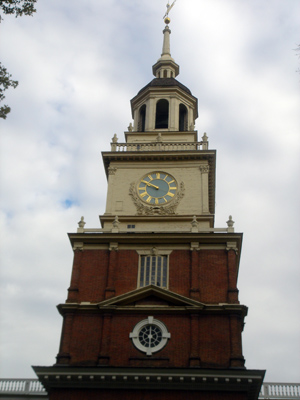 wife, Susan Haves, said.
"The Liberty Bell tends to be the symbol of American freedom, but it would be nothing without Independence Hall. That's where Americans got their freedom," Park Ranger Don Stanko said.
You enter security through Old City Hall. Like at an airport, you will have to take off coats and watches, but you can keep your shoes on.
"After Sept. 11, the federal government labeled this an 'icon park' so security beefed up," Morris said. "However, some reconfigurations have just been announced."
Old City Hall is not only security.
"Visitors can check out an actual city meeting room in the back of the building," Missy Hogan, chief of Operations for Interpretations and Visitor Services, said.
Visitors must wait in line at the East Wing of Independence Hall for their assigned park ranger to begin the tour. While waiting, you can take pictures and enjoy the scenery of Independence Square, a small courtyard behind the building. Well, actually, it is in front of the building, but opposite of where you entered from Chestnut Street.
"The back of Independence Hall is actually the front," Morris explained. "So Independence Square is in front of the hall and Independence Mall is behind it."
Once in the East Wing, your park ranger will give you a brief and informational chat on the State House.
State House? Didn't you come to see Independence Hall?
"This building is actually, officially the Pennsylvania State House," Park Ranger Tony Brown said. "Independence Hall is just a nickname. They know Frenchman Marquis de Lafayette called it this but we don't know how exactly the nickname came to be."
Brown refers to the building as the Pennsylvania State House throughout his tour, but continually asks the audience to tell him its better known nickname to keep them listening and enthusiastic.
"The story of Independence Hall is the story of Independence Hall, it doesn't really change," Hogan said. "The rangers give them same information but the way they tell it is going to be different. Everyone has a different and interesting slant."
"I try to bring out points that aren't touched on in classes and textbooks," Brown said. "For example, families even split over this country and everything that happened here."
The first room of the tour is the courtroom of the State House, used until 1820, with high ceilings, peach colored walls, and open, arched doorways.
"The room doesn't have doors because the trials were open to the public. It was a form of entertainment," Brown said.
The courtroom includes a defendant's box, almost like a cage to stand in, facing the judge's bench with room for five judges. Behind the judge's bench is a painting of the Code of Arms of the State of Pennsylvania.
| | |
| --- | --- |
| Assembly Hall, home of the Continental Congress, is located in Independence Hall (Photo by Sarah Oline). | |
The second room of the tour is Assembly Hall. This room is different with many tables and chairs, blue walls, and green curtains.
"Independence Hall is 95 percent original. The colors are very close to how it was back then," Morris said.
These doors were closed to the public and only Pennsylvania legislature and rich men were allowed until it later became home to the Continental Congress.
After Assembly Hall, visitors exit the building into Independence Square and thus end the formal portion of the tour. Next door in the West Wing, however, you can check out the "Great Essentials Exhibit:" copies of the Declaration of Independence, the Articles of Confederation, and the Constitution of the United States. These printed copies are actually older than the signed ones.
"This is second time I've been here," visitor Nancy Campell said. "We bring our grandchildren to make memories. We take them in seventh grade before they learn about the Constitution in eighth."
"It was great," Grainger Campell, her grandson, said. "It was cool to see the documents."
Next, visitors can opt to tour Congress Hall, the final building on Independence Square. Tours run every 20 minutes. Inside is an auditorium-style room which housed Congress between 1790 and 1800.
"There was a lot of shouting in this chamber because the parties were not separate in this room," Park Ranger Stephen Medeiros said. "Not everything was perfect. This led to the Federalists and the Republicans."
After a park ranger shares with visitors his or her interpretation of Congress in that era, they can head upstairs to see various committee meeting rooms and the Senate room. All of which are rather dark and contain old-looking tables set up with quills and yellowed paper.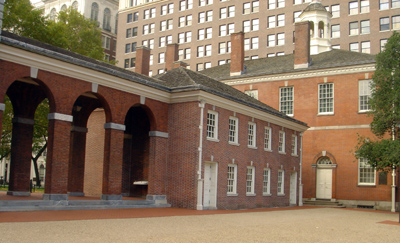 Visitors can take photos inside Congress Hall, as well as Independence Hall.
Though visitors come from across the world for different reasons, everyone is bound to learn something, though each interpretation varies.
"My daughter and I watched a movie on the Constitution so we came to see the real thing!" visitor Jane Roess said. "It's a great place for educational purposes."
"We get a lot of school trips, thousands a year, from second grade to universities. This is the birthplace of democracy," Morris said. "We don't structure visits because freedom ideologies differ."
"I hope visitors have a great time and remember where this country came from," Brown said. "Don't take liberty for granted."
If You Go
Location: Independence National Historical Park, Philadelphia; corner of 5th and Chestnut streets.
Open: Monday – Sunday, March to December, 9 a.m. to 5 p.m.
Admission: Free, timed ticket required from Independence Visitor Center.
Facilities: Security and benches. No restrooms on site (use the Visitor Center).
Printed materials are available in Chinese, French, German, Hebrew, Italian, Japanese, Spanish and Russian.
For more information: 215-965-2305; Web site: http://www.nps.gov/inde.
© University of Miami School of Communication