Poe wrote important works in Philadelphia
PHILADELPHIA — Although Edgar Allan Poe is most often associated with Baltimore, his work as an editor led him here, where he spent the most content and productive years of his life.
Dr. Jane Kribbs Drake, a professor at Temple University, teaches Poe's work in survey American Literature courses.
| | |
| --- | --- |
| | A man bicycles past a larger-than-life portrait of author Edgar Allan Poe near Poe's home in Philadelphia (Photos by Sarah Oline). |
"Whole books have been written about Poe's influence on literature. He was so original when Americans were trying to figure out who they were. Poe's work is timeless because he dislocates us from time, place and even ourselves," Drake said.
Edgar Poe was born in Boston in 1809 and, following the death of his mother two years later, he moved to Richmond, Va., with his foster parents, Frances and John Allan. The rocky relationship between Poe and his foster father dictated many of Poe's decisions in his early years.
Poe spent most of his childhood at a boarding school in England and then attended the University of Virginia. His time at the university ended after only a year, however, because of the withdrawal of his foster father's financial support.
At the age of 18, Poe left home for Boston and published his first volume of poems. Due to lack of money, he enlisted in the army shortly after and spent two years in the service.
After the death of his foster mother, Poe and his foster father briefly reconciled, which helped him to gain an appointment to West Point. However, Allan soon remarried and Poe lost all support. Again, he was unable to finish his education.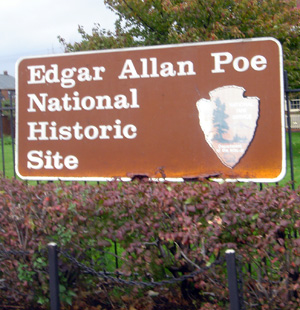 Poe spent the next four years in Baltimore with his aunt and cousin Virginia. During this period he wrote stories and sold them to journals in Baltimore and Philadelphia, but he struggled financially.
He finally found his vocation in 1835 when he became editor of The Southern Literary Messenger in Richmond, which flourished under his guidance.
Poe married his cousin Virginia in 1836 and moved his family to New York and then Philadelphia, which offered more opportunities for an aspiring editor because it was the literary center of the country at the time.
Missy Hogan, chief of Operations for Interpretation and Visitor Services at Independence National Historical Park, said that Philadelphia experienced some of Poe's best years.
"Poe's years in Philadelphia were an important part of his life. This is where he had his most success as a writer and editor," Hogan said.
During his six years in the city, Poe was an editor for two major magazines, Burton's Gentlemen's Magazine and Graham's. Both magazines experienced significant increases in circulation under his direction.
Drake said that Poe's dream was to own his own successful magazine, something he was never able to achieve.
"He wanted nothing more than to be respected by magazine editors and other writers. I don't think he ever got that respect when he was alive," Drake said.
In addition to his success as an editor, Poe published over 50 stories in Philadelphia, some of which are his most famous, including "The Tell-Tale Heart," "The Black Cat," and "The Masque of Red Death."
"If you're interested in American literature, the Poe House is a great place to visit because he was such an influential and important American author," said Mike Jolly, a park ranger who said he enjoys working at the Poe site more than any other site at Independence National Historical Park.
Many people also attribute the creation detective story genre to Poe when Graham's magazine published his story "The Murders in Rue Morgue."
Frank Ferry, president of the Mycrofts League of Philadelphia, a group of Arthur Conan Doyle fans, said that Poe's character in "The Murders in Rue Morgue," C. Auguste Dupin, became an archetype for all succeeding detectives.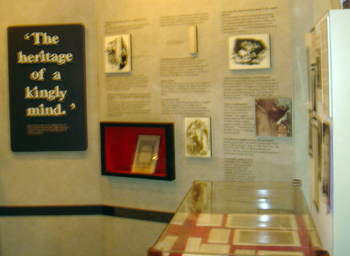 "There is no doubt that Poe inspired Doyle. In fact, in Doyle's "A Study in Scarlet," Watson compares Sherlock Holmes to Dupin.
Although our group focuses on Doyle, we wanted to visit the Poe house because the detective genre and Sherlock Holmes wouldn't exist without him," Ferry said.
Poe and his family rented several houses in Philadelphia between 1837 and 1844, but only the last home survived. The Spring Garden home, where Poe lived between 1834 and 1844, is now the Edgar Allan Poe National Historic Site.
Colonel Richard Gimbel, one of the world's leading rare-book and manuscript collectors and heir to Philadelphia's Gimbels Department Store fortune, bought the property in 1933.
Stephen Medeiros, a park ranger and member of the Friends of Poe group said that Poe's last home would not have survived without Gimbel.
"The house was in pretty bad shape. Gimbel fixed up the property and turned it into a museum that he opened to the public on Poe's birthday and the anniversary of his death," Medeiros said.
When Gimbel died in 1971, he willed the Poe House to the City of Philadelphia.
Poe's former home became a unit of Independence National Historical Park in 1978 and was opened to the public in 1980. In addition to Poe's home, the site includes two other buildings that serve as a Visitor Center with exhibits, a short film and a reading room.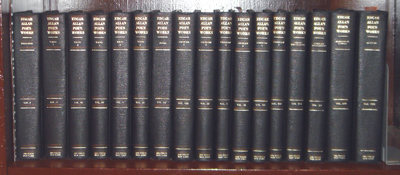 Comprehensive research exposed many architectural features that dated back to when Poe's family rented the building.
Medeiros said that the National Park Service was lucky to obtain the building with so little reconstruction.
"All those years, everything just changed around it," Medeiros said.
Beverly Morris, volunteer coordinator for Independence National Historical Park, said that because many people lived in the building after Poe, there is a lack of evidence as to what it looked like inside while Poe occupied the residency. In order to keep the Poe site historically accurate, the National Park Service decided not to add any furniture.
"Rather than put the wrong things inside, we leave the rooms bare. Poe was a mysterious man and you get that mysterious feeling walking through the empty rooms," Morris said.
Select famous works Poe wrote while in Philadelphia:
"Murders in the Rue Morgue"
"The Pit and the Pendulum"
"The Tell-Tale Heart"
"The Black Cat"
"The Gold-Bug"
"The Fall of the House of Usher"
"The Masque of the Red Death"
"The Purloined Letter"
"The Cask of Amontillado"
"A Descent into the Maelstrom"
"William Wilson"
"The Man of the Crowd"
"The Oval Portrait"
If You Go
Read Poe's "The Black Cat" before you visit. Some people believe the basement at the Edgar Allan Poe National Historical Site inspired the poem.
Open: Wednesday – Sunday, 9 a.m. to 5 p.m. Closures: Mondays and Tuesdays; Veterans Day, Thanksgiving, Christmas and New Year's Day.
Admission: Free.
Location: 532 N. 7th St., Philadelphia (7th and Spring Gardens Streets).
Facilities: Restrooms, reading room, and souvenirs.
For tour information: 215-597-8780
Web site: http://www.nps.gov/edal/

back to top
© University of Miami School of Communication