Constitution Center honors liberty, history
PHILADELPHIA — If the doors to freedom are made of glass, then the National Constitution Center is where you will find it.
On Sept. 17, 2000, 213 years to the day the U.S. Constitution was signed, construction of the NCC began. Serving as an interactive museum and education venue for students and visitors alike, this addition to Independence Mall that opened on July 4, 2003, brings nothing short of an unforgettable experience in life, liberty and American history.
| | |
| --- | --- |
| | The National Constitution Center at dusk in downtown Philadelphia (Photos courtesy of the National Constitution Center). |
Originally chartered by Congress on Sept. 18, 1988, the venue proves that interaction is the best teacher, attracting one million visitors within its initial 15 months of operation.
"It can be extremely busy around here. It's been great, but there's always something going on," said Kerry Sautner, director of Public Programs.
Completely funded by private donations, this non-partisan and non-profit organization works closely with both public and private schools to ensure that students receive the history that they otherwise would not.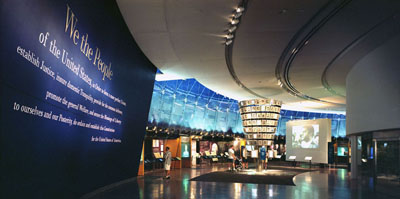 By implementing a live multimedia production every half hour as an introduction to the center's experience, visitors have the opportunity to see the history that school textbooks cannot make visual.
"Philadelphia has just been on a major revival. It's a great city and I think that the National Constitution Center, amongst other places, has really added to that. It's a place where people want to come and rediscover Philadelphia," said Eli Lesser, director of Teacher Education and Civic Outreach.
The building's glass frame allows for the transparency that the Constitution intended. The ability of citizens along the street to see others gathering inside was exactly what the Founding Fathers had in mind. The 56 flags surrounding the building represent each of the states and include the District of Columbia as well as the five territories in order to display the vision of all parts being America.
The production "Freedom Rising" is a 17-minute presentation— complete with surround sound narration, a 360-degree screen and a live orator— that precedes the journey through the American Experience museum.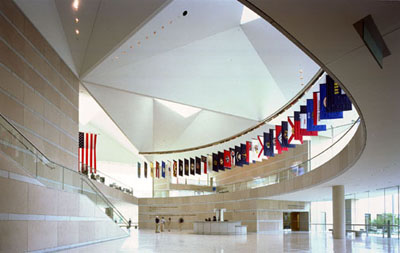 The museum offers more than 100 interactive images and exhibits for all ages.
Visitors can watch themselves be sworn in as president of the United States at the simulated Oath of Office, listen to Franklin D. Roosevelt address fellow citizens across the radio waves in a recreated living room or witness a mini documentary of the Kennedy assassination.
"Our goal is to help schools renew their civic mission," said Lesser.
With the help of artifacts from various events such as actual slave chains and shackles, as well as a ticket from the impeachment proceedings for former President Bill Clinton, the Center is able to convey what is meant by the Constitution sketched along the glass display cases that enclose the exhibit's walls.
| | |
| --- | --- |
| Philadelphia's Ben Franklin is at the center of this exhibit in the National Constitution Center (Photo by Breyana Penn). | |
The invitation to join the story also comes due to the exhibit's division into three major sectional pathways. The outer wall tells the actual story of "We the people" along 400 feet of space that circle the entire gallery. Beginning with the Stamp Act crisis of the Revolution and including crucial elements such as information on Plessey v. Ferguson and the Dred Scott Decision, the story ends with the history that is being made today.
"I hated civics and history in grade school, but this was enjoyable. Everyone needs to have the opportunity to see what I witnessed today. It's that simple," said Naomi Novak, exhibit visitor.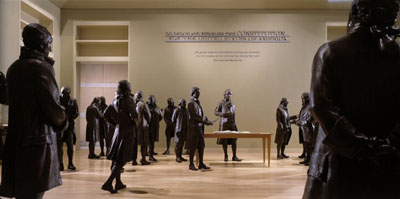 Walking directly down the center of the exhibit, the Preamble Path focuses on the Preamble to the Constitution and shows how elements from the past link directly to what the Constitution means today.
Designed with families in mind, these interactive elements provide the most participation for visitors, and tell the stories of Americans in a way unlike any other. From Mickey Mouse's impact on American culture to wearing a judge's robe in a court hearing, the encounter matches learning with enjoyment seamlessly.
The final phase is along the inside wall where visitors are able to write their thoughts on major issues of today and what they would also like to see added to the exhibit. These comments are compiled and taken into account when revisions are made every few months.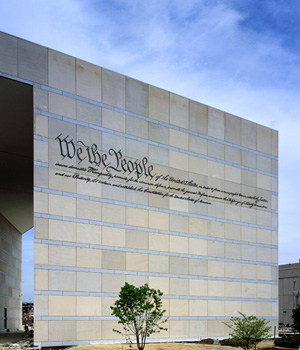 "It moved me to tears," said Jamye Coleman Williams, civil rights activist and exhibit visitor, on her experience. "It also made me wonder if our current president has been here to see this, he should be invited."
Before completing the tour around the 75,785 square feet of exhibit space, a final stop must be made at Signer's Hall.
The room is composed of life-size bronze replicated statues of all 42 men who took part in the signing of the Constitution.
The eerily quiet space, complete with a replica of the Constitution available for visitors to sign, is home to the statues that are as lifelike and accurate as possible based on extensive research.
Taking a new approach to the museum encounter, the National Constitution Center's aim to create an experience with the visitor of the future in mind provides over 17 hours of learning and interactive history.
With plans for progression set in place for renovation, the history of "we the people" of the past, present and future days to come will be represented here.
If You Go
The facility is located at 525 Arch St., Independence Mall, Philadelphia, Pa. 19106.
Contact information: Telephone: 215-409-6600, group information 215-409-6800, special needs 215-409-6675, fax 215-409-6650. http://www.constitutioncenter.org.
Open seven days a week (except Thanksgiving and Christmas), 9:30 a.m. to 5 p.m. Sundays to Fridays, 9:30 a.m. to 6 p.m. Saturdays.
Parking: National Constitution Center on Race Street between 5th and 6th Streets, Additional parking located at the Independence Visitor Center
Visitor Fees: $6 for up to 1 hour, $8 for up to three hours, and a maximum of $15 for the day
Admission Pricing: $9 adults, $7 children ages 4 to 12, seniors ages 62 and over, college students (with school ID) and active military personnel (with military ID)
Admission $6.50 per person for groups of 20 or more.
Visitor Amenities
Museum Store— open during regular business hours, gift merchandise and collectibles available for purchase
Restaurant and Dining Facilities, The Delegates' Restaurant: a 225-seat, glass-enclosed restaurant overlooking Independence Mall.
Facility rentals: a variety of spaces are available for special events.
The Grand Hall Overlook can accommodate 600 people for dinner and offers a great view of Independence Hall.
The Annenberg Center for Education and Outreach.
Offers educational programming, a study center for student development, and teaching tools for lesson plans and lectures.
Other Quick Facts:
Bill of Rights Show-Running every 30 minutes from 10:15 a.m. A 15-minute show and theatrical performance guided towards younger children. Entertainment based around the explanation of the first ten amendments.
A rare first public printing of the Constitution is located on the premises adjacent to Signer's Hall.
Becoming a member of the National Constitution Center allows for special benefits. More information on this is available by calling 215-409-6767.
The center is made up of these products: 85,000 square feet of Indiana limestone, 2.6 million pounds of steel, and one half-million cubic feet of concrete.
The total square footage of public space is 160,000 square feet. The project cost of the National Constitution Center was $185 million. This includes construction, exhibit design and fabrication as well as a $40 million endowment.
A new exhibit comes to National Constitution Center every three months.
| | |
| --- | --- |
| | A copy of the U.S. Constitution is on display in the National Constitution Center (Photo by Breyana Penn). |