Yosemite corral bosses love their animals
YOSEMITE VALLEY, Calif. —Strolling in the warm sunshine, Ruth, who just finished her day's work, is enjoying the sun bath and the cool, crisp mountain air.
She begins her work at 8 o'clock every morning and has been working in the Yosemite Valley for a few years.
She, like many other employees at Yosemite, prefers to a relaxing life style and lives in the middle of a giant sequoia forest. She is also one of the essential members in the National Park Service and serves as the perfect trail companion for the visitors to explore the breathtaking scenic and rugged terrain in the Yosemite National Park.
Who is she?
She is not a person, but one of the mules, who provide rides in the Yosemite Valley Stable.
Yosemite Valley Stable, located in the heart of the Yosemite Valley at the valley shuttle stop 18, is operated by the Delaware North Companies (DNC) Parks and Resorts. Generally, it is open from April through October. Each year, there are about 14,000 visitors taking guided mule or horseback trail rides beginning at the stable.
| | | |
| --- | --- | --- |
| | | At left, the sign of Yosemite Valley Stable near the shuttle bus stop 18 (Photos by Yiyun Luo). Next, mules are waiting for riders. Below, a mule at the stable. Next, Sean Harris and Jennifer Koehn, the corral bosses, with one of their mules. Next, a mule is making a face to the riders. Next, Mirror Lake, a main destination on the two-hour guided mule trail ride. Last, a rider and her trail companion. |
Compared to other two stables (Wawona Stable and Tuolumne Stable), which are also located in the park, Yosemite Valley Stable was the first one open  and is the biggest one for mule or horseback rides in the park.
"This stable right now has six horses and 35 mules … The biggest mule here is probably close to 2,000 pounds and 17 hands," said Jennifer Koehn, 35, who serves as one of the corral bosses at the stable. "And Ruth (we introduced her earlier) is my favorite mule right now."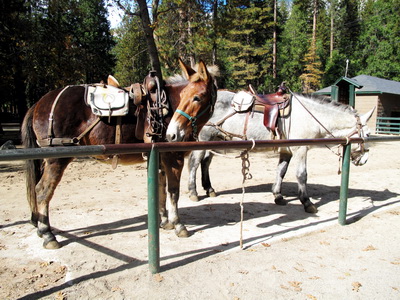 Koehn started her working experience with mules and horses at the age of 20 and has worked at this stable for nearly nine years. Her day-to-day responsibilities are to train the mules and horses, take care of them, assign them to the riders and to talk to riders about safety. In a word, she is in charge of whatever is going on at the stable.
In her eyes, mules, who share characteristics of donkeys (such as long ears and thin limbs) and appear horse-like (in height and body), are smart and sure-footed animals and fit for the kids and beginners.
"They are more easily trainable and smarter than horses," stated Koehn, who wear a cowboy hat, a blue shirt and blue jeans. "They are usually calmer, quieter and gentler than horses. Horses' first instinct is to run, and mules' first instinct is to stop and look at what scared them and decide whether they need to run."
"And mules actually like people more than horses do," Koehn added.
As mules process an expressive part in its nature, it is not difficult to tell their emotion to people by their action.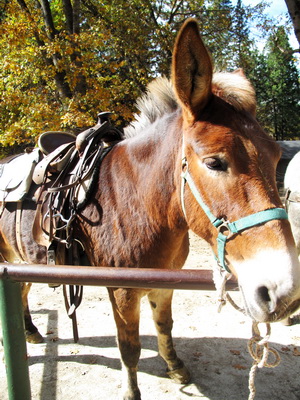 "If they like you, they will follow you around and hope you feed them. Mules are pretty friendly to the breeders and happy to eat anything you want to give them (especially apples and carrots). If they don't like you … when you walk by, they might kick you," said Koehn, laughing. "They are splendid kickers."
Although mules take possession of personalities above which seem to be more suitable for riders, it was ironical that horses are more popular than mules at the Yosemite Valley Stable.
"Most people will prefer to ride the horse," Koehn said. "But they will not have a choice of which animal they will ride."
She assigns the animals based on the rider's age, riding ability and the degree of difficulty of the trail the rider chooses.
Yosemite Valley Stable offers two options for the riders: two-hour ride and half-day ride.
The two-hour riding trail to Mirror Lake is ideal for the kids and beginners. As part of the ride, trail guide explains the geologic forces that are slowly drying out the lake, which provides riders not only a scenic journey but also an educational opportunity.
A half-day ride is a four-hour trail that tends to be more rocky and steeper than the former one. It takes riders up to Clark's Point, where they can admire the excellent views of Vernal Fall and Nevada Falls.
"We use the horse only on the two-hour ride. So if you go on a longer ride more than two hours, then it is automatically mule," Koehn said.
"Mules are supposed to be good on the trail, better than horses, at least they have that reputation," said Karen Bailor, who is in her late 40s and is ready to take the half-day mule ride for the first time.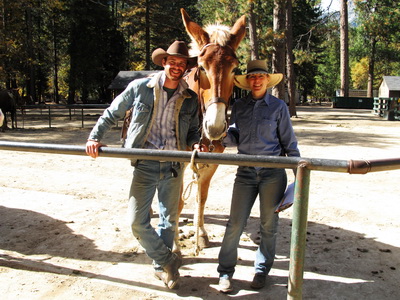 Koehn is a busy woman at the stable. Besides serving as a corral boss, she has another job title as well. That is "guide packer," the person in charge of leading packs of mules.
"No mule is born here. We buy them at roughly two to four years old from several different people that train mules around the county. And then, we pack them," Koehn said.
"We start the mules out as pack mules, so they learn how to be packed and how to follow the line."
When they pack mules, they put different saddles, equipment and supplies on the mules and place every five mules in a string.
Mules are roped together, literally tied nose to tail, one behind another. One guide packer leads five pack mules to the Yosemite trail.
As a result of that, the mules learn to carry their loads, walk on the trail and behave a good manner.
Then, when they are about five or six, after they have worked packed for a few years, the guide packer can get on them and ride them. At that time, they will much easier to train given that the guide packer just has to teach them stop and go before assigning them to tours.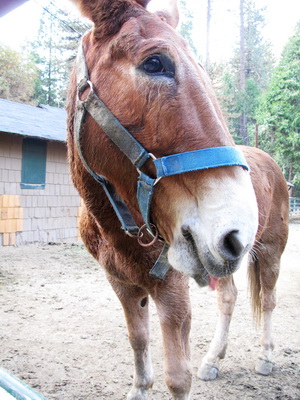 Guide packers also give them names and numbers, Ruth is a vivid example.
"We gave them a name because we can call them by whoever they are. We also gave them the number so that we can say go and get the mule who happened to be this number to the new people," said Koehn, showing a number on one of the mules.
"We also call them Molly or John. Girl mule is Molly mule. Boy mule is John mule," Koehn added.
Working with mules and horses at Yosemite for years, Koehn says she really enjoys her work. She always wants to be around animals in her work.
In addition to that, the natural beauty of Yosemite, such as spectacular granite cliffs, beautiful lush meadows and an impressive view of Yosemite Falls, is also an essential element that made her fall into her job here.
"I came here for one summer, but I've been here for nine years," she expressed her love to work amidst the beauty of nature.
And, of course, Koehn is not the only one who deems the Yosemite Valley stable as her ideal work place.
"I love my job," said Sean Harris, 24, who is also one of the corral bosses at the stable.
"They are just like kids or doggies to us. They all have their own personalities," said Harris, smiling and showing off a mule next to him. "Madonna has a very relaxing personality. She doesn't really care what is going on, but she lets people play with her."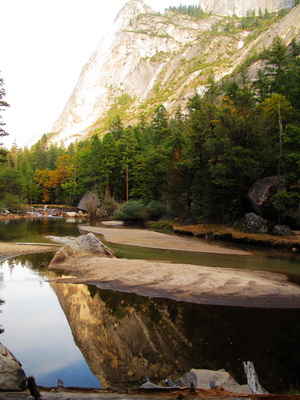 Harris dives into his work with great passion and tells numerous funny stories from his work, such as the moments spent bathing the mule.
"They do like to be bathed. When you wash them with shampoo and conditioner, it makes their hair shiny and smooth. I then let them dry off and release them … they get really hyper. They run everywhere and jump and play around with other animals, kind of like a puppy," Harris said with excitement in his voice.
To Koehn, Harris and other trail guides, the month of October is the end of the year's stable service. During the winter, the Yosemite Valley Stable will not open to the public and the stable staff will work in other places for the DNC Parks and Resorts.
"I do miss them when I've gone. When we come back, they know who we are," said Koehn.
Standing in the warm sunshine like Ruth enjoys doing, Koehn and Harrison look forward to the coming of next spring—a new beginning to provide breathtaking and enjoyable experiences to the riders at Yosemite.
They hold a strong conviction.
"We love our mules, and you'll love them too," the stable guides proclaim on its Web site.
If You Go:
Yosemite Valley Stable opens April through October.
Mule and horseback ride rates at Yosemite Valley Stable: Two-hour rides (to Mirror Lake): $59 per rider, Half-day rides (to Clark's Point): $79 per rider.
Please arrive at the stable at least one hour prior to your ride. Children must be at least seven years old and 44 inches tall. Maximum weight is 225 pounds.
You will not have a choice of which animal you will ride.
This is a popular activity in Yosemite, so reservations are strongly recommended. For reservations, or more information, please call 209- 372-8348 or visit Web site http://www.yosemitepark.com/Activities_MuleHorsebackRides_YosemiteValleyStable.aspx