Night Prowl provides different experience
YOSEMITE VALLEY, Calif. — Innumerable twinkling stars and the hazy sheen of the Milky Way illuminate the sky as I make my way from Yosemite Lodge to shuttle stop nine. I will be meeting up with my fellow night prowlers, a group of approximately 20 people who wish to see another side of Yosemite Valley.
It is just after 8 p.m. when I reach the shuttle stop. A few people have already arrived. We kill the half hour we have until the night prowl starts by voicing our expectations about the tour.
"I'm just worried that I'm going to be warm enough," Sharon Applebaum, 43, said as she tugs down on her hat. "An hour and a half out here might kill me!" She further explains that she is from South Texas and never voluntarily goes out in the cold.
Others talk about what they hope to see while on the tour, or, perhaps, what they will not.
| | | |
| --- | --- | --- |
| At right, night prowlers may experience settings where they use their sense of touch in the tall grasses. Next, at Swinging Bridge, you explore how nocturnal animals use sonar sound. Next, the Merced River will provide a reflective view of the sky. Last, the prowl begins at this secluded area behind Yosemite Lodge (Photos by Lauren Sagaser). | | |
"I hope the guide has done this before," Marta Suarez, 16, said. "It is a little scary that we're going out at night into the woods, you never know what might be a few yards in front of you."
While Marta worries about meeting animals on our tour, four children from England eagerly anticipate the possibility. "Do you think we'll see a bear?" Bradley, 9, asked his sisters. "Are they nocturnal? What would you do if we see a bear? Would it eat me?"
As Bradley prattles off a list of questions without taking a breath, I think back to the purple print of "Night Prowl" in the Yosemite Guide, denoting an activity geared towards kids. While this ranger tour can be enjoyed by any age, children definitely dominate the scene. Get ready for sudden outbursts and cries from little ones. If you have serious aversion towards children, this tour may not be for you.
At 8:20 p.m. our tour guide, Andrew, arrives. He begins to collect tickets from the group. Tickets cost $5 and can be purchased in advance or on the day of the tour at Yosemite Lodge. Like most activities offered at Yosemite National Park, the contracting group Delaware North Companies, the park contractor, runs the Night Prowl tour.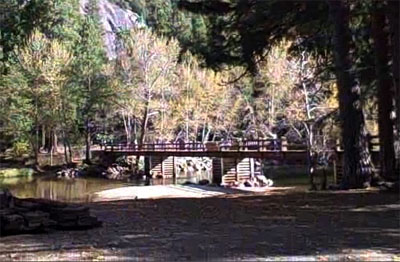 Though tickets appear to sell out early (I would recommended purchasing them before 3 p.m.), Andrew accepts a few stragglers who were unable to procure tickets at the desk. A few $5 bills are taken as admission tickets for the tour.
After waiting 10 minutes for any additional night prowlers Andrew leads us behind rooms of Yosemite Lodge to begin the tour. He officially introduces himself to the group, relating that he has worked and lived in Yosemite for six years.
"I always say I get to have the most fun, because I get to teach people about this place," Andrew said. "And I get to go on night hikes. And I get paid for it!" This statement is met with collective laughter.
After quick introductions from tour members, we learn that our group is quite diverse. People have traveled from Nebraska, Australia, Amsterdam, Chicago, San Francisco, Wales and a number of other international cities. Despite our geographical differences, we quickly form a close connection. Perhaps it is apprehension of the unknown, but for whatever reason we create a mutual yet unspoken watchdog system. Everyone looks out for the person in front of or behind him or her.
Andrew first leads the group on a narrow trail through a forested area. As we trek through the trees he tells us that 80 percent of Yosemite's wildlife is crepuscular. This, Andrew says, does not only mean animals are active at night, but also twilight and dawn. Confusion arises among the children, who number about half of the group, as to what exactly twilight and dawn mean. Our camaraderie shines through as we adults all help to answer as best we can.
Two minutes later we emerge from the trees and circle on a trail bordering an expansive field of valley grass. We all wait expectantly, wondering what is coming next. Andrew takes a breath and begins his next speech about the night.
"Not a lot of people would say 'I'm going to come to Yosemite for the darkness.'" Andrew said. "'I'm going to come for those times when I can't see my hand in front of my face.' There's this whole world out there to explore at a time when not a lot of people go out."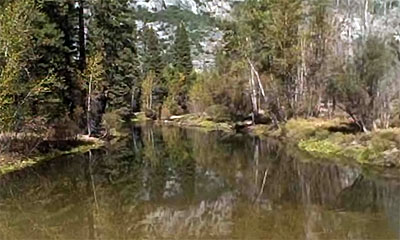 Our group learns that the focus of our night prowl is to learn how crepuscular animals use their five senses to navigate the sunless hours of the day. Here, though we cannot see our hands in front of our faces, we begin with the sense of sight.
Due to the fact that the tour is directed towards children, Andrew limits his explanation to the simplest terms possible. He educates us in the differences between the structure of the human eye and crepuscular animals' eyes. An announcement that we will be conducting "experiments" on our tour ignites nervous glances shot between group members. What exactly have we signed up for?
These "experiments" are nothing to worry about. It appears that Andrew truly is a pro at leading this tour. The activities that follow each lesson about one of the five senses appear to be tools utilized to keep the attention of young children. For sight, our experiment simply involves covering our eyes for varying lengths of time, then seeing how long it takes for our eyes to adjust to the darkness again.
Concluding our education in the sense of sight, we continue marching along the trail in a single file formation. Suddenly, three bright flashes light up the sky. The abrupt appearance of light halts our group in its tracks. We search the sky for signs of thunderheads, as we assume that lightning is catching up to us. However, Andrew informs us that the flashes are straggler meteors left over from the Orionid shower, which passed through earlier in the week. Impressed murmurs echo across the expansive valley.
For the next hour Andrew leads us in a giant loop. Starting at Merced River, traipsing through the tall grasses of the valley and ending up back on the trail where we began our tour. We make a total of four more stops, one for each sense. Hearing, touch, smell and, yes, even taste are explored on the night prowl with short activities performed for each.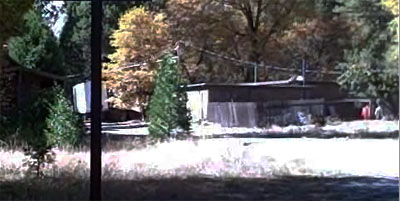 At the conclusion of the hour and a half our night prowl group returns to shuttle stop nine. Those with children, whose attention is waning fast at this point, hurry to return to their rooms. About half of us remain at the shuttle stop and discuss our experience and whether our expectations of the night were met.
"It was a little disappointing," Cheryl White, 63, of Seattle said. "From the description I thought we would actually see animals. I've been on safaris in Africa at night for the explicit purpose of seeing some."
Those of us who had never ventured so far or so courageously had more positive responses. Marta, who had been nervous about venturing into the park at night before the tour, happily reviewed her experience. "That was amazing," she said. "There's so little light pollution out here that the stars and moon are enough to see. I'd be able to tell if something was sneaking up on me."
Overall the night prowl is a must-do activity for any visitor to the valley. Though the description of the tour may be a bit misleading, as it talks almost exclusively about the animals one might see, the experience of seeing Yosemite from another light is incomparable. For a safe expedition through the valley under the cover of night, meet at shuttle stop nine at 8 p.m. on a Friday night.
If You Go:
The Night Prowl begins at 8:30 p.m. on Friday nights, weather permitting. Meet at shuttle stop nine at 8 p.m.
Tickets cost $5 and are available in advance at http://yosemitepark.com or the day of at Yosemite Lodge.
Though you will not use a flashlight while on the actual tour, remember to bring one in case of emergencies.
The stars and moon provide enough light to see the landscape with the naked eye, but leave the camera behind – unless you have one specifically for nighttime, none of your pictures will come out.
For more information, call 209-372-4FUN(4386)