Yosemite hiking popular, but strenuous
YOSEMITE VALLEY, Calif. – With its sheer western face visible from almost anywhere on the Yosemite Valley floor, Half Dome rises to its 8,836-foot peak to the valley's east. Hikers can reach the summit via either the John Muir Trail or the more direct Mist Trail, both easily accessible from a Yosemite Valley Shuttle stop.
Half Dome's proximity to the hub of Yosemite National Park makes the mountain the park's most popular hike. But those expecting a leisurely stroll up to a majestic vista should look elsewhere.
"Depending on which route you take, it is anywhere between 14 and 16.8 miles round trip and it's an elevation gain of almost 5,000 feet," Park Ranger and Yosemite spokesperson Kari Cobb said.
If the distance and slope aren't daunting enough, the hike to Half Dome gets even tougher near the summit as the trail's steep path gives way to 400 feet of cables that hikers must use to propel themselves to the top. At this point, cresting Half Dome becomes a full-body endeavor as hikers contend with both the cables and each other.
"These cables are kind of scary, they're very steep, and there's a lot of people on them," Cobb said. "Like I said, it's the most popular hike, the most strenuous hike we have."
Each year, the National Park Service takes down the cables as winter approaches and the trail turns from challenging to hazardous.
A native of Texas now living in Los Angeles, Jake Bellington came to Yosemite in late October to hike Half Dome — only to find that the cables had been taken down just a few days prior.
| | | |
| --- | --- | --- |
| Half Dome is the most popular day hike. Next, hikers must navigate a series of steps to reach the top of Vernal Fall. Next, Jake Bellington takes in the view from the top of Vernal Fall. Next, Mirror Lake is a popular destination. Last, a rock slide blocks part of the loop around Mirror Lake (Photos by Zander Kean). | | |
So instead of making a futile trip, Bellington and his girlfriend stayed on the Mist Trail toward Vernal and Nevada falls.
"[Yosemite's] supposed to be the greatest place for the outdoor person," he said. "I'm a huge waterfall person… it's been amazing."
Located just 1.5 miles from the Yosemite Valley trailhead, Vernal Fall is reachable in just over an hour for the average hiker.
The first half of the trail is asphalt, leading up to an observation area where hikers can get a look at their destination and use an indoor bathroom before heading further into the wilderness.
Just past the observation area, the asphalt gives way to a steeper natural path.
One- tenth of a mile from the top — and alongside the waterfall itself — hikers must contend with the spray that gives the Mist Trail its name as they climb up a series of 600 steps.
At the top, visitors can enjoy the view back down the falls as they take a lunch break and decide whether they will continue the 1.3 miles up to Nevada Fall.
The common thread between the Half Dome and Nevada Fall hikes is the degree of difficulty, a quality that attracts veteran hikers like one resident of Santa Cruz, Calif., who goes by the trail name "House."
"I've been up Long's Peak in Colorado, Mount Whitney and through the Grand Canyon," he said. "What stands out here is the raw beauty of it, it's fantastic."
But not every visitor to the park wants to — or is able to — undertake the strenuous effort required to summit Half Dome or the falls.
Yosemite offers alternative options for those wishing to appreciate that raw beauty at lower elevations.
While many visitors choose to tackle the Upper Yosemite Fall trail, others can take in the falls from below after a quick stroll along the Lower Yosemite Fall trail, a half-mile loop that is almost completely wheelchair-accessible.
"We also have accommodated the less outdoorsy people who just want to have an easier hike," Cobb said. "There's definitely an array [of hikes] here."
One of the easier hikes is the Mirror Lake Trail, reachable via another one of the Valley Shuttle's many stops. The trail consists of a flat, four-and-a-half-mile loop around the lake.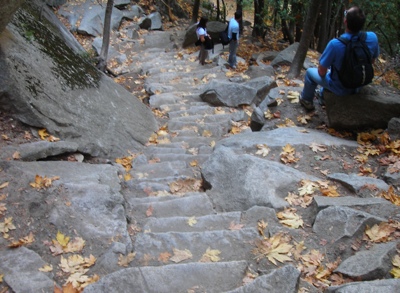 A recent rockslide blocks part of the trail's eastern edge, and until it is cleared hikers will only be able to complete part of the loop. But Mirror Lake is still a popular destination for visitors looking for an easier way to enjoy Yosemite.
Even longer than the Mirror Lake Trail is the Valley Floor Loop, which checks in at 13 miles around the valley floor. According to Cobb, this trail is perfect for those visitors looking to get away from the park's crowds during the summertime peak season.
"In certain parts of [the Valley Floor Loop], it's not the most popular trail — but it's also very easy," Cobb said. "If you start [near Yosemite Village] and go to the other side of the valley, there aren't very many people."
More than 3.2 million people have visited Yosemite each year since 1987. Though totals have declined since a peak of nearly 4.2 million visitors in 1996, one of the greatest challenges the park service continues to face is maintaining the natural habitat of the park's many animal species.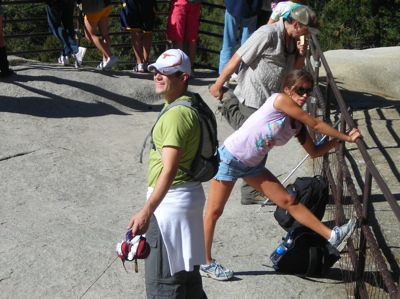 Perhaps no species is more impacted by Yosemite visitors than the park's native black bears. Bears have an acute sense of smell and will break into both backpacks and vehicles to find human food. Seasoned hikers like House shoulder much of the responsibility of taking care of the park's wildlife.
"Well, we've got these bear bags here to protect our food," he said. "Then you've got to make sure you bring your stuff out, it's only fair."
Backpackers who wish to take an overnight trip into Yosemite's wilderness must apply for a permit. Those permits detail regulations — such as a requirement that campsites be at least 100 feet from any water source — which all backpackers must follow. Cobb said that most visitors are aware of and adhere to these regulations.
"People come here because they love Yosemite. They come here because they love the wilderness," she said. "They want to keep it pristine and they want their kids to come here, so they're going to be respectful of [the rules]."
But with 800 miles of trails within the park, complete enforcement is impossible. The park service manages its law enforcement resources by assigning more patrols to Half Dome and the other most popular trails within the park.
"They're going to be designated to a trail where they're going to encounter the most number of people and where they're going to do the greatest amount of good," Cobb said.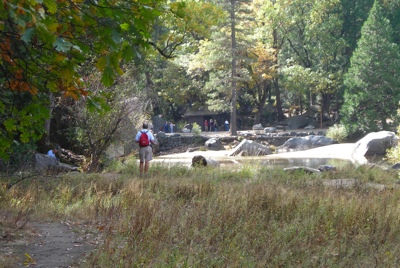 Bellington didn't have to worry about applying for a wilderness permit as he stayed at a campsite in Yosemite Valley. But he said that he still recognizes the need to keep the park pristine.
"You've just got to leave it better than when you showed up, you know what I mean? I just want to make sure everybody else can enjoy what I'm enjoying down the road."
If You Go Hiking…
Easy trails
Lower Yosemite Fall
Accessible via shuttle stop #6.
Trail distance: 1.1 miles.
Offers views of Upper and Lower Yosemite Falls.
Wheelchair-accessible.
Cook's Meadow Loop
Accessible via shuttle stop #5 or #9.
Trail distance: one mile.
Offers views of Half Dome, Glacier Point and the Royal Arches.
Wheelchair-accessible.
Mirror Lake
Accessible via shuttle stop #17.
Trail distance: two miles round-trip to lake, five miles around the lake.
Part of the loop around the lake is currently blocked by a rockslide.
Path to the lake is wheelchair-accessible, loop around the lake is not.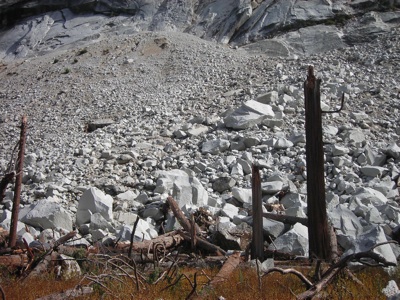 Moderate trail
Valley Floor Loop
Accessible via shuttle stop #6.
Offers views of El Capitan, Yosemite Falls, Sentinel Rock and nearly every valley-area landmark.
Trail distance: 13 miles.
Strenuous trails
Four-Mile Trail
Accessible via shuttle stop #6.
Trail distance: 10.1 miles round-trip.
Elevation gain: 3,200 feet.
Trail reaches the top of Yosemite Valley at Glacier Point.
Upper Yosemite Fall
Accessible via shuttle stop #7.
Trail distance: 7.2 miles.
Elevation gain: 2,700 feet.
Columbia Rock (1 mile up the trail) offers panoramic views of Yosemite Valley.
Vernal & Nevada Falls (via the Mist Trail)
Accessible via shuttle stop #16.
Trail distance: three miles round-trip to Vernal Fall, seven miles round-trip to Nevada Fall.
Elevation gain: 1,000 feet to Vernal Fall, 2,000 feet to Nevada Fall.
Hikers can also reach Nevada Fall via the John Muir Trail which bypasses Vernal Fall.
Half Dome
Accessible via shuttle stop #16.
Trail distance: 14 miles round-trip via the John Muir Trail, 16.3 miles round-trip via the Mist Trail.
Elevation gain: 4,800 feet.
Final stretch of the trail is closed during the winter.