Snowbirds found in Tortugas are real thing
DRY TORTUGAS, Fla. — The term "snowbird" had to come from somewhere.
While it has long been associated with humans who travel to Florida to escape frigid northern winters, it does, as one might expect, have an actual ornithological origin.
For centuries, thousands of species of birds have migrated south in search of warmer climate and increased access to food. Fortunately for bird enthusiasts of South Florida, almost 300 such species can be found 70 miles west of Key West on the islands of the Dry Tortugas.
| | | |
| --- | --- | --- |
| Click to see a video slide show about the wildbirds at Fort Jefferson and other parts of the Dry Tortugas National Park narrated by writer Jon Moss. | | |
To date, the National Park Service has recorded sightings of 299 different species of birds in the seven-island park, and park biologists have categorized them based on their usual migration times.
"Most of the birds we see down here only pass through for short times, usually during the winter months," said Rebecca D'Alessio, a crew member on the Yankee Freedom II, one of the ferries that transports tourists from Key West to the islands.
While most may only pay a visit to the Dry Tortugas on wings of transience, some, like the masked booby, make the islands their year-round home and use islands such as Middle Key as secluded breeding grounds.
| | | |
| --- | --- | --- |
| At right, masked boobies enjoy Long Key (Photo courtesy of National Park Service). Next, visitors can learn about birds in the Visitor Center. Next, the lighthouse is home to an owl. Last, pelicans use dock poles as perches (Photos by Jon Moss). | |   |
"It's cool to see these guys out here every time I come down," said visitor John Coury about the masked boobies. "I guess they enjoy not having anyone else around."
Coury and his travel partner, Raymond Butte, marveled in avian awe as their ferry sailed past a sizable flock of boobies on the way back to port.
"That's the thing about nature," said Coury. "You come out here and you watch these birds, and there's a ton of them, and they just keep living together not being bothered by anything."
Bird watching has become a favorite activity of many Dry Tortugas and Fort Jefferson visitors ever since the great naturalist John Audubon marveled at thousands of terns during his 1832 trip to the Tortugas.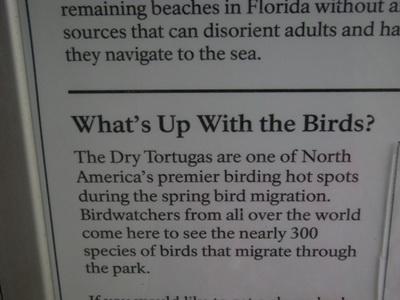 "I felt for a moment as if the birds would raise me from the ground, so thick were they all round, and so quick the motion of their wings," said Audubon, according to the Yankee Freedom II's website.
Some of Audubon's research findings, along with other colorful exhibits and a renowned collection of avian art, can be found at the Audubon House & Gardens in downtown Key West.
It does not, however, take a learned ornithologist like Audubon to appreciate the vast quantities of birds that can be found on such a small group of islands. Some people don't even have to know what they are looking at to be impressed.
"I can't tell one bird from another, but just seeing how many different ones there are is just amazing," said Shelly Dahlmeier, a Georgia native and first-time Dry Tortugas visitor. "But I heard someone say they have an owl here, and that stuck out to me because we have a lot of owls in my neighborhood."
The owl Dahlmeier referred to is most likely the barred owl, which for reasons unbeknownst to D'Alessio continues to make its home inside Fort Jefferson.
"We have this one owl and he lives up at the top of the fort by the [Garden Key] lighthouse," said D'Alessio. "We don't see him very often, and we don't know why he's still here, but he's here."
While the National Park Service does have records of five different owl species being spotted on the islands, they are far from the park's winged wunderkinds. That title would have to go to the terns and noddies, which can be found en masse throughout the park from December through September.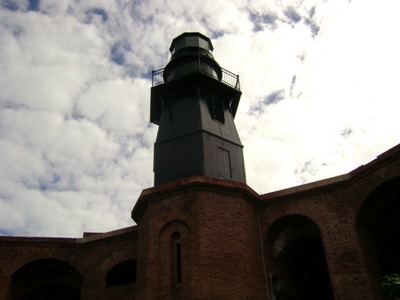 The National Park Service's data say that the sooty tern is the most common species that regularly nests in the park, and can be found in excess of 75,000 annually.
"We see so many of them so often that it has really become their park," said D'Alessio of the terns, who spend "way more time" at the Dry Tortugas than any visitors.
In addition to the terns, black and brown noddies—which, although belonging to the same family, are considerably darker than their snooty counterparts—are also some of the Tortugas' more frequent fliers, with seasonal migrations ranging anywhere from 2,500 to 15,000.
With the chance to see any of the 299 species of birds originating from any one of six continents, it is no wonder that the Dry Tortugas has become such an attraction for ornithologists of all ages and levels of interest.
While those who know the park know about the historic Civil War-era fort and the history around it, the chance to simultaneously observe birds native to Canada (the sharp-shinned hawk, one of the world's smallest hawk species) and Asia (the cattle egret) should not be overlooked.
"Many people come here for the Fort Jefferson tour," said D'Alessio. "And that's great, but at the same time that's only one island out of the seven. I hate to see people miss out on the birds at Long Key and Bush Key."
All in all, the Dry Tortugas provides quite the attraction for snowbirds. Both kinds.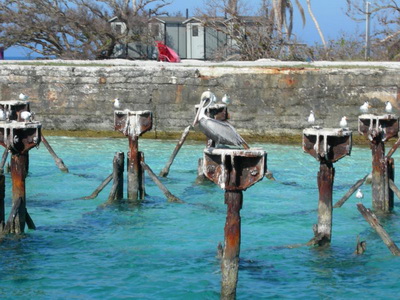 If You Go:
Visitors in the summer months will be more likely to observe terns and noddies, which tend to begin their seasonal migrations in June.
Hawks, falcons and other raptors are more commonly visible in the fall months, and the islands are home to more water birds and sparrows in the winter.
For the National Park Service's complete list of all the bird species that can be found at Dry Tortugas, as well as their general migration months, please visit http://www.nps.gov/oia/DRTOBirdlist.pdf.
Cost (according to Yankee Freedom II): Adults $160; Students and active military with valid ID $150.
Cost includes transportation and two meals. A $5 park entrance fee is not included.
Visitors should bring walking shoes and a jacket to account for any wind on their boat. Binoculars are also suggested, as passengers may want a better look at the birds on the smaller islands.
To contact Dry Tortugas National Park, please call 305-242-7700 or visit http://www.nps.gov/drto/.