Precita celebrates area's artistic history
SAN FRANCISCO— Insulated from the fog and wind that visitors regard as endemic here, there exists a neighborhood not often frequented by crowds of camera-toting tourists.
Though perhaps home to San Francisco's most elaborate artistic history, it remains unburdened by ticket booths, long lines, souvenir shops, and is beyond even the clanging bells of the nearest cable car reminding people of their modern existence.
It is in this neighborhood, in a small and darkened back room, that Patricia Rose pulls a sliding ceiling panels closed, shutting out the sky and rendering herself an artistic demigod. A few rapt visitors sit swaddled in darkness, awaiting an explanation, perhaps wondering what kind of tour begins with exile to a pitch-black and anomalously located room.
| | |
| --- | --- |
| Adorning the walls of a back room at the Precita Eyes Visitor Center are photos depicting the hundreds of murals throughout  San Francisco (Photos by Kate Koza). Below, an example of mural work from Balmy Alley illuminates the determination of the Hispanic peoples in attaining freedom and self-determination. Next, a garage door on Balmy Alley becomes a canvas portraying artistic vision, one of the themes of Precita Eyes. In the last image, Patricia Rose, tour coordinator, explains basic mural imagery to a group. |   |
But then Rose, with a nearly indiscernible flick of the wrist, baths the room in the concentrated and beautiful light of a slide projector, making clear the meaning of this most mysterious introduction.
This is the beginning of a typical Saturday tour at the Precita Eyes Mural Arts and Visitors Center in San Francisco's Mission District.  Named for the area that a large percentage of its muralists have emerged from since its inception in 1977, the artistic cooperative is one of the oldest in the Bay Area. Not only is the non-profit organization responsible for maintaining the neighborhood's existing murals, but also for ensuring the continued efforts of artists in creating new outdoor works throughout the city.
"The Mission District is now home to hundreds of murals that make up a significant percentage of the over 600 throughout the whole city.  And at Precita Eyes we are proud of our ability to truthfully claim to have been on the cutting edge of the outdoor arts movement," said Rose, herself one of the many muralists currently active in the neighborhood.
It is the artistic duo of Susan and Luis Cervantes who can claim true ownership of the Precita Eyes organization.  Exactly 30 years ago, the couple was granted formal non-profit status by the city for their small but rapidly burgeoning group of muralists who wished to beautify the historically Hispanic neighborhood.  Susan Cervantes was herself a founding member of "Las Mujeres Muralistas," the first all-female group of collaborative muralists in the nation.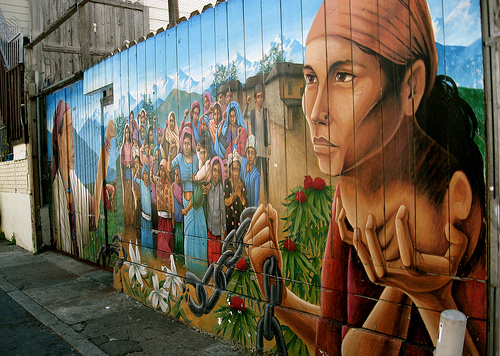 "It all started with 'Masks of God, Soul of Man,' a portable mural than the Cervantes and a few collaborators completed for the local Bernal Heights Library.
From there, their efforts evolved into a workshop which eventually blossomed into the organization as it exists now," explained Rose.
Perhaps the most intensely diverse microcosm of the inherently multinational city of San Francisco, the district's history spans from 2,000 years of Indian inhabitation to the foundation of Mission San Francisco de Asis by the Spanish in 1776 to turn of the century settlement by Polish and Irish immigrants.
In 1906, after the city was ravaged by its most destructive earthquake and subsequent fire, the unscathed Mission District became a refuge for a plethora of cultures, now half comprised of Hispanic and Chicano groups.  By the 1960s, not even Haight-Ashbury could rival the district's multi-cultural variety of artistic endeavors. More than 50 arts organizations are now headquartered in the neighborhood, including nationally renown Artist Xchange, Mission Cultural Center for the Latino Arts, and, of course, Precita Eyes.
"I don't think any neighborhood you could visit in San Francisco could rival the opportunity to see such an extensive and diverse, yet cohesive, body of art as you have here [in the Mission District] with the murals," said Hillary Addlemen, a high school Spanish teacher from San Diego who hopes to incorporate information from the Precita Eyes mural tour into her own students' curriculum.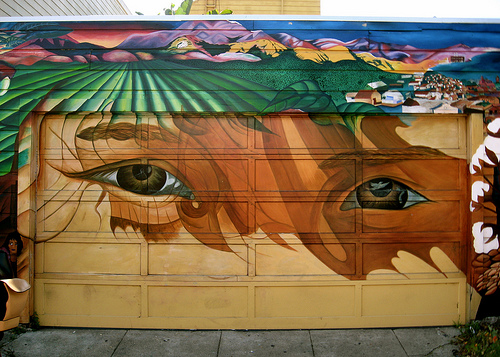 "Being able to stand before such huge paintings, to touch them and know that the people who created them had a local investment, is rare, and I think it touches people more than just going to the de Young [Fine Arts Museum, part of San Francisco's Palace of Fine Arts]," agreed Rose.
Interaction with the community is indeed a recurring theme in the history and mission of Precita Eyes.  Not only do many of the murals honor local heroes and celebrities (Carlos Santana, who graduated from a nearby high school, is honored in the mural entitled "Aspire to Inspire" by muralist David Rios), but the organization also strives to foster and encourage new, young artists to have their works made visible one the walls of local structures.
"We have worked with groups like the Hope Project to give HIV infected youth the chance to compose their own mural, and hold weekly classes for all ages to participate in the creation of our newest murals," said Rose.
One of the larger-scale examples of public participation can be found at Robert Escovar High School, the only public school in San Francisco with a deaf education program.  Students, with the help of Precita Eyes artists, collaborated to paint the exterior of the school with beautiful sentiments of welcome and goodwill expressed via the visual expression of sign language.
Whether the product of community involvement or simply the result of a single artist's inspiration, almost all of the Mission District murals contain wishes for societal responsibility and evidence of various ethnicities' histories.
Balmy Alley, one of the most famous bastions of murals in the world, lies only a block from the Precita Eyes Visitors Center and alone contains 36 beautifully articulated works of public art, all contained within the length of a block.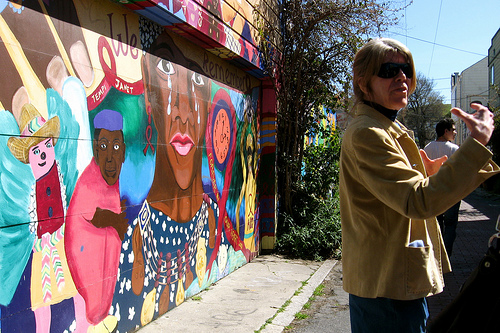 Though the history of mural-art transcends modernity and dates back 20,000 years to cave art in Alta Mira, Spain, it is an artistic format often forgotten or dismissed as informal or a glorified form of graffiti.
However, by visiting Precita Eyes and taking a tour of the Mission District's overwhelming display of outdoor art, visitors not only unearth a little-known gem, but also are imbued with a tremendous respect for muralists as artists.
"By preserving and creating these functional works of art, we ensure that a significant piece of San Francisco's artistic history is nourished and shared. It's edifying for our community and visitors. And also, it's just fun! Who else gets to legally scale walls like Spider Man and turn otherwise boring buildings into works of art and live to tell about it?" asked Rose with a laugh.
If You Go
The Precita Eyes Mural Arts and Visitors Center is located at 2981 24th St., at Harrison Avenue. Public tours meeting at the visitors' center are held both on Saturday and Sunday at 1:30 p.m. An additional public tour meets Saturday at 11 a.m. at Cafe Venice, located at 3325 24th St., at the 24th St. Mission BART Station Plaza.

All public tours are $12 for adults, $8 for college students with valid identification, $5 for seniors and youth and $2 for children under 12 years of age.

Private tours may be scheduled in advance for any day of the week, and can be arranged by calling Patricia Rose, tour coordinator, at 415-285-2287.  Private tours can be arranged either on foot, via bus or via bikes.

 Public transportation to the tour meeting site is strongly encouraged, as private parking is not available.
Then as now, the Mission District proves the perfect backdrop for such obvious and beautiful artistic manifestations.