Haight-Ashbury tour brings 1960s feel
SAN FRANCISCO — Izu Interlandi's first taste of Haight-Ashbury came during the "Summer of Love" in 1967, when she visited the neighborhood at the age of 14 with her parents.
"My parents thought I was too conservative so they wanted to hippify me," said Interlandi.
That trip to San Francisco made such an impression that Interlandi made a permanent move from her hometown of New York City to Haight- Ashbury in 1971. She moved in to a commune that had more than 70 people living there, including artists, students and musicians.
To this day, she's still living on the Haight.
| | |
| --- | --- |
| | The San Francisco neighborhood known by a name created from an intersection, Haight and Ashbury, is popular worldwide today, more than 40 years after its peak era (Photos by Bruce Garrison and Erin Schlissel). Murals, such as this one, are common in te area. |
Since 1971, Interlandi spent her time in Haight-Ashbury going to school while ahe attended more than 400 Grateful Dead shows and built relationshops with some of the neighborhood's best-known residents. Among them, the Dead's Jerry Garcia ad the legendary rock promoter Bill Graham.
Now she shares her memories and passion for the area as a tour guide on the "Flower Power Walking Tour," a 2 1/2 hour tour around the street's most famous landmarks, complete with many amusing anecdotes.
Pam Brennan, another long-time Haight resident and owner of the "Herb'n Inn" Bed and Breakfast and the Psychedelic History Museum, started the tour, which not only educates people about the history of the Haight- Ashbury neighborhood, but also allows people who were a part of the Vietnam War-era to relive that momentous period.
Interlandi's story is a common one in Haight-Ashbury. At the height of the Hippie movement in the 1960s, many young people flocked to San Francisco to become part of the counter-culture and to take in the free love, rock and roll, and to voice their opposition to the Vietnam War and promote peace.
Tim Leary, a University of California at Berkeley Psychology professor and writer, was a fixture of the Hippie culture as he helped popularize the use of LSD, described it best when he called for people to join the movement and "Turn on, tune in, and drop out."
However, times have changed and so has Haight- Ashbury. While the current political climate has some similarities, as this country is again wrapped up in a war that garners much criticism, the hippie movement has passed and the district has evolved.
Richard Wilpitz, a native resident of San Francisco, went on the "Flower Power Walking Tour" with his wife to see how the neighborhood has changed since he started going there at the age of 12 to attend sporting events at the San Francisco Boy's Club.
"The city is changing a lot. This is just a tourist place now," he said. "The free love, the hippie thing, isn't here anymore. Some people come here to try to find it again, but its not here."
In the heyday of Haight-Ashbury, the picturesque Victorian-style houses were the residences of musicians such as the Grateful Dead, Janis Joplin, Jefferson Airplane and Country Joe of Country Joe and the Fish.
They were the locations of the communes, where young people who were drawn to the area for its idealistic and open spirit found a warm meal, a bed and acceptance.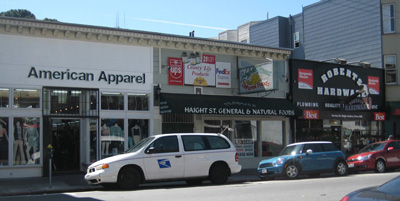 Every stoop would be packed with people and the streets were full of newcomers looking for a place to stay and probably some marijuana.
These same homes are now expensive and are residences for families and professionals. The stoops are quiet and mothers with strollers and joggers roam the sidewalks.
On Masonic Street, just off of the Haight, modern sedans surround one iconic bright green Volkswagen bus.
One of the most famous houses is 710 Ashbury for it was the home of the Grateful Dead from 1966 to 1968. A young couple purchased the ornate lavender house in 1980, yet had no idea of its significance at the time.
While they don't consider themselves to be "Deadheads", they understand how important the house is to those people who do. They installed a metal gate to keep intrusive Grateful Dead fanatics from breaking into their home, but they allowed people to congregate on their stoop when Jerry Garcia unexpectedly died on Aug. 9, 1995.
Haight-Ashbury has always been a commercial neighborhood, and now there exists an eclectic mix of businesses, both new and old.
Along with shops and restaurants that were a part of the scene during its peak, there are new boutiques, restaurants, and other businesses that attract customers who have no concept of the hippie movement.  
To illustrate, Roberts Hardware, the first hardware store in the district, now sits two doors down from American Apparel, a store that appeals to the current young and alternative generation. And where the infamous Haight-Ashbury street sign once stood, as it was recently stolen, there is now a Ben and Jerry's ice-cream shop.
According to Interlandi, the changes are a result of more than simply gentrification.
"They're trying to punish the hippies and small businesses by forcing them out of the neighborhood with higher rent. Places are still for rent, that's karma for you," she said.
Though a fervid political movement and impromptu concerts may no longer be drawing people to assemble in the streets, sidewalks are now crowded with shoppers and tourists who come to the Haight for it's fun and quirky boutiques and exceptional restaurants.
Samantha Conner, 21, is in the process of moving to San Francisco from San Diego. Her and her friends decided to take a break from moving her in to spend an afternoon walking along Haight Street.
 "There's good people watching and it's a good place to window shop," said Conner.
Although when asked if the history of the neighborhood added to its appeal, Samantha and her friends responded with blank stares and laughs.
"Hippies were cool," said 20-year-old Ross Palmer. "It's just a cool neighborhood to walk around."
Each boutique has its own flair and all are stocked with trendy pieces, as well as a few vintage stores for those shoppers who want to find some truly unique relics from the past.
Ambiance is one high-end boutique that is literally packed to the brim with the latest designs in women's wear and accessories from established and up-and-coming designers. It was recently voted the No. 1 boutique in San Francisco by Lucky Magazine and San Francisco Magazine.
There are a wide variety of restaurants to choose from with culinary styles that span the globe. One of the most popular restaurants on the Haight is Cha Cha Cha. People commonly line up along the block for a chance to taste this restaurant's Caribbean and Latin-infused take on tapas and to try its famous Sangria.
For a more American dining experience, the Pork Store Café is also very popular. Tourists and locals alike will endure the usually long wait to enjoy this diner's famous breakfast and brunch fare in its quaint and kitschy atmosphere.
Haight-Ashbury was home to some of the greatest rock stars and folk stars of all time, so it seems fitting that it would also be home to one of the most famous independent record stores of all time.
Amoeba Music, which was started in 1990 in nearby Berkeley, and also has a Los Angeles location, occupies a 24,000 square foot abandoned bowling alley on Haight Street and sells over 100,00 new and used CDs, records, and tapes.
With a knowledgeable staff that is as passionate about music as the store's customers, it is easy to spend hours perusing the dozens of racks looking for hard-to-find releases from popular and more unknown artists.
Besides the many options for shopping and dining, the Haight also has a lot to offer in terms of nightlife. From dive bars, to upscale clubs, and everything in between, it's all happening on Haight-Ashbury.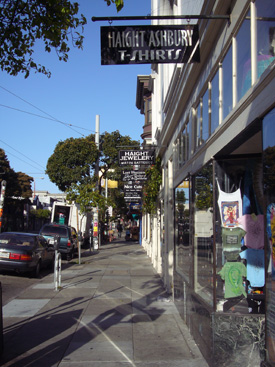 The best home-brewed beer in San Francisco, according to Interlandi, can be found at Magnolia Pub and Brewery. Located on the corner of Masonic Avenue, this pub and restaurant resides in a building that was called "The Drugstore Café" in the 1960s and now keeps the sounds of the Grateful Dead on at all times.
For an evening of live music, Club Deluxe offers a relaxed and sophisticated setting for blues, jazz, swing, and soul. On Tuesdays, visitors become members of the "Church of Frank Sinatra," a big band cocktail party that is a must for any 1960s era Rat Pack fan.
"I like seeing people come," said Wilpitz. "Its nice that this is becoming a commercial district. It's a lot better than it was. I like seeing it this way, as long as everyone is peaceful and non-violent. We sort of thrive on that thing in San Francisco."
Even with the drastic changes that have taken place, the spirit of the "Summer of Love" and Haight's colorful history is not completely lost. The walls of many businesses and community centers are painted with vibrantly colored murals and bohemian or tie-dye motifs.
Across the street from the Ben and Jerry's sits Positively Haight Street, a store that specializes in tie-dye merchandise and hippie-style accessories. Its outside walls are an overwhelming display of color, hippie symbols, and movement, a design created by an artist who also illustrated cover art for Carlos Santana.
One amusing sight in Haight-Ashbury is the logo for the local fire department station and its trucks. Instead of the traditional San Francisco emblem, the Haight Street Station 12 logo features the Grateful Dead symbol.
In addition, the liberal political sentiment is still evident throughout the neighborhood. Obama signs can be seen in windows and on car bumpers, and many of the signs are tie-dyed or feature the Grateful Dead logo with the slogan "Fired up and ready to go."
Also, on the third Friday of every month, the Iraq Moratorium organization holds a peace vigil on the corner of Fell and Masonic in Golden Gate Park. These vigils are held throughout the nation, and will not end until the war and occupation in Iraq are officially over.
Also, the Haight-Ashbury Street Fair is an annual tradition that the neighborhood's residents pride themselves on and look forward to on the second weekend of every June.
Started in 1978 by the late San Francisco Supervisor Harvey Milk, who was recently the subject of director Gus Van Sant's latest Oscar-winning film "Milk," the festival was meant to celebrate the neighborhood's diversity and vibrant history.
The Fair features food from local eateries, crafts, and music. Past performers have included Jefferson Airplane and Metallica.
Most importantly, there are the people like Interlandi, who have lived in the neighborhood since the 1960s and keep promoting their ideals of peace, love, and harmony. The spirit of these people made the "Summer of Love" the crazy and influential period it was and solidified Haight-Ashbury's place in American history.
When asked by a tour group member if she would ever consider moving out of Haight-Ashbury, Interlandi shook her head and emphatically replied, "I love my hood, even though it's changed, it's still a cool hood."
If You Go
For more information on the Flower Power Walking Tour and to purchase tickets:
http://www.haightashburytour.com
It is recommended that tickets be purchased in advance, although it is not required.
For large groups, please call the tour at
415-863-1621 or email hasf525@sbcglobal.net.
Tuesday & Saturday at 9:30 a.m., Thursday at 2 p.m., Friday at 11 a.m.
$20 per person, not including taxes, except kids age 9 and under are free.
For more information on the Herb'n Inn Bed and Breakfast and Psychedelic History Museum:
525 Ashbury St.
San Francisco, CA 94117
415-553-8542
Getting to Haight Ashbury:
There is metered parking available within the neighborhood, but finding a spot can be difficult. Public transportation or a taking a cab is recommended.
Muni buses 7, 71, and 71L run along Haight. Street and Market Street. The 37 runs from Twin Peaks to Haight Street. The 33 runs along Stanyan Street in the Upper Haight area.
Ambiance:
1458 Haight St., between Ashbury Street & Masonic Avenue.
415-552-5095
Regular Store Hours:
Monday – Saturday 10 a.m. – 7 p.m.
Sunday 11 a.m. – 7 p.m.
Summer Hours:
(Memorial Day weekend – Labor Day weekend)
Monday – Saturday 10 a.m. – 8 p.m.
Sunday 11 a.m. – 7 p.m.
Holiday Hours :
(Dec. 1 – 31)
Monday – Saturday 10 a.m. – 8 p.m.
Sunday 11 a.m. – 7 p.m.
Cha Cha Cha:
1801 Haight St. between Shrader Street & Stanyan Street.
San Francisco, CA 94117
415-386-7670
http://www.cha3.com 
Open seven days a week
Lunch:
Every day 11:30 a.m. – 4 p.m.
Dinner:
Sunday-Thursday 5 p.m.- 11 p.m.
Friday and Saturday 5 p.m. – 11:30 p.m.
No reservations
Credit cards accepted, only Visa and MasterCard
Pork Store Café:
1451 Haight St. between Ashbury Street & Masonic Avenue.
San Francisco, CA 94117
415-864-6981
Open seven days a week
Monday-Friday 7 a.m. – 3:30 p.m.
Saturday and Sunday 8 a.m. – 4 p.m.
No reservations
Credit cards accepted
Amoeba Music:
1855 Haight St.
San Francisco, CA 94117
415-831-1200
Hours: 
Monday-Saturday 10:30 a.m. – 10 p.m.
Sunday 11 a.m. – 9 p.m.
Positively Haight Street:
1400 Haight St.
San Francisco, CA 94117
415-252-8747
Magnolia Pub & Brewery
1398 Haight St. between Central Avenue & Masonic Avenue.
San Francisco, CA 94117
415-864-7468
Hours:
Monday -Thursday 12 p.m. – 12 a.m.
Friday 12 p.m. – 1 a.m.
Saturday 10 a.m. – 1 a.m.
Sunday 10 a.m. – 11 p.m.
Accepts credit cards
Doesn't take reservations
Club Deluxe
1511 Haight St between Ashbury Street & Clayton Street.
San Francisco, CA 94117
415-552-6949
http://wwwliveatdeluxe.com 
Hours:
Monday-Friday 5 p.m. – 2 a.m.
Saturday and Sunday 2 p.m. – 2 a.m.
Doesn't accept credit cards
Iraq Moratorium vigil:
http://iraqmoratorium.org
Golden Gate Park Panhandle
Masonic between Oak and Fell
6 p.m.-8 p.m.
Third Friday of every month
Signs are provided, but you can bring your own. There is also food and music.
Haight Ashbury Street Fair:
http://www.haightashburystreetfair.org
June 14, 2009, 11:30 a.m.-5:30 p.m.
Held the second Sunday of every June
Haight St. between Masonic Avenue & Stanyan Street.
San Francisco, Calif. 94117