Horseback ride explores Point Reyes
OLEMA, Calif.— Snip and I were friends from the start; we both have a hard time getting along with most girls, both like to take the lead in a situation when at all possible and both enjoy leisurely strolls. We had the potential to be the greatest of friends, only Snip was a horse living at Five Brooks Ranch and I was just a tourist passing through.
Point Reyes National Seashore, which the National Park Service boasts is home to more than 45 percent of the bird species that live in North America and about 18 percent of the plant species found in California, is certainly an appropriate place to get in touch with nature.
A popular location to enjoy whale watching and spring wildflower displays, Point Reyes offers a variety of activities to visitors. However, with the awareness of nature inspired by the sound of waves crashing against the seashore and a rolling landscape that fills your eyes with miles of green, what could bring one closer to nature than the experience of exploring the national seashore by horseback?
| | |
| --- | --- |
| | At left, the pasture surrounding Five Brooks Ranch (Photos by Monica Castro). Below, riding the Stewart Trail. Writer Monica Castro with her horse "Snip" before beginning their trail (Photo by Catherine Robinson). |
I had an opportunity to do just that.
"Our shorter trail rides are closer to the ranch, but the longer trail rides will actually go down to the beach," explained Catherine Robinson, my trail guide during my visit to Point Reyes. While my one-hour ride felt all too short, for me it was the combination of the experience and the location that made my ride special.
Aside from the sound of my conversation with my trail guide, my journey through the pasture and woods of the Stewart Trail was only accompanied by the sound of birds, crackling leaves, and the patter of Snip's hoofs on the path.
"Snip is pretty much queen of the ranch, and she knows it," added Robinson, when I asked to know a little bit more about my travel companion.
At that moment Snip defiantly lowered her head to eat some grass on the side of the path and I, per instruction before beginning the trail, firmly tugged on the reins. Snip's reaction, as though suddenly recognizing she had a goal to focus on, was rewarding to a first-time rider. It felt as though we were working towards a common goal, and getting to know each other along the way.
"Do you want to try a trot?" asked Robinson.
The answer felt obvious, "Let's do it!"
"Okay, give her a kick on her sides and she'll know what to do."
Despite the fact that the mere experience of mounting Snip taught me a lot about her size relative to mine, I was afraid of hurting her.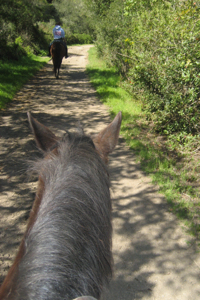 The "kick" I gave her was more like a tap, and she responded by taking another bite out of grass, as if to say, "Really? Is that all you've got?" Encouraged by Robinson, I gave one more kick, and Snip acknowledged my effort by starting into a trot. The wind in my face as I bobbed up and down with Snip past the trees of the shaded trail was my reward. I fully enjoyed the experience, until I noticed a turn ahead in the path.
I will admit now that I slightly began to panic.
"Was it pull right to go right or pull left to go right," I franticly thought, trying to recall the instructions I was given prior to beginning the trail.
Calming myself down enough to implement a little logic and common sense, I gently pulled the reins to the right and Snip obediently responded to me. The sudden sense of feeling at one with such a powerful animal, of discovering a line of communication between her and myself brought a broad smile to my face.
Considering my own concerns about navigating a horse, I asked Robinson how the horses usually handle with children.
"Sometimes they know that they can take advantage and misbehave a little, but they also know when they are working and when they are playing and they know when they are supposed to follow the guide," Robinson said.
The truth is that even Snip misbehaving every now and again, choosing to stick closer to her own path than mine, made my experience more enjoyable. It reminded me how complex such animals are, and it helped me to appreciate the experience that much more.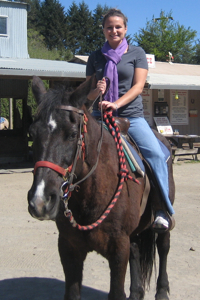 As we returned to the ranch, I felt a growing disappointment over the fact that the experience had passed so quickly.
I swung my leg over Snip and lowered myself to the ground, suddenly five feet shorter than I had been for the past hour, and gave Snip a pat on the side to thank her for carrying me through a trail that felt like a sampling of all Point Reyes had to offer.
Point Reyes is unique for the ways in which it feels like a world apart, like a place that has somehow been spared of the technological innovations that can mar the natural beauty of a landscape.
My trail was comprised of tree-lined paths and the occasional babbling brook. While the description sounds overly simple, setting was beautiful precisely for its simplicity.
As I posed for a picture beside Snip, I realized how much closer to her I had felt when we were riding the trail than I did standing by her. That was the story of my horseback riding experience in Point Reyes, being in a place that made me so aware of the natural world around me and having the opportunity to experience that nature through my interaction with a creature that was itself an example of both the beauty and the wonder of nature.
If You Go
Cost: one hour- $40 per person; two hours, $60 per person; three hours, $100 per person; six hours (Beach ride), $180 per person.

For just the experience of riding a horse an hour-long trail might be enough. However, if you want to see more of Point Reyes on horseback, I suggest one of the longer trail rides offered by Five Brooks Ranch.

November through January are perhaps the least convenient months to plan a horseback riding trip through Point Reyes, as Robinson noted that it often rains.

Horseback riding is popular during the summer and visitors can expect to have to book their trips in advance due to larger numbers of visitors to Point Reyes and to Five Brooks Ranch.

Spring is one of the most ideal times to visit both Point Reyes and Five Brooks Ranch, because it is not too hot and the wildflowers will be in bloom.

If you are not staying in Point Reyes, I highly recommend renting a car, as the drive to Point Reyes is beautiful and an experience in and of itself.

If you will be driving to Point Reyes and intend on using MapQuest or a GPS service, be advised that such services tend to mark the wrong destinations for several locations in Point Reyes. The addresses that should be used with such services can be found at

http://www.nps.gov/pore/planyourvisit/directions_gps.htm

.