Coast offers travelers unique experience
INVERNESS, Calif.— Perched on a mound of grass, I closed my eyes and pressed my face against the breeze drifting from the rolling waves of the Pacific Ocean, across the sand of Drakes Beach, and up to the cliffs of the Peter Behr Overlook of the Point Reyes National Seashore.
"This is something that almost must be experienced alone," I could not help but say to myself,
California's Point Reyes National Seashore, just north of the San Francisco area and spanning from the cities of Olema to Marshall, is a place difficult to describe in words, chiefly because its landscape and panoramic views tend to inspire silence. Stillness and quiet just seem necessary in order to truly appreciate the incredible beauty of this region.  
| | |
| --- | --- |
| | Visitors find the view from Peter Behr Overlook to be memorable (Photos by Monica Castro). Below, top to bottom, a view of Point Reyes Beach, Elephant Seal overlook at Chimney Rock, the Point Reyes Lighthouse, and  views of the Pacific Ocean. |
While any visitor to Point Reyes will undoubtedly discover a visiting crowd almost entirely comprised of families and couples, I believe it is a place that should be experienced alone before it is ever shared with someone else.
There seems to be a certain connection that a traveler develops with a new destination when he takes the time to get to know it on his own, free from the security and the distractions of family, friends, or significant others.
I, for one, would not have preferred to see Point Reyes for the first time under any other circumstances.
Born and raised in Florida, beaches and greenery are far from new to me. However, what I found in Point Reyes was a place that stands apart form a world so overwhelmed by the developments of modern technology that it has become difficult to actually see nature.
Even during the drive to the Bear Valley Visitor Center, complete with breathtaking views that offer a dangerous distraction to the sharply curved roads of Marin County, I felt a gratifying sense of escape from my daily world. I arrived at the Bear Valley Visitor Center with two friends, but there we parted ways to embark on our individual journeys around the large Point Reyes National Seashore.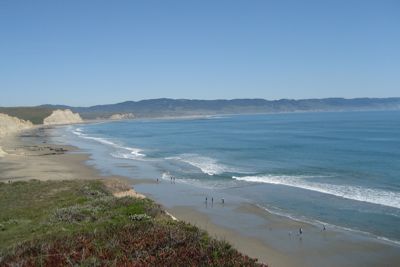 Windows down, sea breeze flowing through my rental car, nothing but green pasture, horses, and cows in sight, I drove from the Bear Valley Visitor Center to Drakes Beach.
"No wonder the California Cow is said to be so much happier than the rest!" I thought.
Twenty-five minutes later, I parked at Drakes Beach and looked out to the water as an irrepressible smile appeared on my face. Guided by a bright, nearly cloudless day, and a perfect 75 degree temperature to crisp the air, I climbed the trail to the Peter Behr Overlook.
Following a seemingly futile attempt to capture on camera what I saw before me, I sat down and silently experienced a moment I knew I would never forget.
No distractions, no need to pose for group photos, no friends or family members forcing me to hurry along to another area of the park. Instead, I sat on the overlook and took in my surroundings, trying to commit to memory the feeling of the cool wind, the smell of the ocean, the sound of the crashing waves, and the sensation of being alone with my thoughts and nature.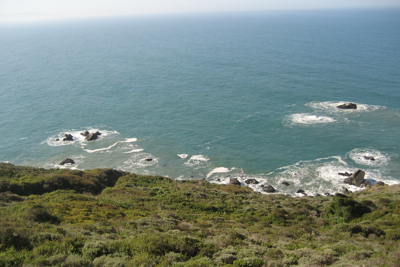 I believe that moments such as these allow visitors to make unique connections to a new place, ones that will only enhance the later joy of sharing a place you have already come to know with someone you care about.
However, traveling to Point Reyes in a party of one by no means indicates that you will spend a day in complete solitude.
There seems to be something about Point Reyes that just makes visitors feel comfortable turning to perfect strangers and gushing about the unbelievable view, as I found myself doing several times throughout the course of my visit. 
"This is so different from the city and constant traffic I'm used to in Miami," I explained to Emily Scott, a park ranger who began as a volunteer and found that she just could not stay away from Point Reyes.
Scott, a Los Angeles native who works at the park's Lighthouse Visitor Center, agreed that serenity is one of the most appealing aspects of Point Reyes.
"I love it out here, especially at the lighthouse, all you hear are the waves and the foghorn, it's like being on a boat."
An expert on the Point Reyes lighthouse, Scott feels that "…everyone planning a visit should make sure the lighthouse will be open they day of their visit."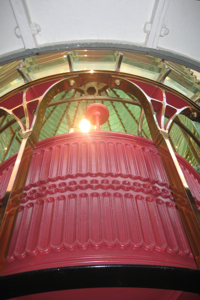 The Point Reyes lighthouse, which was built in France over the span of three years starting in 1867, first functioned as a lighthouse for Point Reyes in 1870.
"While other lighthouses are beautiful, there just isn't as much pizzazz as with this lighthouse," explained Scott.
Designed by French optic theorist Augustin Jean Fresnel, the Point Reyes lighthouse seems to be unique for its ornate design and structure. The lighthouse is maintained in its original form and is normally open to visitors from Thursday to Monday, so long as they are willing to descend the 302 steps leading to it.
The more time I spent getting to know not only the physical beauty, but also the history of Point Reyes, the more I confidant I was that I would need to return in the future to further explore this incredible place. 
Indeed, it seems that there is a certain addictive quality to Point Reyes.
"It's just so beautiful here," commented Rudi Dundas as we stood beside each other outside the lighthouse searching the waters of the Pacific for a glimpse of the gray whales known to pass through Point Reyes during their yearly migrations. Dundas is a nature photographer who was drawn to Point Reyes by its obvious beauty and its rich variety of plant and animal life. Today, she also serves as a volunteer at Point Reyes.
As I spoke about how much I enjoyed the drive to Point Reyes Dundas acknowledged, "I'm so used to seeing it that I forget to even look at it, but next time I won't".
Dundas, like all of the volunteers and employees at Point Reyes, seems to truly enjoy her work with the park and the opportunity to re-experience Point Reyes through the eyes of first-time visitors.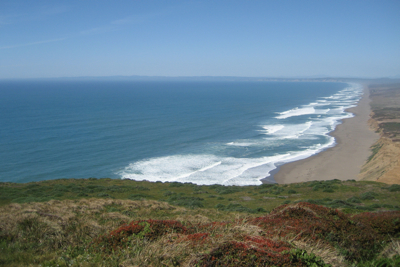 However, before individuals like Scott and Dundas assumed their roles of sharing the history and beauty of Point Reyes with newcomers such as myself, they developed their own bonds to Point Reyes National Seashore.
As I breathlessly hoisted myself up the final of those 302 stairs, I felt the formation of just such an unbreakable bond with this amazing place. I knew instantly that I would return to share Point Reyes with somebody I loved. 
As I began to walk away, thinking of all the people I needed to show what I had seen, I stopped once more and turned to the image that lay behind me. Standing in silence, I allowed the beauty of Point Reyes to steal my breath one more time.
If You Go:
Cost: Visitation to Drakes Beach and the Point Reyes lighthouse is free for all visitors. Typically beginning with the last Saturday of December through mid-April, visitors are not allowed to drive to the lighthouse visitor center due to increased visitors wishing to see the gray whale migration. During this season shuttle service to both the Lighthouse visitor center and the elephant seal lookout at Chimney Rock will be provided for $5 a person. All visitors should call prior to planned travel to verify if shuttle service will be provided for access to these locations.

Hours: The Lighthouse Visitor Center is open, weather permitting, Thursday through Monday from 10 a.m. to 4:30 p.m. Visitors should call the day of their visit to ensure that the lighthouse stairs will be open, as they are routinely closed

when weather is too windy. Additionally, the lens room to the lighthouse is open, weather permitting, Thursday through Monday from 2:30 to 4 p.m.

Whether or not you are traveling alone, be prepared to have little to know cell phone service while you are at Point Reyes. This adds to the refreshing sense of disconnecting from everyday life.

It might be a good idea to pack a lunch, as dining options are few and far between throughout the majority of Point Reyes. However, Drakes Beach Café at Drakes Beach has a well-rounded, although small, menu and very friendly service.

If you will be driving to Point Reyes and intend on using MapQuest or a GPS service, be advised that such services tend to mark the wrong destinations for several locations in Point Reyes. The addresses that should be used with such services can be found at

http://www.nps.gov/pore/planyourvisit/directions_gps.htm