Joshua Tree offers desert 'Promised Land'
TWENTYNINE PALMS, Calif.— The joshua tree raises its spiky green arms up to the clear blue desert sky and it's easy to sense the spiritual presence Mormon pioneers are believed to have felt when they named the plant after the prophet who waved his people towards the Promised Land.
The unique, twisted yucca plants, surprisingly a part of the lily family, grow exclusively in the Mojave Desert.
Joshua Tree National Park covers 794,000 acres and two deserts— the Mojave to the west and the Colorado to the east. Day visitors maneuver through the park by car, pulling over at the sights that interest them. A good way to start a first-time visit is by stopping at one of the three visitor centers and choosing a path.
| | | |
| --- | --- | --- |
| Click on the video at the left to see an audio slide show narrated and photographed by writer Nina Ruggiero. | | |
"Driving around Joshua Tree is very convenient," Bill Doherty, 63, a visitor from nearby Palm Springs, Calif., said. "It's easy to follow the signs and find your way around. It's also a great way to stay out of the heat between sites.
One option is to begin at the Oasis Visitor Center at the intersection of Highway 62 and Utah Trail, where Native Americans once lived on the Oasis of Mara. For once palm trees will seem out of place in California, towering over the rest of the flora as plump little quails poke around for seeds.
Keeping your newly acquired maps and guides handy, continue through the North Entrance Station down Park Boulevard past breathtaking mountain views set against wispy brush and cactus.
Make a detour towards Jumbo Rocks, one of the park's most popular locations where rock climbing takes place. Massive boulders appear as if out of nowhere, perfectly stacked in mysterious formations. It is difficult to imagine that these piles began underground millions of years ago from volcanic activity.
| | | |
| --- | --- | --- |
| | | A Spiky Ocotillo stands alone in the Colorado Desert. |
"The rock climbing is great because you can do it on all levels," Doherty said. "Whether you're an amateur and don't want to climb too much or you're a serious climber you can enjoy it."
Teenagers race over the coarse surfaces as children and their parents play games of hide-and-go-seek, peeking out from the crevices. Those who make it to higher points are rewarded by views of beautifully contrasting desert, mountains and valleys. There are scenic picnic areas adjacent to the rocks perfect for building up energy before climbing.
Continue on to the end of the road, pulling over to admire the pure landscape or watch a desert critter scurry by whenever the urge hits you at one of the many stop-offs in the road.
"We have some very open countryside so you get beautiful views down towards the Coachella Valley and the Salton Sea," Seasonal Interpretive Ranger Julia Lynam said. "Because it's very open countryside that means that sunrise, sunset and moonrise are always visible from many places in the park."
Make a left and you will have the chance to hike four miles roundtrip to the Lost Horse Mine, an old gold mining site left over from the area's history as a prominent mining spot. Other mining remnants can be visited throughout the park, but it is dangerous to climb on or go inside any of the structures.
| | | |
| --- | --- | --- |
| Rock formations such as the one at the right are common troughout the Mojave Desert. Next, the Cholla Cactus Garden in the Colorado Desert to the south. Next, a joshua tree stands against a rock formation in the Mojave Desert. Last, two Ocotillos sprout wildflowers. | | |
"Exploring the old abandoned gold mines and seeing the remains of that part of history is amazing," Patricia Anne Doherty, a middle school teacher from nearby Indio, Calif., said. "My students love to come here."
There are many nature trails and hikes for different skill levels and interests whether you want to learn about geology, history or wildlife or are just looking for the adventure of climbing through a canyon and challenging the desert terrain.
"The hiking trails can be challenging or easy depending on the mood you're in," Doherty said. "On any trail you choose you can see great views, beautiful rock formations and different and unusual plants and flowers."
There are dirt trails for mountain bikers and 253 miles of equestrian trails for those who prefer to travel on horseback. The park is home to 585,040 acres of designated wilderness waiting to be explored by backcountry hikers and riders, but take caution. It is easy to get lost and there are certain desert insects and snakes you will not want to come in contact with. Cell phone reception is slim to none in the park, so don't depend on your mobile device to call for help.
Past the entrance to the mining trail along the main road is Keys View at an elevation of 5,185 feet. From there you can see the powerful natural phenomenon that holds the fate of California in its grasp— the San Andreas Fault.
| | | |
| --- | --- | --- |
| Bill Doherty, 63, of Palm Springs, Calif., looks out on Joshua Tree National Park from atop a boulder at Jumbo Rock (Photos by Nina Ruggiero). | | |
Double back on the same road and you will reach Hidden Valley, a boulder filled trail and picnic area through what was once a cattle rustler's hideout.
Off to the right is Keys Ranch, the historic home of Bill and Frances Keys, early settlers of the Mojave Desert. Park rangers host walking tours of the original ranch house, store, workshop and school house.
Next you will hit the Barker Dam, which was built at the start of the 20th century for miners and cattle ranchers, and which today gathers rain water and attracts many birds. The trail up to the dam will lead you through a canyon past steep granite rock formations. On the walls of these rocks are petroglyphs, cave writing left by Native American inhabitants.
Loop back past Jumbo Rocks and you will pass two of the park's campgrounds.
"Spring and fall tend to be our busiest camping seasons because the weather is so great," Lynam said. "We fill up on sunny spring or fall weekend afternoons, but you can nearly always get a camp site on a weekday."
Reservations can be made up to six months in advance for the Black Rock and Indian Cove campsites, as well as for the group campsites at Cottonwood and Sheep Pass. The park's five other campsites are first come first serve. Backcountry camping is permitted but you must register at one of the twelve backcountry boards.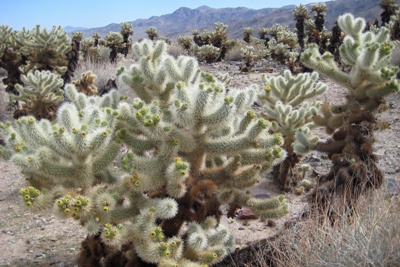 "To me the best part about camping in the backcountry is the solitude," visitor Bill Doherty said. "You can stay for days without ever seeing another camper. Having that beautiful setting all to yourself is amazing."
Down the road a bit in the noticeably lower elevation of the Colorado Desert is the Cholla Cactus Garden, a desert wonderland filled with light green jumping chollas, glowing with deceiving halos as their sharp needles catch the sunlight.
Brochures are provided for a self-guided tour and, though you will want to get a closer look, it is best to obey the rules and stay on the manmade path. This aggressive cactus will attach itself to you when you least expect it.
"All of a sudden I felt a prick in my foot and one had attached itself to my shoe," Brianna McMahon, 16, a visitor from New York said as she limped out of the garden.
Next stop and walk around the Ocotillo Patch. This spring the Ocotillos were one of the few plants to sprout wildflowers at the park.
"The wildflowers don't necessarily put on an enormous display every year," Lynam said. "I was here in spring of 2008 and we had thousands and thousands of beautiful flowers everywhere. Last year and now this year there's really not a lot to be seen unless you are a very close observer or a scientist yourself."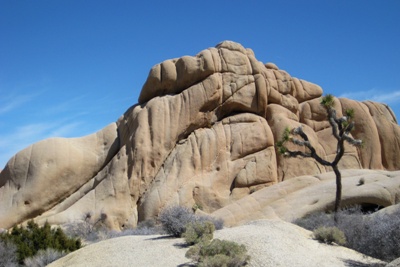 The tall, green spike covered branches of the Ocotillo end in bunches of little red flowers. The bright colors dance in the wind, contrasting against the bare backdrop of seemingly endless valley and serene mountains.
The Ocotillo spikes may not look so threatening coming from the Cholla Garden, but don't take your chances.
Enjoy the open road and breathe in the fresh desert air until you reach your last destination before leaving the park, Cottonwood Spring.
Wedged between the Cottonwood and Eagle Mountains, the area is a prime example of Native American-pioneer relations in California's past.
"Here we have bedrock mortars and a number of examples of petroglyphs and petrograms," Lynam said. "The Cahuilla Indians were pushed out when the ranchers and then the miners came in starting about 150 years ago."
If You Go
Entrance Fees
Up to seven days: $15 per vehicle; annual pass: $30; interagency annual pass: $80; senior pass: $10, good for a lifetime at all of the U.S. national parks.
Visitor Center Hours
Oasis: 8 a.m. to 5 p.m., Joshua Tree: 8 a.m. to 5 p.m., Cottonwood: 9 a.m. to 3 p.m.
Campgrounds
Black Rock, Cottonwood, Indian Cove $15 per night
Belle, Hidden Valley, Jumbo Rocks, Ryan, White Tank $10 per night
For reservations at Black Rock, Indian Cove, or for group reservations at Cottonwood or Sheep Pass call 877-444-6777.
Group sites hold 10 to 60 people.
Backcountry camp sites must be located at least one mile from the road and 500 feet from any trail.
Clothing
In summer months temperatures can be over 100 degrees Fahrenheit. Winters are mild and temperatures usually stay around the 60s and 70s in lower elevations, but bring layers since higher elevations are cooler. Wear close-toed shoes to protect yourself from cacti, snakes, scorpions and other dangerous plants and animals.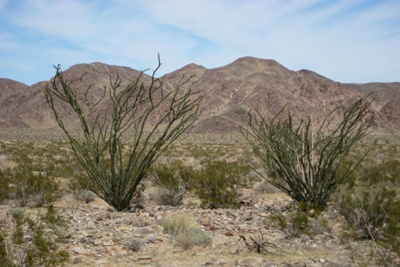 Animals
Store food securely and do not feed animals. Keep a distance, be aware and do not stick your hands or legs in holes or dark spaces.
Ranger Programs
Park rangers host guided walks and educational tours throughout the park. Schedules can be found at the visitor centers, entrance stations or at http://www.nps.gov/jotr.
Emergencies
Phone: 909-383-5651
Cell phone service can be difficult to find. Bring water, food and first aid with you for camping or hiking.
Park address
74485 National Park Dr., Twentynine Palms, CA 92277
More Park Information
Phone: 760-367-5500
Web: http://www.nps.gov/jotr/
E-mail: jotr_info@nps.gov