Ellis Island visit offers family insight
NEW YORK— Feb. 14, 2010: Nina Ruggiero, age 20. I woke up, got dressed, drank a vanilla latte and got into the car. My mom, 49, drove and my grandmother, 84, sat in the back seat. We didn't hit traffic and after 25 minutes on the expressway we were in Battery Park.
We found a parking spot a block away from the port—a miracle in New York City—and picked up our pre-ordered tickets. When the staff saw my grandmother with her cane we were even escorted to the front of the long line. We boarded the ferry, enjoyed a breathtaking view of the Statue of Liberty and we were there—Ellis Island.
| | | |
| --- | --- | --- |
| At right, the entrance to the Ellis Island Museum. Below, three generations visit Ellis Island to commemorate their ancestor's legacy. Next, visitors rest on benches in the Registry Room, the first room immigrants were brought to upon arrival (Photos by Nina Ruggiero). | | |
Sept. 14, 1922: Anna Fritz, age 20. She said goodbye to her parents, knowing she would never see them again. She said goodbye to her young son, knowing she would miss years of watching him grow up.
She said goodbye to Austria, her home and the only place she had ever known. She took her most valued items with her in a suitcase and went to Hamburg to board a boat called the Wuerttemberg, an 8,829 ton ship with 805 other passengers. Conditions were rough in third class, food was scarce and diseases spread like wildfire.
"I felt like we would never get there," she told my grandmother, "when suddenly I heard a loud cheer. I ran onto the deck and saw the Statue of Liberty. I will never forget how excited, hopeful and scared I felt all at once."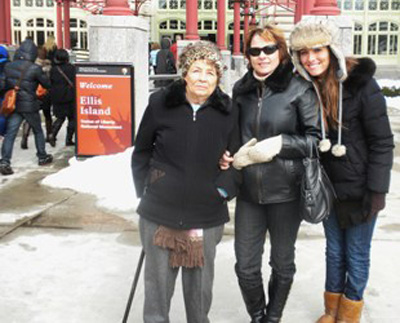 It took two weeks and she had no idea what was to come, but she was there — Ellis Island.
This was all I could think about on my trip to Ellis Island, a part of the Statue of Liberty National Monument.
My great-grandmother, when she was my age, gave everything she had in search of something more.
Would I have been strong and daring enough to do such a thing?
What must she have been feeling when she stood in this very same building almost 90 years ago?
If she had changed her mind, would I even exist today?
"No matter who you are you feel a connection to this place," Jean Sparacino, 50, a visitor from Queens, said. This was her third visit to Ellis Island.
When I first stepped inside the building, it looked like any other museum. There were crowds of people unsure of which direction to walk in, guides gathering their groups and a booth selling audio tours. We chose to buy the audio tour in advance online and were very glad we did. The audio guide not only helps visitors find their way through the exhibits and gives in depth historical backgrounds, but it also includes the voices of actual immigrants recounting their experiences there.
"Hearing the stories of the people who came through here just brings what you're seeing to life," Sparacino said. "I don't think it would have the same effect without the audio."
Putting on my headphones, I headed up a steep flight of stairs to the registry room. Medical examiners once stood at the top of those stairs watching for signs of illness or disability. I found myself a little out of breath and wondered if I would have passed the test. For my grandmother, there was an elevator.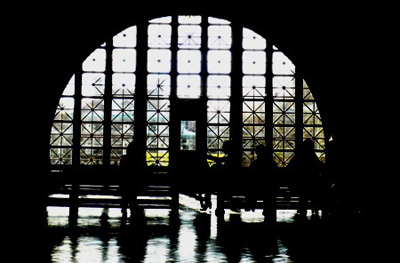 Walking into the large, wide-open registry room, I closed my eyes and tried to become Anna Fritz on that fall day, her first day in America.
Workers would have been shouting names and orders at the podiums while tired, confused and terrified immigrants piled onto the benches, leaving little room to walk. The nervous chatter between hundreds of families would have made it almost impossible to hear what names were being called.
Today, it wasn't too busy. A few families sat on the rows of wooden benches pushed to the sides of the room and others perused documents on the wooden podiums.
Sunlight reflected off the snow outside and poured in through the huge glass windows, illuminating the two American flags hanging from the second floor. Besides low murmurs and footsteps it was silent.
"It's almost eerie being here now and thinking of how many lives changed forever between these walls," said Mary Don, 82, a visitor from Washington Heights, New York whose mother and older brother immigrated through Ellis Island.
We walked down a white tile hallway that felt like a hospital or an old elementary school and were taken through the medical examination process. Those who had any sign of a possible abnormality were marked with chalk and sent for further examination.
| | | |
| --- | --- | --- |
| | | At left, luggage representing the bags in which most immigrants carried their most precious belongings. Below, visitors look up the records of an ancestor. Next, the Registry Room, where immigrants would wait to be called on for medical and legal inspections. |
Some were cleared, some were sent to the island's hospital to recover and some were sent back home. One immigrant spoke of turning her coat inside-out to hide the mark and avoid the medical exam while another was brought to tears at the memory of watching her elderly grandmother be sent all the way back to Europe while the rest of her family was passed through. I looked over at my grandmother, so small, sweet and fragile and shuttered at the thought.
"I understand that feeling of wanting something new," Katia Marrapodi, 26, a modern immigrant from Calabria, Italy, said. "There is nothing for me in Italy anymore. But I can hop on a plane and see my family in a few hours. What these people sacrificed is pain we will never know."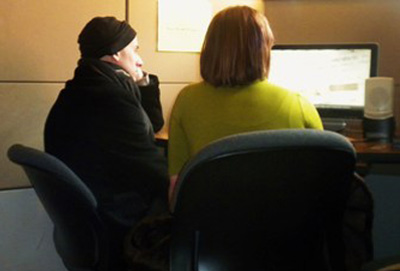 After the medical inspection was the legal inspection, when immigrants were questioned to make sure they were not anarchists and would not be burdens on the United States government and its citizens.
Some were questioned further and those who still did not satisfy were brought to a courtroom for an appeal.
Immigrants were asked to prove they had cash or a railroad ticket on them to show they would not be liable to become a public charge, meaning they were unable to support themselves and might rely on welfare.
Literacy tests and quota acts limited certain groups. All types of tests were used to determine the intelligence of immigrants and make sure they did not have mental disabilities.
Asked questions such as "When washing a staircase, would you start from the top or the bottom?" one immigrant answered, "I did not come to America to wash stairs."
In between were displays about currency exchange, concession stands and graffiti doodled by immigrants waiting to be called. There were stories of single women being housed across from the port on State Street and looked after so they wouldn't get themselves into trouble and stories of the "Kissing Post" where families finally reunited with descriptions of how each nationality greeted one another by custom. There were people who spent their first Christmas in America inside those brick walls and people who spent their last.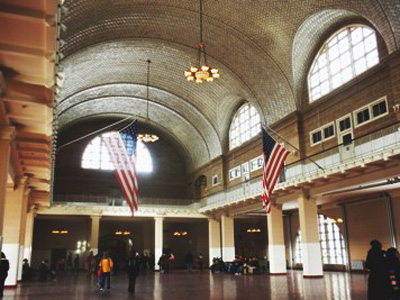 "I really feel as though I've stepped into someone else's shoes," visitor Patricia Doherty, 62, from Los Angeles, California, said as she walked through the exhibits.
We saw the bunks overnighters stayed in, tiny and decrepit but luxurious compared to conditions on most ships. Faces of immigrants covered the walls and showcases displayed the clothes, religious relics, kitchen appliances and other personal items that people chose to bring on their journeys. Each piece tells something about the person who brought it and about their homeland. What would I bring if I was leaving my home forever and I could only pack one small bag? The thought of it made me panic.
Suddenly I wished I had asked my great-grandmother more questions while she was alive. What was going through her mind that day? Was it worth it to go through all this? What questions was she asked and how did she answer? Was she afraid she might get sent back? Nana, as we called her, passed away August 24, 1999 at age 97.
This sentiment seemed to be a common one felt by many visitors to Ellis Island. In order to provide the next best thing, the museum allows visitors to search for the records of their relatives. Anyone with family members who immigrated through Ellis Island between 1892 and 1924 can find the passenger record on a printable certificate, a picture of the ship and the original ship manifest that includes information about the height and eye color of the passenger, plans for their arrival to America, how much money they had on them and more.
I participated and discovered that my great-grandmother, at 5 feet 2 inches tall with brown eyes and black hair, had $25 in her pocket and went to stay with her uncle John Stukitz in Manhattan. Instead of printing the information there, we decided to access it online and print it at home.
| | | |
| --- | --- | --- |
| | | At left, visitors view historical photographs of Ellis Island's immigrants. Below: the view from the large Registry Room windows of the Statue of Liberty and another building of Ellis Island. Last, visitors line up to board Miss New Jersey, the ferry that will take them back to Battery Park. |
Resting our feet and warming up with some hot chocolate in the museum's café before heading back outside to the ferry, my mom, my grandmother and I thought over our experience. We all knew and loved Anna Fritz and remembered what a strong woman she was. My grandmother watched her work her way through the Great Depression as a single mother of three. My mom lived with her and learned from her example for 27 years. I only knew her until I was nine, but I'll never forget that woman who, in spite of being in her 90s, not only kept up with me but never sat down until every person in the house was fed and taken care of.
All three of us had different and overlapping memories of Anna Fritz and that day we all learned something about her we never knew. For the first time we got a glimpse of what it was like to be her, at least for one day.  And all of a sudden I didn't feel such a generation gap between us. We were just one legacy of the same woman revisiting the place that made it all possible.
If You Go: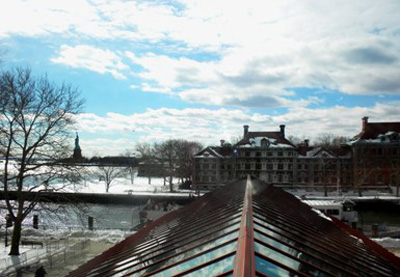 Getting to Battery Park:
Parking is limited, so consider public transportation.
Subway
The 1, Broadway-7th Avenue line, to South Ferry
The 4 or 5, Lexington Avenue line, to Bowling Green
The R or W, Broadway local line to Whitehall Street from Brooklyn or Queens
Bus
M1, M6 or M15 to South Ferry
Car/Taxi
From the East Side take FDR Drive South to Exit 1, South Ferry Battery Park.
From the West Side take Westside Highway South (Route 9A) to Battery Park.
Getting to Liberty State Park:
Plenty of parking is available for a small fee.
Car/Taxi
New Jersey turnpike, exit 14B. Follow signs to Liberty State Park.
Light Rail
Hudson-Bergen Light Rail to Liberty State Park Station.
Catch the Liberty State Park Shuttle bus, which will take you to the Central Railroad of New Jersey Terminal Museum.
Statue Cruises ticket offices are located inside the museum.
Bus
Central Avenue bus to Liberty State Park
Ferry Tickets
Avoid extra lines and buy in advance online.
$12 adults, $10 seniors, $5 children
Buy a reserved ticket if you know what date and time you would like to travel.
Buy a flex ticket if you would rather narrow your trip down to a three day period.
Ferries leave from Liberty State Park in Jersey City, NJ and Battery Park, NY.
Audio Tour
Purchase in advance online
$8 adults, $7.25 seniors and children under 12, 10 percent discount groups of 10 or more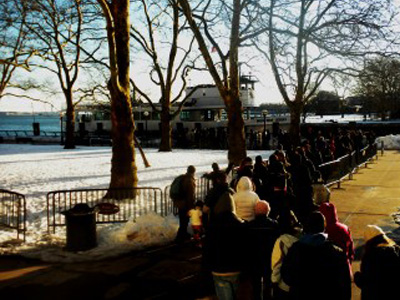 Available in Arabic, English, French, German, Italian, Japanese, Mandarin, Russian and Spanish.
Food and Beverages
Concession stands are located on every ferry as well as on Ellis Island. Bringing food from home is permitted, but large coolers will not be allowed inside.
Attire
In the winter, wear layers. You can sit inside on the ferry and avoid the cold.
In the summer, dress for heat and humidity.
Wear comfortable shoes. You will be walking a lot.
Time
Allow five to six hours for tours of both Ellis Island and Liberty Island.
Allow two to three hours for a tour of just one of the islands.
Access your relatives' records
http://www.ellisisland.org/
Free access online, $5 at the museum