Tetons offer much for photographers
JACKSON HOLE, Wyo. – There's little on a road map to suggest the strip of highway that runs some 18 miles from Moran Junction to Moose Junction with nary a turnoff in between — officially known as U.S. Routes 191/89/26 — offers anything of much scenic value.
The eastern-most area of the park is comprised largely of sagebrush flats that continue for mile after mile, interrupted only by the narrow, seemingly unexciting two-lane road. All of the park's more famous lakes are to the west and north, as are the hiking trails and forests that have a reputation for being havens for wildlife.
| | | |
| --- | --- | --- |
| Click on the video at the right to view a slideshow about landscape photography at Grand Teton National Park, prepared and produced by writer Iku Kawachi. | | |
All of which explains why few peg the stretch of road as a typical spot for landscape photography. But take a minute to pull over to the gravel shoulder and step out on a day with good visibility: you just might be treated to a spectacular view of the Teton Range off in the distance, snow-capped mountains towering high over trees and roads. A herd of horses with chestnut, bay and white coats graze the bottomlands while vast sheets of wispy cirrus clouds pass slowly overhead.
Grand Teton National Park, a 310,000-acre national park just south of Yellowstone National Park in northwestern Wyoming, has built a substantial reputation for itself not only as a sanctuary for an impressive breadth of flora and fauna, but also for the breathtaking scenery it offers its visitors through a plethora of popular photography locations.
| | | |
| --- | --- | --- |
|   | | The southern and eastern sides of Jenny Lake allow shots of the Tetons reflected beautifully in the still lake (Photos by Iku Kawachi). |
The abundance of landscape photography opportunities is, of course, due in no small part to the Teton Range, a mountain range belonging to the Rocky Mountains that dominates the geography of the park both literally and figuratively.
The tallest peak, the aptly named Grand Teton, has an elevation of 13,775 feet, but what makes the mountain seem even more impressive than other like-sized peaks is its comparative lack of foothills: With nothing to hinder one's view, the eastern side of the Tetons rises up sharply, rather than gradually.
"It's just so rugged and picturesque," said Mark Gocke, photographer and public information specialist for the Wyoming Game and Fish Department. "It could very well be one of the most photographed mountain ranges in the world…. It's a really unique photographic experience, and that's why people come from all over the world."
| | | |
| --- | --- | --- |
| At right, vivid autumn colors and rugged peaks are two of the things often visible from the park's many walking trails. Next below, the seven-mile loop trail around Jenny Lake takes visitors only inches away from the water in places. And last, the stretch of Teton Park Road that runs alongside Jackson Lake provides spectacular views of the Teton Range. | | |
Prominent western wildlife and landscape photographers like Gocke, Thomas Mangelsen and Henry Holdsworth have made a name for themselves by documenting some of the spectacular sights that can be witnessed throughout the confines of the park.
Naturally, the Tetons make for a popular subject, standing tall and regal on clear days and rising into thick cloud cover, keeping its snow-capped mountaintops hidden, on others.
There is much more to capturing the essence of Grand Teton National Park, though, than what Gocke describes as an "in-your-face" kind of mountain range.
Many of the images of you might see framed in public galleries or art collectors' homes marry the geological wonder of the park with its diverse collection of wildlife. Some of most iconic photographs, for example, feature animals like elk and bison grazing in the foreground, with the Tetons creating an impossibly beautiful panoramic backdrop.
It is the seasonal changes, of course, that produce different spectacles each time one visits. Go in May at the beginning of the summer, for example, and see lupins, Indian paintbrush and other wildflowers blooming in valleys in an assortment of vivid purples, reds, and blues.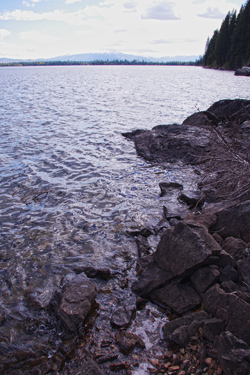 Or go in October, in the thick of autumn, and take in the equally stunning mix of yellow and orange leaves that create a scene that can almost resemble an impressionist painting from afar.
"Fall is hard to beat, just because of the aspen and the colors that you get here," Gocke said. "There are a lot of photography workshops that time of year."
Many of the more popular sites for landscape photography can be found either around any of the park's several lakes or close to its main paved roads, making them relatively accessible to all visitors.
The loop trail around Jenny Lake, for example, offers spectacular views of not only the serene lake, but also of numerous peaks of more than 11,000 feet to the west and towering pines and deciduous trees that create a surreal scene when they shed their leaves in the fall.
The complete trail is relatively flat and only a hair over seven miles in length, making it ideal to embark on in a single afternoon for many.
Even those who prefer to navigate such scenic locations by car have an abundance of options available to them, with spots like the Oxbow Bend Turnout just east of Jackson Lake Junction and the Schwabacher Landing further south on U.S. Routes 191/89/26 some of the more well-known spots for shooting the Tetons from the east in daylight.
"If I had to pick one spot, it would probably be Oxbow Bend," Gocke said. "There's a classic Teton shot where there's a beautiful aspen grove that reflects in the oxbow [of Snake River] itself … it's one of the shots you have to get if you come to Grand Teton National Park."
More than a few photography enthusiasts and aficionados of scenery visit Grand Teton National Park for its stunning sunrises and sunsets, of course. While there is, without doubt, another world of photographic opportunities for those willing to trek up the backcountry trails west of Teton Park Road or even scale the mountains, there are several locations that offer such views without being nearly as physically demanding.
The Teton Point Turnout is listed prominently on park guides as one of the best spots for photography at both dusk and dawn, and the summit that lies at the end of the winding Signal Mountain Road on the east side of Jackson Lake, some 7,727 feet above sea level, provides an excellent vantage point for sunsets.
But there is something to be said for walking along some of the less-popular trails or driving around the park without a predetermined destination. Sure, the photography spots officially endorsed by the visitor centers at Grand Teton or recommended by fellow photographers and park gurus might offer spectacular scenery, but there is nothing that says one can't come across an equally breathtaking sight on his or her own.
"That's the beauty, and what I find rewarding, about landscape photography," Gocke said. "It really challenges you to be artistic, to find unique light."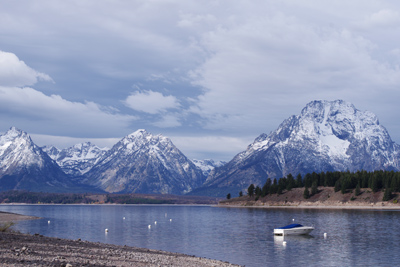 The potential payoff — capturing a scene from an angle not copied by the thousands of digital camera-armed visitors who pass through each year — makes the search well worth the time, and then some.

Other Notable Spots
The following are a few of the more worthwhile landscape photography spots within the park that were not mentioned above:

Cascade Canyon Turnout
What it is: A turnout on Teton Park Road east of Jenny Lake and roughly 1.7 miles north of Jenny Lake Visitor Center.
What you will see: Considered a great spot at dawn as sun sets between Mount St. John and Teewinot Mountain across Jenny Lake; excellent vantage point of Teton Range.
Blacktail Ponds Overlook
What it is: An overlook off of U.S. Routes 191/89/26 1.2 miles north of Moose Junction and 1.7 miles from the Craig Thomas Discovery and Visitor Center.
What you will see: Good point at both dawn (as the morning sunlight is cast over the opposing Teton Range) and dusk (as the sun sets behind the mountains).

Manges Cabin at Taggart Creek
What it is: A cabin built by settler James Manges in 1911. The Taggart Creek Trailhead is 3.4 miles north on Teton Park Road from the Craig Thomas Discovery and Visitor Center.
What you will see: The cabin, or "barn," is a great subject at all times of the day, particularly with Teewinot Mountain or Mount St. John to the north providing the backdrop.
Snake River Overlook
What it is: An overlook roughly halfway between Moran Junction (9.4 miles to the north) and Moose Junction (8.4 miles to the south) on U.S. Route 191/89/26 providing a view of the river from above.
What you will see: Particularly good spot for capturing sunrises over the mountain to the east, but is also popular at dusk. Spot was "immortalized" by a photo taken by Ansel Adams of Snake River.