Loop Road offers Big Cypress sights by car
OCHOPEE, Fla.— I have spent my entire life in South Florida, and I am ashamed to say that I had never visited the Everglades. The national park is only a short drive away, but I never went— not with my parents, not on a field trip, never.
I decided that this had to come to an end. I had to take advantage of this ecological jewel that sits practically in my backyard.
I was ready for an adventure. But I wanted an alternative to the airboat rides that every tourist bus in the area will visit. I wanted to take more from this experience than the loud clamor of airboat engines coupled with crying children.
So I decided that I must do something that was off the beaten path. There is only one problem, I don't like mosquitoes; I don't like hot, humid weather, and I'm deathly afraid of snakes.
So what's a girl to do?
| | |
| --- | --- |
| | This part of Loop Road, near the west end at U.S. 41 at Monroe Station in Collier County, is mostly gravel (Staff photos). |
The answer turned out to be quite simple. I decided to go on a tour of the wilderness in the comfort of my air-conditioned car.
That's right, I decided to drive through Loop Road, a 26-mile drive through the Big Cypress Swamp. Some more adventurous types may scoff at the notion, but I assure you, there was plenty of wilderness to see and marvel at.
Big Cypress National Preserve, a uniquely watery combination of hardwoods and swamps covering over 700 acres, differs from the Everglades in that it has a slightly raised terrain with standing water covering most of its swamp.
Through the early 1960s, the area around Loop Road was alive with hunters, residents, and commercial enterprises. The federal government began acquiring most of this land to create a buffer between the endangered Everglades and the infringing commercial development.
During the next 10 years the government purchased over 700,000 acres, and in 1974 the Big Cypress Swamp National Reserve was created, designed to protect the area. Other than a few remaining residences, most of the land in the National Preserve has succumbed to the swamp.
Loop Road is one of the few designated scenic routes inside the national preserve, yet very few travelers drive along the route, probably because of the remoteness and bad condition of the road.
I entered Loop Road on the east side, approximately four miles past Shark Valley on U.S. 41. The first two miles pass through a new residential area in the Miccosukee Indian Reservation. This part of the road is paved and has a 30-mph speed limit.
Once past the residential area, the paved road ends and a rocky bumpy dirt road takes its place. The speed limit here, and for the rest of the road, is 25 mph, but I don't suggest anyone travel through that fast.
| | |
| --- | --- |
| i | The old Monroe Station, where Loop Road returns to join U.S. 41 at the west end, is now boarded up. |
For one, it would be very uncomfortable since the road is very rough and full of potholes, and two, if you drive too fast you may not notice all the wonderful wildlife hiding within the trees and shrubbery.
I drove along the trail at 10 to 15 mph.
At the very beginning of my excursion, I was delighted to encounter alligators for the first time. There they were, two swimming in a pond, and another lying right next to the road sunning himself, totally unperturbed by the sound of my car engine.
This was, after all, his territory. However, I would soon discover, that these two and three foot long creatures were only babies whose parents, uncles, aunts, or whatever were meandering around, substantially larger, two or three times as long, and considerably less cute.
There were alligators everywhere. In fact, I remember thinking to myself, "No wonder Gatorland is here!" You must resist the temptation to laugh at me; just keep in mind that my experience with wildlife is severely limited.
Sagua palms, cypress, ferns, and all kinds of fauna line the road. I also saw various species of birds— of which I could only identify a white crane that crossed the street in front of me carrying a fish in its beak and a heron— sunned themselves, flew overhead, and waded through the murky water.
I got out of the car briefly to take some pictures, when I was shocked to see what looked like mosquitoes on steroids— I swear they were so big they looked like flying cockroaches— and dragonflies zipped by my head, at which point I quickly jumped back in the car.
I was later very excited to see four raccoons scurrying along the road. Once they caught sight of the car, they jumped back into the trees, where I could see them peaking at me curiously, or perhaps terrified, from the safety of the shrubbery.
The whole trip took me almost two hours. And the whole time, I only saw one other car drive by, a minivan with a Georgia license plate.
| | |
| --- | --- |
| | Drivers with off-road vehicles enjoy Loop Road. |
This air-conditioned adventure was great, albeit not most people's idea of roughing it. But for those more rustic types, there are plenty of campgrounds near the trail. I don't recommend that one hike the entire trail on foot because I did see one 6-foot alligator lying in the middle of the road that was reluctant to move out of the way of my Chevy pick-up truck.
If, however, you're Crocodile Dundee and the idea of wrestling alligators is your idea of fun, then by all means, knock yourself out. Also, it is a narrow nature trail; there are no lights, so it is not a good idea to travel the road at night. And with the exception of the Loop Road Educational Center at the beginning of the trail, there are no bathrooms, so be prepared.
This was a great experience, and I recommend that everyone take some time to commune with nature, even if it is from the comfort of an air-conditioned car!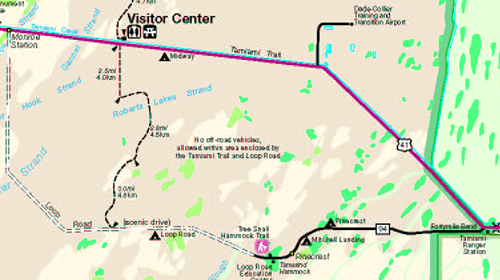 Map courtesy of the National Park Service.
If You Go
Loop Road is located in the Big Cypress National Preserve on Tamiami Trail (U.S. 41) approximately half-way between Naples and Miami. It is also near the Everglades National Park, approximately four miles west of the entrance to Shark Valley on U.S. 41 and near the Miccosukee Indian Reservation.
Entrance Fee
None. Loop Road is free and open to the public.
Permits
Off-road vehicles permits: $50 for annual permit. Permits for ORV use can be obtained through the Big Cypress National Preserve Visitor Center on U.S. 41 or the Shark Valley Visitor Center of Everglades National Park on U.S. 41.
Contacts at Big Cypress National Preserve
E-mail: sandy_snell-dobert@nps.gov
Write to: HCR 61, Box 10; Ochopee, FL 34141
Phones
Headquarters: 941-695-2000.
Visitor Information Recorded Message: 941-695-4111.
Visitor Center
Located on U.S. 41. The center is open from 8:30 a.m. to 4:30 p.m. daily (except Dec. 25).