Gallery preserves Big Cypress images
OCHOPEE, Fla. — Bill Service leaned against the weathered turquoise railing near the Big Cypress Gallery entrance and quietly surveyed his surroundings.
He was situated here in Ochopee, approximately 35 miles west of Miami and 45 miles east of Naples. Tucked away in the heart of the Big Cypress National Preserve's lush, wild habitat, he was thousands of miles and a world away from his home in San Diego.
Outside the modest, wood-paneled art gallery — home to a collection of Clyde Butcher's black and white landscape photographs — alligators sunned themselves in the parking lot, egrets and anhingas splashed in the property's shady wetlands and an occasional vehicle zoomed past, traveling along the two-lane Tamiami Trail (U.S. 41) that connects Tampa to Miami.
| | |
| --- | --- |
| | The Clyde Butcher Big Cypress Gallery is located on U.S. 41 in the Big Cypress National Preserve (Photo by Rachel Luhta). |
Service, a big man who bears a striking resemblance to the photographer himself with his long, silver beard, reflected upon the gallery's collection of images.
"It's absolutely fabulous. It's beautiful. The black and white is unique," he said, admitting the pieces he just viewed simply amazed him.
His wife, Nancy, and their vacation host, Charlotte Norcross — a Massachusetts native who winters in Naples — enthusiastically agreed, calling his work "inviting." The Services first saw a sample of Butcher's work in a Marco Island, Fla. hotel lobby. After researching the artist, they decided to make a trip to his Big Cypress gallery.
Butcher himself feels the gallery is in a very special place.
"The gallery and land surrounding it is a gift from God… How else could we ever have the opportunity to own a piece of land in the center of over a million acres of wilderness, inside a national park?" Clyde Butcher said. "Because we feel the gallery has been a gift to us, in return for that gift we feel the need to share, and educate, others about the beauty and the environmental importance that our open spaces present to the future of mankind."
Niki Butcher, Clyde's wife of 41 years, stops by the gallery periodically. The gallery is located on the front half of the Butchers' 13-acre tract of land, while their personal home is in the rear.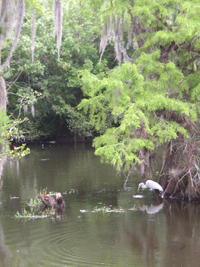 A wild bird looks for lunch near the Big Cypress Gallery (Photo by Rachel Luhta).
An artist herself, she's also his adventurous companion and biggest supporter. Articulate and well-versed on environmental issues, she was at the gallery the afternoon the Services and Norcross visited.
"When people come into the gallery, they're in a mental space of slowing down to look at art and all of the sudden they see what Florida is. It is texture and many people said they did not see Florida until they saw Clyde's work and then they went outside and they actually saw Florida. So it has helped people understand more what our state is about and for that I'm very thankful," Niki Butcher said.
"When we first bought the land, we didn't really think anyone would come out this far to buy art," Clyde Butcher explained. "We just loved the beauty of the location. We are amazed at the success the gallery has achieved.
"However, our gallery in Venice is located in an industrial park due to having a very large darkroom on the premises, and it, too, is successful," Clyde Butcher continued. "So, I have a feeling that the quality of the photography is what is bringing people to the gallery. The location has little to do with it. However, we love the location!"
The gallery's interior is an extension of the environment outdoors. Its organization turns order out of nature's chaos, yet still preserves the outdoor habitat's raw, pristine beauty.
Simplistic and tranquil, it allows the visitor to focus on each black and white piece, which transports the viewer into the scene. Windows and large, glass-paned doors let the sunlight and green foliage peek inside to remind the visitor he or she is still in the middle of the Everglades.
"Gaskin Bay #5" first greets the visitor. With its massive dimensions – 5 feet by 7 feet – it envelops the observer. Standing before the image, dark ripples of water seem to lap at one's waist. Two mangroves stand in the distance in perfect focus. The dark sky and bright clouds above the horizon are detailed and exhibit a wide range of shades on the gray scale.
"As a photographer, of course, you know, I'm a little prejudiced, but I think he's a phenomenal photographer. I think he has the ability, which neither he nor I know where it comes from, but he has the ability to present in a two-dimensional way a three-dimensional space," Niki Butcher said. "As a photographer, I think he has grasped that place inside himself that expresses that deepest part of him, but it's so deep that he can't explain it."
| | |
| --- | --- |
| | The entrance to the Big Cypress Gallery is on U.S. 41 (Photo by Rachel Luhta). |
For nearly 35 years, Clyde Butcher has devoted his life to photography.
In 1986, when their only son was killed by a drunk driver, Butcher turned exclusively to black and white. He found peace in the Big Cypress National Preserve, photographing its natural scenes.
"He felt life was too short to not express that which he fully wanted to do," said Niki Butcher.
Only his black and white images are on display at the gallery, although one area is devoted to the color landscape photography of Oscar Thompson and Jeff Ripple — two of Butcher's closest friends and colleagues.
Butcher captures the unspoiled areas of Florida's environment, ensuring those endangered habitats are preserved on film for future generations to cherish.
He uses large view cameras, which produce large negatives that present quality images to his audience. He prints on fiber-based papers that reach sizes of 5 feet by 9 feet. Price tags for such original pieces climb to $11,000. The colossal photographs are printed at his Venice, Fla. facility, which consists of another gallery and a darkroom specifically built to accommodate large-scale prints.
Butcher's images have been used to illustrate material for numerous environmental conservation programs, organizations and events, such as Save Our Rivers, the Nature Conservancy and Marjory Stoneman Douglas' birthday celebrations.
| | |
| --- | --- |
| | A small alligator suns on a log near the Big Cypress Gallery in the Big Cypress National Preserve (Photo by Rachel Luhta). |
The award-winning photographer has been recognized countless times for his focus on environmental issues. His published photography books and state-wide and national exhibits depict how much he values Florida's wilderness.
Dr. Michael Carlebach, a University of Miami professor of art and art history who teaches a course on the history of photography, said Butcher's work carries on the environmental tradition established by photographers Ansel Adams and Edward Weston.
However, he said, both Adams and Weston concentrated on documenting the American West.
"What makes Clyde different is that he has concentrated on a piece of land that isn't monumental, at least to the naked eye," Carlebach said.
"He's done a good job of popularizing the river of grass."
Butcher's current exhibits include those at the Brogan Museum in Tallahassee, Fla., the Historic Bok Sanctuary in Lake Wales, Fla. and others in Wisconsin and Texas. A retrospective of his career work opened April 2 at the South Florida Museum in Bradenton, Fla.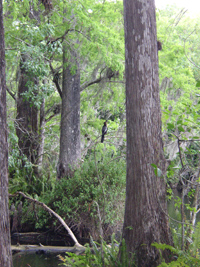 A wild bird rests in a tree near the Big Cypress Gallery (Photo by Rachel Luhta).
"Some artists view life with a wide angle lens, some painters view it with a normal lens or a telephoto lens – that's the way they look at life," said Niki Butcher, who describes her husband as open-hearted and generous-spirited.
"Clyde, from the very beginning of his photographic career, has always used wide angle lenses. He looks at life with a wide angle lens which is very much like his personality."
The Butchers also host an annual Labor Day event on their Big Cypress property. Activities include live music, storytelling, food and appropriately titled "muck-abouts" — guided swamp walks. New photographs are also debuted. Reservations are necessary and proceeds from the event are donated to Friends of the Big Cypress National Preserve.
Niki Butcher said she and her husband hope native Floridians and tourists alike take the time to appreciate and learn about the state's fragile ecosystem and diverse environment. If the process begins for an individual after viewing Clyde's work, then he has accomplished his goal.
"His black and white — people really became enamored with it — and what has happened to Clyde since he's done that has been an absolute gift from God. It's been an incredible adventure," she said.
And, for the Butchers, the adventure continues deep in Big Cypress.