Kayaks offer one of best ways to visit park
HOMESTEAD, Fla. — The cheerful panorama is unmistakable. The emerald islands and mangrove shoreline separate the shades of blue above and below, the seemingly unperturbed water disguises the bubbly undersea kingdom and the sound of birds marking their territory remind you where you are.
"I wouldn't call myself daring, but I am definitely adventurous," said Zakiya Mangera, a 21-year-old Londoner who has visited Miami regularly for the past few years. "It was the first time I had ever been kayaking, and even having fallen in, it was without a doubt one of my summer highlights."
If you want to partake in an activity which encompasses fun, adventure, nature, relaxation and exercise with a picturesque setting, then kayaking in Biscayne National Park might be right up your stream.
| | | |
| --- | --- | --- |
| Click on the video to see a slide show about kayaking in Biscayne Bay by writer Misha Vaidya. | | |
Biscayne National Park's 172,000 acres is comprised almost completely of water, with land occupying only five percent. According to the National Park Service, the park plays host to over 500,000 visitors per year.
The best way to see the park in its entirety is by water," said Park Ranger Gary Bremen.
Biscayne National Park provides a wealth of opportunities for outdoor enthusiasts.
"Kayaking and canoeing have proven to be one of the most popular," he added.
| | | |
| --- | --- | --- |
| At right, Rudy Baez and Leslie Sandoval at the ramp. Below, the mangrove shoreline. Next, even locals like to catch some rays. Next, the distant Miami skyline. Next, Quinn Hesnan relaxes in his kayak. Next, a group racing towards the mangroves. Last, Rima Vaidya and Chia Mansilla in the child-friendly kayak (Photos by Misha Vaidya). | | |
Paddle through Shallow Jones Lagoon to spot a crocodile, listen for the whoosh of a manatee surfacing for air, race your friends along the park's mangrove-fringed shoreline or simply relax on a journey over sea grass fields and crystal clear water.
Biscayne National Park offers canoe, kayak and paddle boat rentals at the Convoy Point concession site and also hosts guided excursions and tours.
"We have them here to rent every day, rental is per hour and a half and all we need is for you to sign this form, hand over your driver's license and we'll get you started," said Andy Matthews, the general manager/partner of Biscayne National Underwater Park, Inc.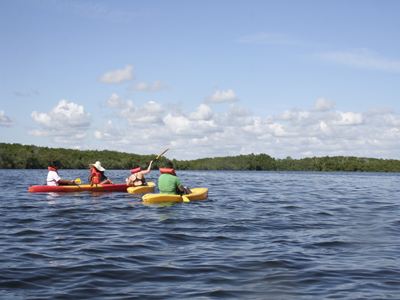 With your life jacket securely fastened and paddle in hand, a park associate helps you launch your kayak from the very effective trail of plastic PVC pipes.
Waving goodbye to the Dante Fascell Visitor Center, groups of happy picnickers and little bit of land, you are ready to embark on your kayaking adventure.
OBSERVE
As you look out, you'll set eyes on treasures more valuable than the gold in the pirate ships that once sailed these waters.
The aquamarine waters of the reef glisten in the distance, tinged with a multicolored spectrum from the mysteries beneath, visible to the last detail through the near translucent intermediary.
The red-rooted trees dip their feet in the water, guarding their islands and guiding a route for audacious kayakers. Large rocks sit on the shore and encourage kayakers to do the same by creating a barrier and stopping them in their tracks.
"Did you see that fish? Did any of you see it? It jumped right out of the water and dove back in. Almost like the oceans version of a shooting star," said Miami-Dade College biology student Chia Mansilla, as she watched optimistically for another.
Biscayne's assorted history spans 10,000 years. Through it all, the park's four ecosystems have cultivated a remarkable variety of birds, plants, animals and sea life. A number of these are unique to South Florida. Canoes and kayaks are possibly the most effective way to see the four ecosystems all working alongside one another.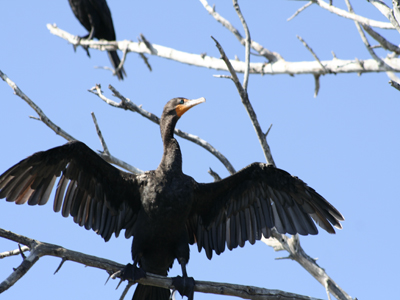 The arm-like branches of the leafless tree provide birds with a perfect watch spot. Elegantly perched, they inspect you as you paddle past.
"Look at that one. It's beautiful, its beak is bright orange and I think its eyes are blue," said Leslie Sandoval, a Miami-Dade resident and graphic designer.
More than 170 species of birds call Biscayne Bay their home during the winter months.
Some of the more popular birds are brown pelicans, snowy egrets and white ibis. On rare occasions, the bald eagle and peregrine falcon also make guest appearances.
To the north lies a surprisingly tranquil cityscape. The famous skyline blends in with the shades of blue and reminds you how close you are to civilization, yet how far away you are from the things that accompany it. Turning east, past the large patch reef navigation marker stands the Dante Fascell Visitor Center and the kayak launch where your expedition begun.
"It's a manatee! It's a baby manatee, come here quickly. It's so cool. Paddle calmly, you don't want to scare it away," said Cristina Blanco, after catching a glimpse of an endangered gentle manatee surfacing the water for air. The University of Miami graduate student watched the mammal for another 10 minutes and said she managed to get some fairly clear photographs.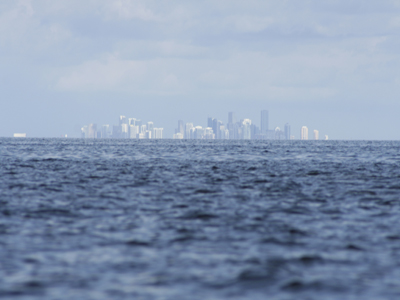 Whether you chose to paddle your way across Biscayne Bay's seven-mile stretch, or explore the lagoons, creeks and channels south of Caesar Creek, you will run into many scenes worth capturing.
From sharks, rays and upside-down jellyfish to cityscapes, mangrove shorelines and never ending water, kayaking is a great way to observe the wonders at Biscayne National Park.
RELAX
Taking a break from your daily stresses and routines is never a bad thing.
Being so close, Biscayne National Park provides a nice respite from hectic metropolitan life without having to travel too far or spend much money.
It's a place where people leave behind cars and dive into an underwater wonderland.
Drift along the gentle waves of the luminescent bay, escape into a world far away, into a land of mermaids, mythical creatures and natures wonders. Reflect on your week, clear your mind and gaze up at the floating clouds and carpet of blue.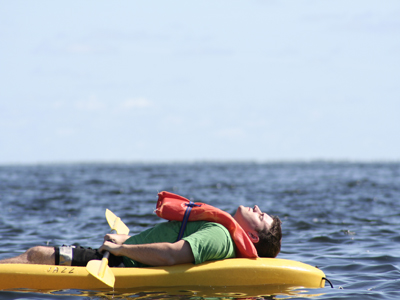 "After being stuck in that awful traffic last night and having to work late, this was the perfect start to my weekend. I didn't have a care in the world, said BigStar TV video editor Carlos Diaz, as he lay in his kayak. "It really is a great way to forget all the craziness in the city," the 25-year-old added.
While relaxing is definitely an option, considering the surroundings, perhaps you're looking for something a bit more active and vigorous.
EXERCISE
"Kayaking is not nearly as easy as I thought. I'm going to be so tired later on, but my arms are going to look great," said jewelry designer and outdoor enthusiast Tammy Cohen, as she took a sip of her bottled water.
Lifting weights, running and push-ups, while they're all great ways to keep in shape, not everyone enjoys these tiresome practices.
If you're looking for a way to keep fit and enjoy yourself at the same time, you're in luck. Kayaking on the waters of Biscayne National Park provides health benefits whether they are sought or not.
Paddling provides fantastic aerobic and cardiovascular effects as well as upper body strength. There are few activities available to us that give such a balanced approach to our exercise regime.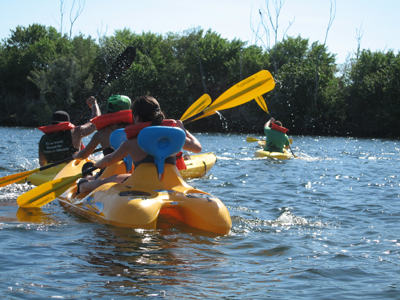 "It beats going to the gym," said 18-year-old hospitality student Rima Vaidya.
ENJOY
"Just wait! You're going to regret doing that," said 24-year-old animator and Miami local Rudy Baez, as he got soaked by the splashing of paddles around him.
As well as being a great way to explore the area, relax in the wilderness and exercise in a more enjoyable manner, kayaking at Biscayne National Park is also a nice way to spend some time with friends and have some light-hearted fun.
"I'll race you to the island," said University of Miami graduate student Joey Roziner, before quickly paddling alongside another five kayaks.
Ripples of laughter, splashes of movement and smiles of satisfaction all occupy Biscayne Bay regularly.
"Locals and tourists alike have found the park to be a wonderful way to spend quality time with their family and friends," said Biscayne Park Ranger Laurie Householder.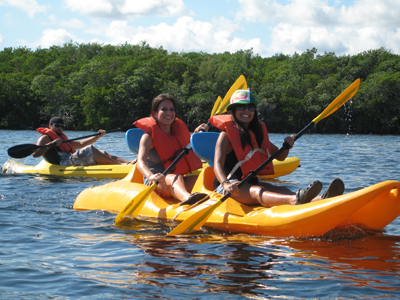 Kayaking in Biscayne National Park will take you on an adventure away from the rush hour traffic, high prices and crowds of people.
If you're looking for an activity that incorporates incredible sights, exercise, relaxation and of course quality time with the people that matter, then kayaking might be your next outing.
If You Go:
Kayaks, canoes, and paddle boats: 1½ hour rental.
Kayaks  and canoes – $16 for singles, $25 for doubles.
Paddle boats – $30 for two passengers, $40 for four passengers. Discounts are given for large parties.
The park's waters are open 24 hours. The Dante Fascell Visitor Center is open daily and park personnel are available to answer questions, 9 a.m. – 5 p.m. There is no entrance fee.
The address is 9700 SW 328th St., Homestead, Fla., 33033.
Directions: From Miami, take Florida's Turnpike south to Speedway Boulevard, and turn left (south). Continue four miles on Speedway Boulevard to North Canal Drive and turn left (east). Follow Canal Drive another four miles to the park entrance. From Homestead (about nine miles), take SW 328th Street (North Canal Drive) to the park entrance at Convoy Point.
For more information contact the park at 305-230-7275 or http://www.nps.gov/bisc.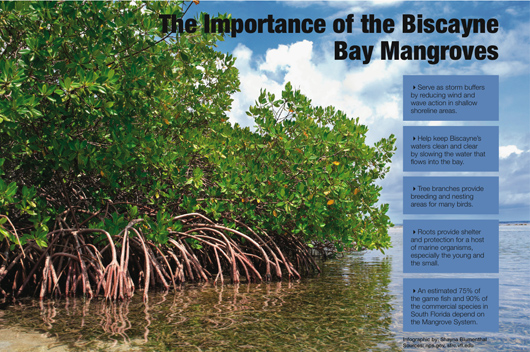 Information graphic designed and prepared by Shayna Blumenthal.