Biscayne Bay kayaking easy to learn
HOMESTEAD, Fla. — Biscayne National Park is one of the few places that South Florida residents can visit to explore mangrove-fringed shorelines and shallow bay waters.
With its expansive, sparkling blue waters, it is just the place to escape to for a day of kayaking and fun on the water.
While guided kayak tours at Biscayne National Park are typically offered during the winter months, the warm weather in South Florida provides a great opportunity to engage in the active, outdoor adventure year round.
| | | |
| --- | --- | --- |
| Click on the video to see a slide show about kayaking in Biscayne National Park by writer Sheena Morales. | |   |
"For $15.95, you can take a three-hour, guided kayaking tour that is offered the second Saturday of every month," said Gary Bremen, a Biscayne National Park ranger and spokesman.
If you find yourself unable to kayak on one of these set days, the park's concessioner rents kayaks that can be launched from the Dante Fascell Visitor Center located at Convoy Point.
If you have never done any kayaking before, you may be wondering how you will be able to kayak without the guidance of an instructor. It is not so difficult.
Below, I will walk beginners through the basic steps involved in the kayaking process and set you up to enjoy your first kayaking adventure at Biscayne National Park.
| | | |
| --- | --- | --- |
| At right, a park concessionaire assists Misha Vaidya as she prepares to kayak. Next, Leslie Sandoval and Rudy Baez are ready to start. Next, Rima Vaidya and Chia Mansilla share a kayak. Next, Leslie Sandoval and Rudy Baez paddle on the bay. Last, kayakers enjoy a beautiful day (Photos by Sheena Morales). | | |
GETTING INTO THE KAYAK
The first step is simply getting into the kayak and, although it may seem easy enough, beginners should take note of the appropriate way to do this.
It is important that you find a good place to enter your kayak into the water, which should be an area where the water is calm and shallow with little or no rocks.
Biscayne National Park has a designated area at its Convoy Point headquarters located just behind the kayak rental equipment where kayakers can enter the water safely and with little difficulty.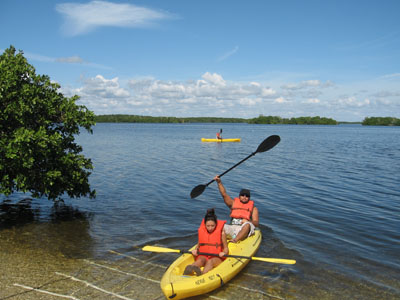 "I usually see staff from the park's concessionaire by the rentals assisting beginners as they get into their kayaks," said Joey Roziner, a frequent visitor and kayak renter at Biscayne National Park, "so I definitely know they're available to help."
Once you have your kayaking equipment, which includes a personal flotation device that must be worn by kayakers of all ages at Biscayne National Park, and are standing by the bay's shallow shoreline, slide the kayak into the water with the front (bow) first, placing your hand firmly on the back (stern), and then positioning the cockpit area in shallow enough water to stand in.
The next step is to place your leg into the seating area and shift your weight and bottom over the kayak while keeping your other foot on the ground.
Once you have one leg in, sit your bottom down on the back of the kayak and lift your other leg in.
Slide down into the kayak and get ready to position your paddle.
HOLDING YOUR KAYAK PADDLE
As a beginner, it may not seem to make a difference which way your paddle is facing, but it does have a big impact on stroking power.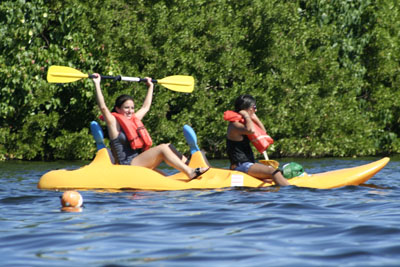 For this reason, it is important to remember to have the part of the paddle blade that is concave facing you, while the face of the paddle is the part you want to pull through the water.
You should also know how to properly control your grip of the paddle.
If you're right handed, your control grip will be with your right hand and if you are left handed your control grip will be with your left hand.
When taking a kayaking stroke, allow the paddle to rotate and reposition in your "loose hand" to make sure that each paddle always enters the water smoothly.
Your hands should always be centered on the paddle and should be just a little over shoulder width apart, and once you've covered all the paddle-holding steps, you are ready to take off.
PERFORMING A FORWARD STROKE
Stroking a kayak paddle involves rotating your body while extending and retracting your arms.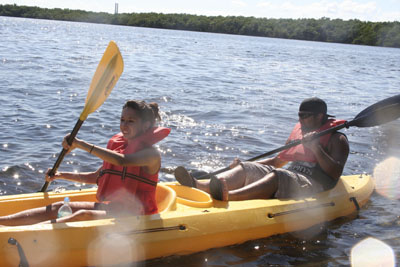 "The thing I taught Rima [Vaidya, a first-time kayaker] today was to rotate her torso counter-clockwise while extending her right arm and keeping the left arm bent by her side," explained Cristina Blanco, a University of Miami student who was joined by a group of friends for a day of kayaking at Biscayne National Park.
The next step when paddling is to place the right side of your paddle blade in the water near the bow of the kayak and rotate your torso as you're pulling the blade through the water.
At this time retract your right arm while extending your left arm at the same time.
As soon as you've finished the stroke on the right side of the kayak, your paddle should be setup for the next stroke on the left side of your kayak. Simply repeat what you did on the right side and it should be smooth sailing.
ENJOY YOUR ADVENTURE
For beginners, it is best to launch your kayak from Convoy Point's shoreline and enjoy the shallow and open waters close by, as opposed the seven-mile expanse and narrow trails often crossed by the more experienced kayakers who visit the park.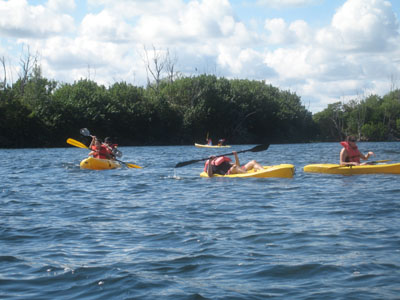 With all the lush, green scenery and variety of wildlife at the park, your kayaking trip should offer a peaceful and enjoyable cruise through the bay.
"Kayaking is such a fun and relaxing activity to do with your friends, family or even alone," said Leslie Sandoval, a kayaker at the park, "and once you get in the kayak, it's really easy to do."
Just follow these easy steps, grab your friends and head to Biscayne National Park for your first your kayaking adventure!
If You Go:
Location: 9700 SW 328th St., Homestead, Fla. 33033.
Convoy Point Headquarters Phone: 305- 230-1144.
Website: http://www.nps.gov/bisc
Directions: From Miami, take Florida's Turnpike south to Speedway Boulevard, and turn left (south). Continue four miles on Speedway Boulevard to North Canal Drive and turn left (east). Follow Canal Drive another four miles to the park entrance.
From Homestead (about nine miles), take SW 328th Street (North Canal Drive) to the park entrance at Convoy Point.
Grounds hours: 7 a.m. to 5:30 p.m. daily.
Kayak reservations: Contact the park's concessioner at 305-230-1100.
Concessioner Web site: http://www.biscayneunderwater.com.
Cost of three-hour kayak tour: $15.95.
When tours are offered: Typically offered in winter months (January-April), but may be offered on a more limited basis at other times of the year. Opportunities for experienced kayakers: Seven-mile expanse kayak trip to camp at Elliott Key or Boca Chita Key.
Parking: Free.