Dream weddings take place in scenic chapel
YOSEMITE VALLEY, Calif. —Every girl dreams of her wedding day with the images of a beautiful white dress, a perfect groom and a fantastic ceremony. Weddings, after all, are one of the most important days in her life.
To create a perfect moment, they, more often than not, will choose the wedding site with great care and deliberation. While some girls plan to hold their ceremonies in the town where they grew up, some prefer a travel wedding in an extraordinary setting.
If you are among the latter, and also among those who are fond of the great outdoors, getting married in a chapel such as the one in the valley at Yosemite National Park — one of the most beautiful spots in the country — would be a great choice.
The Yosemite Valley Chapel was built in 1879 and is located in the heart of Yosemite National Park, surrounded by spectacular granite cliffs, beautiful lush meadows and an impressive view of Yosemite Falls. The unique chapel provides breathtaking vistas as a backdrop to the wedding ceremony, which makes weddings seem even more special and memorable.
On a recent crisp fall day, a bride and a groom were close together, gazing into each other's eyes, holding hands and walking out of the chapel with the warmest wishes from their relatives and family friends.
| | | |
| --- | --- | --- |
| Right, the Yosemite Valley Chapel. Below, a bride and groom walk out of the Yosemite Valley Chapel with the warmest wishes from their relatives and family friends(Photos by Yiyun Luo). | | |
In this case, they are Jeremy and Susie Moore, one of the newlywed couples who had their wedding in the Yosemite Valley Chapel on Oct. 24, 2009. Garrett Moore, brother of the groom, served as their best man.
"I love it. Gorgeous," said Garrett Moore, who felt happy to be his brother's best man and participated in the wedding at Yosemite.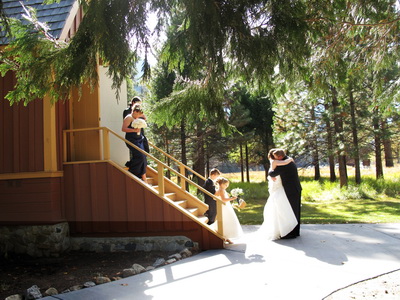 "It is a small chapel, but it is beautiful….And you couldn't pick a better time for either the fall color or the perfect weather…beautiful blue sky, waterfall coming down, gorgeous fall color."
"My family has lived in California for my entire life. It is actually a family tradition for us to go camping here," said Garrett Moore, who told the love story of the newlywed couples with much enthusiasm.
"And when he met Susie, they came out and vacation here with us. Susie fell in love with the place after going camping here for a few years … and here is also where Jeremy proposed. So they thought it is wonderful to be married at the same place where they engaged."
The wedding was small but beautiful. Although the chapel can seat nearly 125 people, there were about 40 at this wedding. The bride's family comes from Florida, a long trip from Northern California's mountains. Keeping the wedding small not only makes it more flexible to plan and to make arrangements, but also affords a more private and personal celebration.
"They began to plan it at the end of last year. It is about almost a full year in planning," explained Garrett Moore, smiling. "It's her day. She wants to be perfect."
| | | |
| --- | --- | --- |
| At right, a wedding party leaves the Chapel. Next, Garrett Moore, the best man of bride Susie and groom Jeremy Moore. Next, the Yosemite Falls as seen from the Chapel. And last, a map showing the location of the Yosemite Valley Chapel (Map courtesy of the National Park Service). | | |
Yes, every bride wants to be perfect for her big day. Exchanging the vows and rings in the Yosemite Valley Chapel surrounded by breathtaking mountain views, undeniably can be considered perfect. As perfect as this idea is, would many people like to adopt it?
"I will consider it," Garrett Moore said in a tone of affirmative when asked if he would think about having his marriage wedding here in future.And, of course, Jeremy and Susie Moore are not the only ones who share the dream of getting married in the Yosemite Valley Chapel.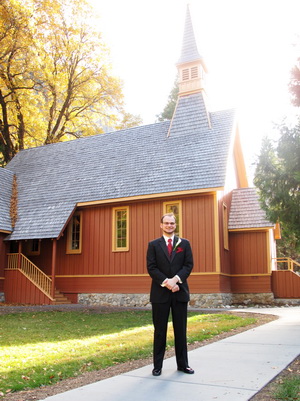 "We have a lot of weddings here, maybe 120 or 130 per year," said Brent Moore, 60, who serves as the pastor of Yosemite Valley Chapel for eight years but is not related to the newlyweds. "I am a Protestant. We do Protestant and Catholic weddings here…It (the chapel) is for everybody."
Pastor Moore himself usually does four or five weddings average per month. Although they have a lot of wedding right now during the fall, for them, May and June are the real busy months, in which it can be up to six wedding in a day.
According to the statistics from the chapel, a majority of people holding wedding ceremonies in Yosemite Chapel are not the residents in the Yosemite Valley, but from outside area of the national park.
Why they choose here?  The reason seems to be simple.
"Because of the beauty, the surrounding areas and the beauty of the chapel, too. It is a very beautiful structure and reminds people of the simpler time," said Brent Moore, smiling. "It is a place that once you come to, you never forget."
And if one, like Garrett Moore, is considering having his/her wedding in the Yosemite Chapel, two things should be prepared in advance: First, a couple needs a valid marriage license from the state of California and, second, a permit from the National Park Service. Also, a pre-marriage counseling is required when using the resident minister.
"We will talk about marriage, commitment and responsibility. So, when they go into their wedding, they understand what they are doing," Pastor Moore said.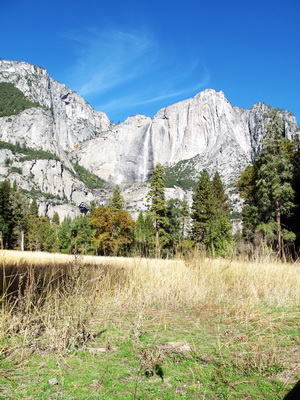 After get married in such an appealing chapel amidst the beauty of nature, to which little can compare, many couples return on the anniversary of their wedding.
"There is a couple got married here in 1956 and they came back to see the chapel today," Brent Moore said.
As old as this pretty chapel is, it has witnessed many precious moments, including reunions of the families.
"There was a story of a family on 9-11," said Pastor Moore, whose voice was a little plaintive.
"They used to have their reunions of their family here every September. And the last picture they have of their whole family together is in front of the chapel. Because they came out that year and some of them were on the Flight 93 that went down in Pennsylvania on the attacks of 9-11," he said.
As the pretty chapel is the desired destination for many weddings, marriage renewal and reunion each year, there are countless touching stories like this happened in it.
"I love my work. I love to serve God here," Pastor Moore said. He believes the vow and happy laughter of the couples who have their wedding or marriage renewal here echoes in the chapel even now.
If You Go: