Visitor Center art showcases park's beauty
FLORIDA CITY, Fla. — People are rarely drawn to places by the allure of a visitor center. Usually such buildings are reserved for little more than convenient restrooms, asking directions and the occasional snack.
At the southernmost entrance to Everglades National Park, here, however, the Ernest Coe Visitor Center offers its own attractions, from an in-depth chronology of Native American settlements around the swampland to a pictorial exposé on the alligator. But perhaps nothing lets the Coe center stand out more than its rotating showcases of local and philanthropic artists.
| | | |
| --- | --- | --- |
| | | A resident of Miami Springs, Fla., Linda Apriletti has had her work on display at various exhibitions worldwide (Photo courtesy of LindaApriletti.com). |
"We stopped in here for a few minutes to check out some activities and see what kinds of walking tours they had," said David Lewis, who, along with his wife Lynne and their two sons, made the 35-mile drive from his in-laws' house in Kendall down to Homestead to check out the park. "But my wife's a huge art fan and she really enjoyed the works."
The works to which Lewis is referring are those of Miami Springs native Linda Apriletti, who spent the last 18 months capturing the essence of the Everglades' beauty—and did not need a studio to do it.
All of Apriletti's showcased works were created en plein air, meaning that they were created outside in natural light. One of the United States' foremost plein air artists, Apriletti, according to the Coe center's display, "Explores the various ecosystems within the Everglades."
On display at Coe from March 14-31, Apriletti's exhibit has done more to keep visitors at the center than to actively draw them there.
| | | |
| --- | --- | --- |
| Artist Linda Apriletti's "Pines and Prairie" illustrates the ability of many trees to survive and thrive in seemingly barren swampland (Photo by Jon Moss). | | |
"The art collections we display here aren't anyone's main reason for coming down to the Everglades," said Phil Crystal, a Visitor Center volunteer. "But I have definitely noticed that people stick around this building longer once they take a look inside that room."
The desire to showcase a continuous stream of Everglades-related artwork can be traced back to Ernest F. Coe, affectionately known as the "Father of the Everglades."
After moving to Miami in 1925, Coe spent the next two decades arguing for the Everglades' inclusion into the United States' National Park Service. He was in attendance on Dec. 6, 1947, when President Harry Truman made the official dedication and died four years later.
| | | |
| --- | --- | --- |
| Many of Linda Apriletti's paintings, including this one, "Summer Palm Island," are painted outdoors (Photo by Jon Moss). | | |
On Dec. 6, 1996, 59 years after the park's dedication, the Visitor Center, which had been reconstructed in the wake of Hurricane Andrew in 1992, was named in Coe's honor. His legacy and steadfast promotion of the Everglades live on throughout the park, especially through the artwork displayed in the building that bears his name.
"In order to have your work displayed at the park, artists have to demonstrate a strong connection to the Everglades, usually having to do with wildlife and ecosystems," said Samantha Paige, a receptionist at the park's headquarters, located directly behind the visitor center.
Once artists submit their works in hopes of being displayed, the park's exhibit coordinator, park ranger Rudy Beotegui, makes the final decision. Once the artist is selected, their work is on display for anywhere from three to six weeks, and the exhibits are considered park donations.
"It's great to see how many people still care about these parks, especially with all the other stuff going on nowadays," said Lewis, who brought his family down from Greenville, N.C., during his children's spring break.
| | | |
| --- | --- | --- |
| | | At right, a statue of the Everglades' most endangered animal, the Florida panther, outside the Coe Visitor Center. Below, a marker honoring Ernest F. Coe. He is often recognized as the "Father of the Everglades"  (Photos by Jon Moss). |
In addition to the art exhibits, the Coe Visitor Center also offers several walking tours throughout the southern part of Everglades National Park—including the wildly popular "Slough Slog" through the swamp and waist-high water—as well as the ability to purchase tickets for any of the park's other adventures, such as airboat rides or other aquatic adventures.
While art currently on display at the Coe Visitor Center is not for sale, samples from previous collections are available at the bookstore—located directly across from the gallery—along with maps, brochures and convenient snacks.
Prior to Apriletti's showcase, Jeff Ripple was the featured artist through February 2010. While also spending time as a painter, nature recorder and author, Ripple's passion is photography.
By using more complex wooden-view cameras, Ripple tries to offer "…and invitation to bring this landscape into the viewer's heart and to help ensure its survival."
While Apriletti and Ripple use different media to convey the message, Paige agrees that the message conveyed is always one and the same.
"Some artists do pictures, some paint the scenery, and some paint the wildlife around the park, but all of them have to really care about preserving the park," said Paige. "Because that's what we're here for and that's what Ernest Coe wanted.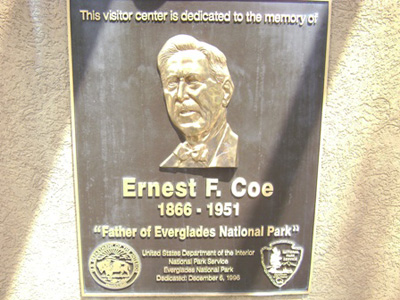 "If it weren't for him, there wouldn't be an Everglades National Park."
If You Go
"Everglades en plein air" by Linda Apriletti; Ernest F. Coe Visitor Center at Everglades National Park, March 14-31, 2010.
Location: 40001 S.R. 9336, Homestead, FL 33034.
Hours: Daily, 9 a.m. to 5 p.m.
For more information, call 305-242-7700 or visit http://www.nps.gov/ever/planyourvisit/coedirections.htm.