Shark Valley offers wild adventure
SHARK VALLEY, Fla. – If you're like most people, when you hear the name Shark Valley you think you're going to encounter great whites and hammerheads swimming for your viewing pleasure.
However, the name is deceiving.
There are no sharks in Shark Valley, a section of Everglades National Park just south of U.S. 41 west of Miami and east of Naples, but there is plenty of other wildlife, emphasis on WILD, to make up for any disappointment for lack of sharks.
| | |
| --- | --- |
| The Observation Tower at Shark Valley offers broad views of the northern section of Everglades National Park (Photos by Delia Arevalo). | |
It really doesn't look like much when you first arrive.
A parking lot and a small gift shop and bike rental stand greet you and a narrow canal is on the right side as you drive in. My boyfriend had been there before and had an annual pass so admission to the area and parking were free. Without the pass, parking costs $10 per car. After walking around for a few minutes and discussing what we could do, we decided to take the tram ride around the park.
Before going on the ride we decided we would take a short walk around. We chose the Bobcat Boardwalk, a half-mile boardwalk trail behind the Shark Valley Visitor Center. This was a very accessible trail and while walking around, there are little displays that give information on various aspects of the park.
For example, the possibility of snakes in the tree branches above you or something less scary like how water is what keeps the park alive.
We made our way back to the Visitor Center and decided to keep looking around. We went over to the canal we had passed on our drive in and that's when I saw them. Alligators just sitting there, taking in the sun as visitors took pictures.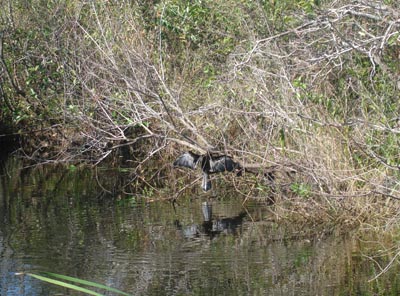 Having lived in Florida all my life, it is expected that I've seen a gator or two roaming around but to be honest, the only times I've ever seen a gator is on a class field trip when its mouth is taped shut and its being held by a friendly park ranger. This was my first time seeing a gator in its own habitat.
Not only were there gators in the grass, but there were also many anhingas.
I saw these birds almost every five minutes and usually they were sitting on a tree branch with their wings spread out trying to dry them in the sun since, according to the information display, "An Anhinga can dive and chase fish underwater but since it does not have oil glands for waterproofing its feathers like most water birds, it must spread its wings to dry in the sun. It can fly with wet feathers but not as well."
While staring into the water I caught sight of some fish swimming. Upon closer examination I realized that these fish weren't swimming, but that one fish was actually eating the other. As soon as it got a good grip on the other, it swam away as if it knew we were watching it and no longer wanted to be on display. That's when I knew it would be an interesting day.
Finally it was time for the tram ride. After a short safety tip lesson from our tour guide, Lisa, we were on our way. I opted to sit in the way back so as to be able to get advance warning of any animal sightings. It turned out to be a very good idea.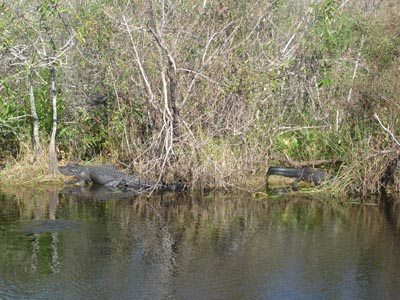 The tram ride is about 15 miles round trip and takes about two hours to complete. At first, it seems crazy that it would take two hours, but you'd be surprised how time flies.
Alligators are everywhere and not only are they just in the water, but they are at times right on the road and you wonder if any sudden movements would make them jump out at you.
Several different kinds of wading birds are also flying about us. Great Blue Herons fly above or sit in branches. At least 40 Ibises gathered in a high water area to eat and this scene was repeated at least twice.
The halfway mark of the tram ride is a stop at the Observation Tower.
Here everyone is let off for 20 minutes to go up and get a better view of the park. You get off the tram and walk down a gator-lined pathway and then to get to the top of the observation tower you go up a circular walkway, where the further up you go, the more you see.
Once I made it to the top and looked down I saw many gators and turtles just resting in the grass. The view is incredible. At this point you are far out enough where, on a good day with a beautiful blue sky, you can see nature for miles. Trees, grass that goes on forever and different kinds of birds flying overhead are truly an amazing sight.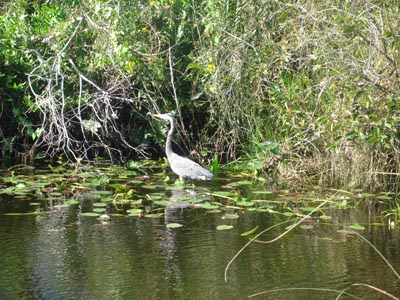 Eventually the tour guide called us back and we got back on the tram. Before leaving however, she pointed out a very common tale of animals stealing food take place right before us.
Apparently, certain birds have learned how to open bags at the park in hopes of finding food. Even if there is no food in the bag, they'll still open anything and take whatever is in it.
"A couple of weeks ago we had a young woman go on a bike trail and she had her credit cards and driver's license in her bag," Lisa, our tour guide, said. "The birds got to the bag when she left it on her bike and when she got back, the bag had been torn through and her cards were gone. They're most likely at the bottom of a lake out there now."
On the way back to the Visitor Center, we saw a gator with a minor limp and it is here that our guide took a moment to let us know just how much of an effort Everglades National Park makes to let nature be. She told us a story of a gator that the park rangers found out had an injury.
"She had the top part of her jaw missing but even so, we saw that she didn't seem to be in any significant amount of pain and was still able to eat so the doctors opted not to do anything about it so as to let nature take its course," Lisa said.
She also told us of some crazy things visitors have done. It turns out that since alligators are so still and there are so many of them in the canal at the park entrance, some people think they aren't real.
"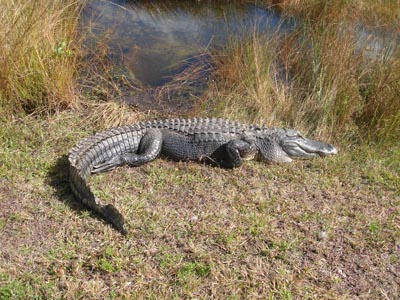 One time I had a visitor call me out from the gift shop to take a look at what was going on outside and when I got there I saw a little girl sitting on a gator's back as her dad took a picture.
The gator hadn't moved and they had no idea it wasn't fake. They just thanked us for putting out fake gators so that they can take pictures with them," Lisa said.
Visiting a park where kids are inadvertently sitting on real alligators and wild birds have mastered the art of opening your fanny pack and stealing your food was truly an experience. I kept waiting for a bird to swoop down and start poking at the bag in which I had a Gatorade bottle.
While I did not get an exciting of an experience, I did get to see more gators than I've ever seen in my life. And so close! Of all the nature trips to go on in South Florida, if you really want to get up close with wild life, Shark Valley is a must see.
If You Go
Shark Valley is located at Shark Valley Loop Road, Miami, FL 33194. telephone number of Shark Valley Visitor Center. 305-221-8776.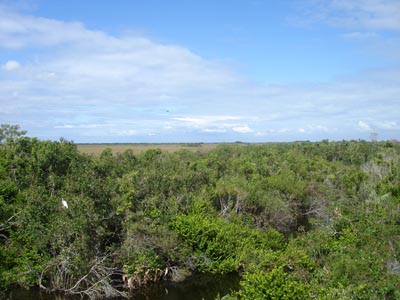 The Shark Valley Visitor Center is located on U.S. 41 (Tamiami Trail). 25 miles west of the Florida Turnpike exit for SW 8th Street. From the Naples area, take U.S. 41 (Tamiami Trail) to Shark Valley.
Shark Valley Visitor Center is open from 9:15 a.m. to 5:15 p.m. in the summer, 8:45 a.m. to 5:15 p.m. in the winter. The parking lot is open from 8:30 a.m. to 6 p.m.
Parking costs $10 per car and is good for one week. An Everglades National Park Annual Pass costs $25 and is valid for 12 months from the date of purchase for unlimited visits to the park. A pass good for all U.S. national parks is $50.
Renting a bike costs $6.25 per hour and the bikes are available to rent between the hours of 8:30 a.m. and 3 p.m. All bikes have to be back by 4 p.m.
Tram ride costs $14.50 for adults, $13.50 for seniors and $8.75 for children.
There are three trails available:
1. Bobcat Boardwalk – is a half mile in length and wheelchair accessible.
2. Otter Cave Hammock Trail is about one quarter mile.
3. The Tram Road is about 15 miles round trip. This flat, paved road is used for tram rides, bicycling, and walking. If you choose to bicycle ride or walk be prepared to go the whole way as there are no shortcuts.
Wear comfortable clothes and shoes to walk the trails and ride the tram.
Restrooms are located by the gift shop and at the observation tower but there are none on the way.
Web site: http://www.nps.gov/ever/