It's wildlife that draws people to Everglades
SHARK VALLEY, Fla. — If there is one thing every tourist should know about the Everglades, it is that there is never silence in this park.
Never. Even after the last tourist and tour guide leaves for the day, the action continues within the animal world.
There is no doubt that the animals are one of the main reasons that the Everglades have been a popular spot for visitors for more than a century.
Where else can you see so many animals in their natural settings? The Everglades embrace a diversity of wildlife ranging from reptiles to mammals to exotic birds.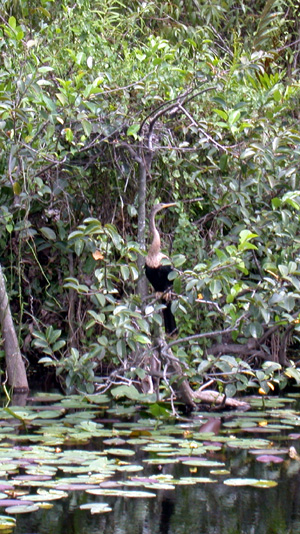 A wild bird suns near a canal at Shark Valley (Staff photos).
"I am not usually interested in going to parks because I find most of them dull and boring, but I am very happy that my husband forced me along to this one," said Sue Tinman, 34, a tourist from New Hampshire. "I am in awe of these animals. Most of them I have only seen in pictures."
Many other tourists feel similarly. In their hometowns, some of these animals, such as the sleek Florida Panthers and clunky manatees, are not very well known.
"I read a document once on manatees in Florida, but it is so neat to actually be here to see how they look and to learn more," said Austin Shores, 27, a visitor from Ohio.
There are over 40 species of mammals in the Everglades National Park.
Many of them have easily adapted to the semi-aquatic environment that consumes most of the park and it seems only natural for them to take part in this environment although they are usually associated with drier, forest-like habitats.
Bobcats and deer, for example, can be seen wading in the marshes and foraging for food.
Nocturnal habitats of many mammals make them difficult to observe for typical visitors who come to the park in the middle of the day.
Early mornings or very late afternoons are the best times to observe mammals, according to tour guides.
During the day, when there is direct sunlight, many tourists have to seek satisfaction in only seeing the tracks and prints of these animals.
| | |
| --- | --- |
| | Wild birds (the white objects in the trees) are drawn to sites such as the Ecopond at Flamingo. |
In the freshwater marshes, pinelands and hardwood hammocks, look for the short-tailed shrew, opossum, marsh rabbit, fox squirrel, cotton mouse and rat, white-tailed deer, and the bobcat.
In other areas, seek out varieties of bats, river otters, domestic pigs, raccoons, skunks, and maybe even panthers.
If you are interested in marine life, make your way to the marine and estuarine area, where many types of fish are visible and the Atlantic bottle-nosed dolphin and the West Indian manatee have been known to pop up for frequent visits.
Although the mammals are exciting and captivating to watch, the most-viewed and anticipated animals in the park are the alligators and crocodiles.
They can be found lounging in marsh areas and other wet areas. Some of the species, such as crocs, are endangered which makes them even more desirable to view.
But they are also much harder to find.
| | |
| --- | --- |
| | Above, a wild bird watches for a meal along the Anhinga Trail at Royal Palm. Below, an alligator floats lazily on the surface of the water of the marina at Flamingo. |
Tour guides frequently seek them out for tourists.
"People always ask to see them, so I make it a mandatory part of my tour. Some people don't even live near water and have never seen one unless on TV or in a zoo setting," said Keith Bridges, 28, an official tour guide at the park for the past three years.
"The funny thing is that alligators have been known to be scary and they are the opposite in most situations. They are so unbothered by the tourists. They really could not care any less."
Alligators, much more common than crocodiles, can be found laying around, even on the park's walkways. This, of course, makes it an adventure for tourists to step over or around them.
Other reptiles and amphibians that attract tourists are the coral snake, rattlesnake, green sea turtle and the snapping turtle.
Bird-watching is an extremely popular activity that many people take part in during the winter months. There are over 350 different species of birds that have been sighted. They are some of the most colorful and interesting creatures seen in the park.
Sixteen different species of wading birds live in the Everglades. All have very long legs for wading in the water to catch their food.
The white ibis is prominently displayed and the most easily found.
The birds usually have long, slender beaks and eat a diet of fish and crayfish.
Other types of wading birds that can be seen are the endangered wood storks, the green-beaked heron, the snowy egret and reddish egret, and the black-crowned night heron.
Most of the birds in the park are migratory or land birds. They spend most of their lives north or south of the Everglades and visit there according to certain climates and food conditions.
Thus, the winter months are the best to observe most birds. They can be seen in the drier areas of the park, like the pineland areas. They are usually spotted by their bright colors. Common types to be seen are cardinals, blue jays, meadowlarks, and red-bellied woodpeckers.
Birds of prey can be described as birds that catch their food by using a hooked beak and claw.
Hawks, owls, eagles, kites, and falcons are all good examples. They can be seen swooping down into water and mangrove areas.
"I love coming to the Everglades for bird-watching season," said Cathy Hokes, 48, a frequent visitor to the park and resident of Coral Gables. "This has got to be one of the best areas in the world to see birds. It is so extraordinary and fulfilling to watch how they interact with their environment and with one another."
It is clear that there are animals to suit everyone's personal viewing pleasure in the Everglades.
While there are many other national parks in the country that can be visited, there are none quite like the Everglades when it comes to animal observation.
Due to the location and weather, many animals find their way to this park. And no one is complaining because, as far as anyone is concerned, we are happy to have them. Watching them teaches us things we could never learn from a book.
Just remember that, on your visit to the park, there are always animals up and moving and willing to be watched.
Silence is not golden in this part of South Florida
If You Go
Ernest F. Coe Visitor Center
The center is open year-round from 8 a.m. to 5 p.m.
Books, film, postcards and insect repellent may be purchased in the bookstore.
Phone: The Coe Center is 305-242-7700.
Shark Valley Visitor Center
The center's hours between May and September are 9 a.m. to 4:30 p.m.; between November and April those hours are 8:30 a.m. to 5:15 p.m.
Bicycles may be rented for $5 per hour. Tram rides cost $12.
Phone: Shark Valley is 305-221-8776.