Rangers play necessary role in Everglades
HOMESTEAD, Fla. — Experience the largest subtropical wilderness in the United States with rare and endangered species. Snap a photo of the unique birds or see an alligator while taking a hike through the park. Enjoy the warmth of South Florida sun or the warmth of a campfire under the moonlight.
With so much to offer, the Everglades National Park has many visitors, all of who become aware of the importance of preserving the park's beauty through the park's interpretive rangers.
Rangers work at the Everglades in five different districts. The main headquarters are located at the Pine Island District, while the largest is the Flamingo District. There is also the Florida Bay District, Gulf Coast District and the Northeast District.
| | | |
| --- | --- | --- |
| At right, Everglades National Park rangers respond to a Cuban migrant landing in 2009 at Cape Sable, about four miles from Flamingo. Below, Ranger Willie Lopez responds to a report of a python wrapped around the engine block of a visitor's vehicle. (Photos courtesy of Everglades National Park). | | |
What many visitors don't know is that there are also different types of rangers.
"Typical visitors would not know the difference between a law enforcement and an interpretive ranger unless they are savvy and really tuned into the uniform," explained Bonnie Foist, Everglades National Park chief ranger at the Pine Island District.
Each ranger may be wearing the traditional green and gray uniform, but their badges make their position dramatically different from other rangers.
An interpretive ranger supports visitor service programs including giving talks, guided tours, presentations and demonstrations so that visitors are aware of the wildlife and park significance, as well as information about the Everglades' functions, activities and planned events. Rangers may also discuss how to interpret natural and historic features, such as park monuments. Generalist rangers assist with the collection of fees at the campgrounds and main entrance.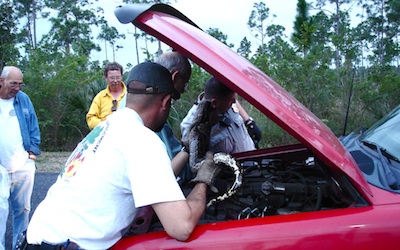 Law enforcement rangers are fully suited and carry weapons. These rangers can make arrests and are known to do so for boating under the influence, driving under the influence and possession of illegal substances. Law enforcement rangers can also distribute warrants.
"We are very fortunate that we do not have the crime the metropolitan area has to deal with," explain Foist. "But we have dealt with minor car break-ins because visitors assume a national park is safe, so they do not think twice when leaving a purse on a car seat."
There are federal qualification requirements that must be met in order to become a park ranger. Specialized experience is preferred, such as experience as a park guide or tour leader, law enforcement or investigative work experience and archeological or historical preservation research work. Experience with forestry or fire management work in a park, recreation or conservation area is also beneficial.
Many organizations strive to preserve the unique national parks, including South Florida National Parks Trust, a 501(c)(3) not-for-profit that develops and funds projects that promote, preserve and enhance South Florida's national parks. The projects are meant to enrich the experience of park visitors, connect diverse communities to these unique resources and build a legacy of park stewardship.
SFNPT, in conjunction with the National Parks Conservation Association and Everglades National Park, created the Florida Bay Stewardship Fund in 2005, which provides opportunities for more people to participate in protection programs.
"The Florida Bay Stewardship Fund has been one of our most successful initiatives, with more than $1 million invested in programs and projects to protect and restore the bay. We work closely with Everglades National Park and our partners at the National Parks Conservation Association to identify and fund projects to reduce boat groundings and restore sea grass in the bay while educating the public about the fragile nature of this amazing resource," said Don Finefrock, South Florida National Parks Trust executive director.
| | | |
| --- | --- | --- |
| At right, Ranger Raymond Little on airboat patrol. Below next, Dan Helmers patrols Everglades waters. Last, Ranger Tony Terry from Flamingo responding to a "lock out" during the summer months. | | |
After receiving donations from the Ocean Reef Rod & Gun Club and the Ocean Reef Foundation, SFNPT decided it would be used for the stewardship fund. This donation was then used to create a scholarship program to recruit law enforcement rangers. Everglades park managers would like to attract potential rangers from South Florida who have knowledge of Florida Bay and its waters.
To support this goal, SFNPT awarded a $10,000 scholarship to a 21-year-old student from Miami, Dan Helmers. Helmers will complete necessary training to become a seasonal law enforcement ranger for the Everglades.
Once the training is completed, Helmers will patrol Florida Bay for a minimum of two years, during which he will be pursuing a degree at the University of Miami.
"I wanted to be one of the rangers that is out on the front line actively protecting the resources for all visitors to see and enjoy. When I received my scholarship, I was ecstatic at the fact that the opportunity was given to me to attend this training," said Helmers.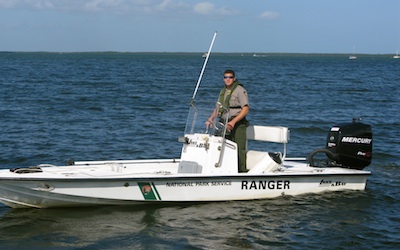 "I knew that going through training would be difficult but I was excited to move through process of becoming a national park ranger."
Helmers started the training program in January 2011 and the scholarship covers his cost of tuition, equipment and living expenses.
"One of the biggest surprises was the amount of physical training that we went through. We trained for a couple of hours every day in order to get in better shape," explained Hemers.
"Law enforcement rangers are usually exposed to long hikes in rough terrain and our trainers wanted to see that we were physically fit to perform our duties."
Having rangers like Helmers dedicated to the Everglades is an indescribable asset.
"There are approximately 25 commissioned rangers with credentials, who are scattered across 1.5 million acres," said Foist. "I may not be able to do the math right now, but that is not enough."
Helmers is currently rotating between districts to ensure his training is where it should be. Now stationed at the Pine Island district, Helmers will most likely be moved to the East Everglades and then permanently stationed at Flamingo.
"This past summer, Helmers was a ranger in the Key Largo district, which helped him develop his boating and fishing experience," Foist explained. "He naturally excels with boating because he has been doing it his entire life."
Helmers admits, "The district that I would prefer be permanently stationed in would have to be Key Largo. I enjoy vessel patrol, and being out on the water."
Although Helmers may not end up at Key Largo he recognizes the need for rangers in all national parks.
"Rangers are a very important asset to the parks system because the rangers are the individuals out in the field day in and day out."
The Everglades participates in the National Park Junior Ranger Program, which connects young people to the park through hands-on, guided and self-guided activities.
This program is designed to engage children and families in the national park experience and promote future generations of park stewards, explorers and rangers.
South Florida National Parks Trust also reaches out to a younger audience.
"Some recent successes include the launch of Florida Bay Day, a new education program funded by the stewardship fund that invites middle school students to explore the bay on classroom field trips," explained Finefrock.
Having rangers in parks like the Everglades is extremely important, being that the Everglades has been designated a World Heritage Site, International Biosphere Reserve and Wetland of International Importance.

If You Go
Where: The park is on the southern tip of Florida covering approximately 1.5 million acres. For directions visit http://www.nps.gov/ever/planyourvisit/directions.htm.
Hours: Open 365 days a year, 24 hours a day.
Ernest Coe Visitor Center: Mid-April to mid-December (open from 9 a.m. to 5 p.m.) and Mid-December to mid-April (open 8 a.m. to 5 p.m.).
Chekika: May 1 to Nov. 30 (closed) and Dec. 1 to April 30 (open 8 a.m. to 5 p.m.).
Shark Valley: Open daily from 8:30 a.m. to 6 p.m.
Gulf Coast: Open 24 hours.
Fees: Further details on fees and camping reservations can be found at: http://www.nps.gov/ever/planyourvisit/feesandreservations.htm. Private vehicle: $10; pedestrian/cyclist: $5; Everglades National Park annual pass: $25; commercial tour – entrance fees are charged based on the seating capacity of the vehicle.
When to Visit: The busiest season is the dry winter season because most facilities are open and a full range of tours and programs are available. During the slow, wet summer season facilities may have little or no hours and recreational activities may be low.
Depending on the season you visit and the activities you participate in, there are many tips to keep in mind when planning a visit. Visitors should familiarize themselves with the trails before hiking, biking, or paddling.
Remember to bring water, wear insect repellent, sunscreen and proper clothing for the activity. For further tips visit: http://www.nps.gov/ever/planyourvisit/things2know.htm.