Paddling through nature's beauty
EVERGLADES CITY, Fla.— As I dragged my canoe through the sand and down to the lapping waters of the shore, the sun beat warmth down onto my shoulders and Chokoloskee Bay looked as if its wavy surface was inlaid with sparkling sea green gems.
Stopping to gaze across the bay to the clusters of mangroves, I breathed in the salty air and listened to the egrets and ospreys sing as they soared through the cloudless cerulean sky.
It was almost 10 a.m. and the canoe explorations tour through the Ten Thousand Islands in Everglades National Park was about to begin. I stood near the bay with a dozen other curious participants, waiting for our assigned park ranger to arrive.
As we chatted eagerly about the tour, 58-year-old Dola Berg, who has been with the National Park Service for 16 years, approached our diverse group that ranged from children to senior citizens with a smile.
"It's exciting to have different age groups, people from different countries and different backgrounds, folks who want to go out with a ranger and learn a little more about the area," Berg said.
Berg passed out life vests, whistles and oars and told us that today her goal was to inform all of us about the Everglades. With that, she launched her canoe into the water, and we followed her lead.
The wind picked up as our canoes glided off the sheltered shoreline and into the choppiness of the open bay. Rowing hard, I struggled to push through the waves without losing my balance. I looked around at the other participants to find them in the same predicament.
"It was obvious that most of us were amateurs and the waves didn't help," Zach Golden, a 21-year-old student at Miami-Dade Community College, later said. "Besides Dola, it took everybody like a half hour to find their footing so to speak, but nobody turned back. It added to the sense of adventure."
Once everybody got into the swing of canoeing, we rowed our way across the bay to explore the clusters of mangrove islands set in the distance. As we moved along at a leisurely pace, Berg pointed out an American white pelican, and we stopped to watch when it swooped down to the water to claim its prey.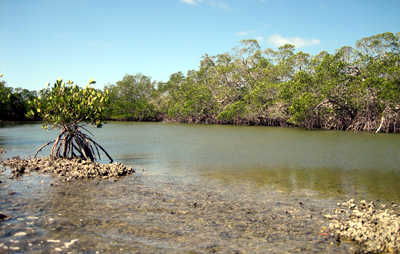 At the edges of an atoll bordering the first cluster of mangroves, we pushed our canoes out of the current and onto the coral reefs to take a break and watch the stingrays swim through this shallow, calm pool of water.
"I was more and more fascinated with each sighting," Golden later said. "I've been to aquariums and zoos so many times, but it's just a totally different experience to see these animals in their own element, in nature."
We continued rowing until we reached a tranquil cove surrounded by mangroves on three sides, where we gathered around Berg to learn more about these forests. She explained that, throughout the Ten Thousand Islands, freshwater mixes with salt water from the ocean to create a brackish environment, ideal for nurturing many types of land and marine animals.
"I always thought that the Everglades were all just swamps," 26-year-old Ben Sampson of Odessa, Fla., said later. "I didn't know there were parts that were more marine-like. I gained a new perspective on the Everglades from this tour."
We continued rowing along the lines of mangroves as noon approached. Berg pointed in the distance to a wooden dock protruding from one of the islands and named it our destination. My group members and I struggled as we paddled this stretch upstream, and my arms were burning by the time we pulled our canoes ashore.
Sitting on the dock, above the soothing sound of water flowing below us, we ate lunch and rested our sore muscles.
Refreshed, we followed Berg onto the island for a tour. As we walked along the path, she taught us about the plant life that grows on the island. She explained that the air smelled mildly like skunk because a tree called the white stopper secretes a similar odor.
Pointing out a tree that appeared to be choking another tree, Berg explained that the strangler fig wraps its roots around another tree and robs it of its resources for survival.
"Going in, I was more excited to see the animals on this tour, but, when we went on the island, it was also really interesting to learn about the trees and other plants," Golden later said. "It's pretty fascinating to learn how this whole ecosystem works together."
As we made our way towards our canoes, she pointed out a gumbo-limbo tree and told us that it is commonly called the tourist tree because its bark is red and peeling. Everybody laughed as we launched our canoes back into the water.
Canoeing downstream, back towards the Gulf Coast Visitor Center here at Everglades City, we saw splashing in the bay before us, and Berg excitedly announced that dolphins were swimming in the water ahead. My group members and I rowed more quickly to get a closer look.
Once our canoes were within several yards of the dolphins, we stopped and simply observed. A fin that popped up from the water within reaching distance startled me, and I noticed that a number of dolphins were swimming playfully around and underneath our canoes.
"Seeing those dolphins was one of the most exciting moments I've had," Berg later said of her experiences guiding the canoe explorations tour. "We often see them out there on the boat trips but, with the canoes, we usually only get to see them from a distance."
As the last of the dolphins finally swam away, we continued rowing across the bay until we reached the shore, and then our adventure came to an end. I was exhausted from the strenuous workout, but, as I looked around, I saw that every member of my group shared the same satisfied smile that stretched across my face.
When I asked Sampson why he would recommend the canoe explorations tour in the Ten Thousand Island area of Everglades National Park, he exclaimed: "Because it's better than Disney World!"
If You Go
Ten Thousand Islands and Everglades National Park
Space is limited, so call the Gulf Coast Visitor Center at Everglades National Park to make reservations.
Telephone: 239-695-3311
Hours of operation: Daily, 8 a.m. until 4:30 p.m.
Tours offered at 10 a.m. every Sunday, Wednesday, and Saturday
Visitor Tips:
The tour itself is free of charge.
The tour is approximately four hours.
Bring a cooler with food and water.
Don't forget to put on sunscreen.
Wear clothes and shoes that you don't mind getting wet.
Bring your own canoe or rent one for $25.
Dry bags are provided for items that cannot get wet.