Park's beauty surrounds visitors in canoes
FLAMINGO, Fla .— We are surrounded.
We are flanked by shades of green, lush tangles, enclosed in the middle of the water, and shrouded in silence.
Our canoe keeps us precariously enclosed in our new environment, but as we drift further up the stream, we are getting closer and closer to the heart of an adventure.
My girlfriend and I canoe through Everglades National Park on a brilliant clear fall day with great visibility for our journey. We set out from the Flamingo Marina which is on the southwest tip of the mainland and 38 miles from the entrance gates of the park.  We are excited to set out into raw nature.
| | |
| --- | --- |
| | Visitors glide down a waterway near Flamingo in Everglades National Park (Photos by Erick Cipau). |
"There are no buttons. You see what you get. Its all natural," said Ivan Nedeljkokobic who has worked at the park for more than 18 years.
"The tours are great for first timers and those who want to get more in touch with nature," he said, but we would rather go through on our own steam.
We set out on a journey on the lifeblood of the Florida Everglades, the water.  We canoed through the water to go at our own pace, without a motor, in a silent and naturalistic way to truly appreciate and do justice to our Everglades experience.
The Everglades rely on water and lots of it.
Annual overflow from Lake Okeechobee flows down to the Everglades to provide essential water that sustains their ecosystem. Plant and wildlife depend on this water and the natural balance of the changing seasons. Wet seasons, dry seasons, even fire comes into play as a necessary part in the ecosystem.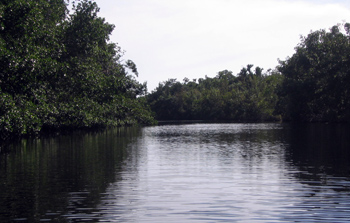 There is only a 14-foot difference between the highest elevation and the lowest in the Everglades. Therefore only a few inches can mean the difference between flood and drought.
People, however, in South Florida have taken away some of that water with the creation of channels.  Borrowing the water for urban and public uses has affected the water levels of the Everglades.
The waters are surprising calm, even though the waters of the everglades are constantly on the move. The Everglades are absolutely not a swamp.  Swamp waters are stagnant, but the waters in the Everglades are constantly moving.
"There are no other Everglades in the world," said Lee Howell who works at the primary park visitor center, the Ernest F. Coe Visitor Center. It is amazing to think that we are drifting along down through an ecosystem that is unique to the whole world that we are living in.
The vegetation that surrounds us is amazing and vast in variation. The deep, green jungle of trees, mangroves, shrubs, and grasses, are mingled with shades of red, blue, gray, and white colors to name a few.
The stillness of the area grabs you and takes hold of you. I found myself slowing myself down, trying to hear something.
As we glide still deeper into the habitat, we hear croaks, groans, creeks, snaps, jitters, caws, and cries, those natural elements that are downed out by the snarl of urban life. Out here, they are in charge.
I cough and to my amazement I actually hear an echo! I peer through openings in the mangroves to see all that I can and to explore just how far back they go.
You can take shade underneath an overhanging mangrove. Just watch out for mosquitoes.
A National Park Service brochure we picked up mentions that during the wet season, from May through October, "mosquitoes may be unbearable in some areas."
Craig Losby, who has worked at Everglades National Park for 17 years and was originally from Wisconsin, finds that during the dry season, business starts to get heavier.
"Christmas through March is the busy season, though it starts to pick up around Thanksgiving," said Losby.
We traveled up the buttonwood canal some three miles till we got to Coot Bay. It was a very drastic site to behold. The bay opened up before us massively. After being in that channel for about and hour and a half it was truly breathtaking. The sky above us was an endless dome of blue dotted with white cloud puffs.
This is an ideal spot to tie up your vessel on one of the several poles or markers at the opening of the bay and stop and have lunch. It was windy that day but it wasn't unbearable. After the long paddle, the breeze was welcome.
After we finished we unhooked and drifted back down the canal back to the Flamingo marina. With the wind at our backs, I felt like Huckleberry Finn taking a lazy glide down the river.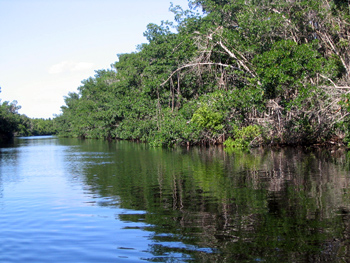 Our way back was uneventful for the most part except when we drifted into some mangrove branches that were old looking and gray, coated in something that made them look like they were mummified.
It turned out to be some kind of bug nest and I had to scramble to get the creepy crawlers off of me. I swatted away one spider that was the size of the palm of my hand!
We came up on hump in the middle of the water that I didn't remember being there when we first passed. We get closer and things start to materialize. First we see the hump, then the grooves, then the thick ridges of scales.
We move along side giving enough room and, sure enough, it is an alligator in the middle of the water. And a big one at that.
We are in its habitat and on its waters. As we drift along side of it we see it fully, it rolls its eyes to look at us and then slowly sinks back down into the water.
That made me think, just how many could there be underneath the canoe, swimming around right now?
"There's something always crawling around," said Rob Parenti. Parenti is a tour guide who works for the Xanterra parks service contractor and is stationed here at Flamingo.  He is originally from Connecticut and has been working at the Everglades for over 10 years.
"On a good day you can see about 10 gators and 10 crocs because the winter weather is good for sunning," he said.
That is another thing that makes the Everglades unique.  It is very rare to have both of these reptiles co-existing in the same location, but in the Everglades we have the opportunity to see them up-close in their natural habitat.
"This is the only place that you can see both of them," said Craig Losby.
He, like most of the rangers that work here, has an earnest appreciation for their job that is not clouded by secondary motives.
"We don't do this for the money," Craig Losby said.
They seem to care about their job and like to help people.
"I get to participate in their vacation," Parenti said.
The job however, also comes with the benefit of being a one of a kind park location.
"As far as parks go this one is first class," said visitor center guide, Lee Howell.
Everyone has a different take but it is important that those who are showing people the park, enjoy what they are doing.
"This is like Disney World but better," said Rob Parenti.
"I am here for the wildlife and I am still learning about it. I still have to look up new information as things change."
If You Go
If you plan on camping in the park you will need a permit.
Bring sunscreen and bug spray.
Know your seasons (Wet, dry, and what are the conditions for each).
Obtain charts to help map your way.
Don't overestimate your abilities, tides and winds can move even experienced paddlers well off course.
Know your location plan stops, know where campgrounds are, rest areas, and so forth.
Go to the park visitor center (there are three of them), talk to a ranger or employee about your trip and ask for advice.
Visit the National Park Service official Web site at http://www.nps.gov/ever for more information.
| | |
| --- | --- |
| | Trees and other thick growth cover the banks and stretch over the waterways near Flamingo (Photos by Erick Cipau). |