Washed-up trash becomes colorful art
HOMESTEAD, Fla.— One person's trash is another person's treasure.
That is certainly the case for Thomas Bintz (a.k.a. Captain Honk), who uses discarded material that has washed up on shore to create his fishy friends for the exhibit Lost and Found Fish on display at Biscayne National Park.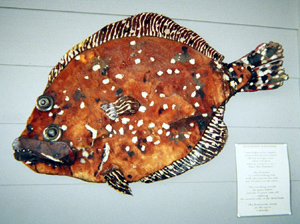 The photos above and below are some of Capt. Honk's creations on display (Photos by Elissa Rome).
With many activities for families at the park, the Dante Fascell Visitor Center seems like the perfect location for Bintz's exhibit.
The visitor center is usually the first place sightseers enter and this gives them a chance to right away see the work and explore the exhibit before getting lost in other areas of the park.
Bintz, 53, a Florida native, started creating his pieces in 1990. He used his earliest creations for more than aesthetic value.
"My early works were actually signs for bait," explained Bintz.
It was later on that Bintz started to gather the debris to form a collection of the many different species of fish, eels and sea serpents that would later be on display.
"Having lived on the water and being on the water, whether it be on my boat, on shorelines or on ice actually seeing the fish, that has been my main inspiration," said Bintz.
Everything Bintz uses in his art is recycled and has been found by the artist.
"I gather the materials by beach combing and I just started picking up whatever washed ashore," explained Bintz.
"I've collected all kinds of materials I've gathered while walking the shoreline and beaches at different times of the year."
These bits and pieces have been anything from Styrofoam from docks and boats, cork from lifejackets, buoys, slab wood, to minnow buckets and blown truck tires.
Bintz has "wooden boxes full of potential eyeballs," including "shotgun shells, croquet balls, toy wheels, gaskets, marbles, door knobs and bulbs."
The "fins, lips, mouths, and tails are made from tin, from cut up minnow buckets, license plates and dustpans." Teeth are made from "nails, saw blades, window cranks, knives, bones, broken glass, shells and mirrors."
"I paint with screwdrivers, sticks, brushes and whatever is in my reach," says Bintz.
Of the more than 70 pieces that are on display at Biscayne National Park, each fish has a different name and an accompanying story that tells where Bintz was when the fish was created, how it came to be made or what it is actually made of.
One of the more memorable pieces on display is Pig Fish, created on Little St. George Island, Florida. The Pig Fish is made up of pieces of cork from old life-jackets that have been glued onto the board.
A light-bulb was used for the eye and for the fins Bintz used smashed car parts from one of his demolition derby cars. Glass and mirror he found on the beach was used for the teeth and the finishing touches of blue glitter glue were from his daughter.
Another interesting fish is the Burbot, which spawns beneath the ice in February and March. Bintz, who at one time held the New York state record for the largest Burbot caught, made this fish from a foam lobster float.
Sometimes when Bintz is the middle of creating a new member of the school, he will have help from the natives, who sometimes refer to him as Santa Claus. While creating the Red Snapper, the kids on the beach brought him shells that he ended up using for the teeth.
The body of this Snapper is made from dock foam, a toy truck wheel and has a blown glass eyeball.
Having no permanent residence with a fish camp on Lake Ontario, a place in Hollywood, Florida and a cabin in North Florida, Bintz is always traveling and gathering to create his newest piece.
"Some of my favorite areas include St. George Island, Florida and Zihuatanejo, Mexico, where I make fish under a straw hut on the beach," explained Bintz.
The Big Eye fish, made right out of old orange fake leather suitcase, was the first fish he made in Zihuatanejo.
Bintz's artwork isn't just on display for the visitor's to Biscayne National Park, but it is also for sale.
"Bintz's pieces can sell for up to $8,000," explained Park Ranger Sally Weber. Bintz is no amateur in the art world. He received a fine arts degree from Florida State and a degree in painting. Bintz previously painted pictures on canvas before creating his pieces for Lost and Found Fish.
The exhibit, which has been on display at Biscayne National Park's Dante Fascell Visitor's Center since Oct. 18, 2003, closed April 25, 2004.
Lost and Found Fish is scheduled to reopen Monday, May 1 at the University of Miami's Rosenstiel School. The exhibit will continue through the summer, until September 2004.
If You Go
Hours: 9 a.m.-5 p.m., seven days a week, grounds open 7 a.m.-5:30 p.m., seven days a week .
Fees: The park is open to the public for free., If using own boat to camp or dock, $15., If using concession boat, $10.
Directions: From the North: take Florida Turnpike South to Exit 6 Speedway Blvd., turn left onto SW 328th Street.
At the end, you will see Biscayne National Park on your left. Art can be found in the Dante Fascell Visitor Center.
Contact Information: Mail, 9700 SW 328th St.; Homestead, Fla. 33033-5634; Phone, headquarters, 305-230-1144; Visitor information, 305-230-7275; fax, 305-230-1190.