Elliott Key campers enjoy unique scenery
ELLIOTT KEY, Fla.— Imagine a vacation where it doesn't matter how much baggage you bring because there's no such thing as too much; where you're quickly swiffed away on a boat as the wind blows in your hair and all visions of civilization fade into the horizon.
As you reach your destination you are escorted off the boat, helped with your stuff and welcomed to an island with not just water surrounding it, but a romantic history as well.
Nothing short of a dream, right?
Right.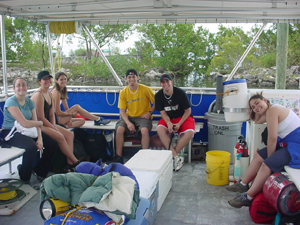 Campers and their gear on the way to Elliott Key.
That is until you turn around, after watching the boat speed off, and realize
that the dream is really a nightmare.
Or so it would seem.
If the bathrooms and freshwater showers give off the impression that camping on Elliott Key is not really camping, you can ask the campers, especially college students during Spring Break, that pop in on a regular basis. What they'll tell you is that while it may not be camping in the "rough it out" kind of way, it is camping nonetheless.
And it being nearly summer in Florida, with just about unbearable weather and the rain looming, they're likely to have one million mosquito bites to prove it.
But truth be told, once you get past lugging around your own bags, building your lodging for the night and wearing mosquito repellent as if it were perfume, the experience can be quite enlightening.
If it does nothing else, it will surely make you appreciate the every day luxuries you have back home.
And then there's always the possibility that it may do what vacations are meant to do: allot for some much needed rest and relaxation.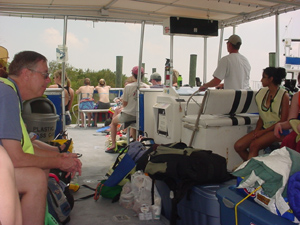 Campers and divers and their gear share the ride into the waters of Biscayne National Park (Photo by Yenisse Alonso).
Elliott Key is part of the largest marine park in the National Park Service, Biscayne National Park, with 95 percent of its 173,000 acres covered in water.
The park is home to the third-largest coral reef track in the world and over 200 species of fish, marine animals and plants.
Throughout the year, Biscayne plays host to a number of activities such as Family Fun Fests, glass-bottom boat tours, and canoe and snorkeling trips.
But it is the park's camping facilities in Elliott and Boca Chita Key, near the southern most tip of the state, that draw a multitude of visitors in every year.
Elliott Key, in particular, is known for its pristine waters and seven-mile long trails. The scenery along Hardwood Hammock is likely to leave you breathless as you are introduced to plants, flowers and coral. Information guides explaining their 10,000-year history are not too far off.
"I thought camping on Elliott Key was a great experience," said college student Marlen Triguero. "It's the perfect way to get in touch with nature and really appreciate it."
The scenery in and of itself is a sight to behold. Taken all together, Elliott Key is likely to elicit a sense of calm and tranquility that the bright city lights and constant rustle of Miami do not permit.
Campers can settle in at any of the designated campsites along the harbor and maintenance docks. Each campsite is equipped with a grill and a picnic table. In the near distance you can easily find restrooms complete with cold showers and running water.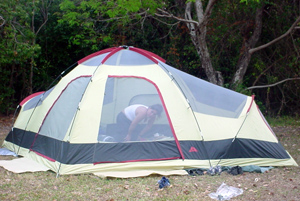 Camping gear must be brought by campers (Photo by Yenisse Alonso).
A group campsite is located in the breezeway between the harbor and the ocean side of the island, with a boardwalk which allows closer examination of the underwater wonders.
"I've been camping a few times before, but not on Elliott Key. It's a bit harder because you have to take everything off the boat and set up, unlike basic camping where you can leave all of your equipment in the car if you'd like," said college student Cassandra Baluja who took a trip out to the key with a few friends.
"But it's worth it because the island is beautiful and secluded which makes is more mellow," she added.
After a long, hot hike campers can cool off in the designated swim area that is free of fish and resembles the sandbars found on Miami Beach.
"If you don't find anything to do on the island you're not looking," said Park Ranger Gary Bremen. "Watching for the endangered Schaus Swallowtail Butterfly is popular during March and April, as is bird watching in the spring and fall seasons. Water walking along the shoreline is sure to spring up a variety of wildlife."
Though ground fires are not permitted, there is a fire ring located near the boardwalk that's almost begging for "kum-ba-ya" to be sung by the campers.
Roasting marshmallows, stargazing and enjoying the serenity between quiet hours (10 p.m. to 6 a.m.) are common occurrences on Elliott Key at night.
Fishing off the maintenance docks is also popular once the sun has set. Through the darkness it is easy to catch a glimpse of the silver-colored fish as they jump in and out of the water.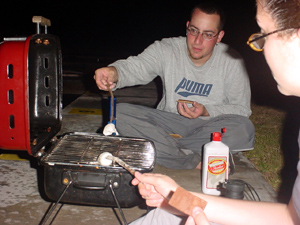 A small portable grill gives campers the chance to heat up some marshmallows.
There are a few limitations when coming to Elliott Key, however. There are no stores or trash pick-ups on the island. And it is vital that you store your food in sealed containers. That is, if you want it to last.
"Campers need to know that there are is nowhere to purchase supplies out on the island, so they must take everything that they need. That includes trash bags because there are also no garbage cans," said Susan Gonshor, the park's public information officer. "They need to bring it in, pick it up and take it out."
"Be sure to bring hard-sided containers for food storage, as the raccoons can be pretty bad," said Bremen.
Something else that needs to be given due consideration is the time of the year you plan to take a trip out to Elliott Key. The winter months are the most conducive to camping and sleeping outdoors.
"If you know Florida, you know that the weather in the summer is hot, humid and muggy," said Gonshor. "If you go out in the summer you'll get rained on every day, which only brings more mosquitoes."
Mosquitoes are also a big concern out on the island. When making arrangements to go out there, you are given fair warning.
"Make sure to bring plenty of bug spray," warned Bremen.
And they're not kidding.
"The mosquitoes are definitely on attack at this time of year," said Triguero. "If I could change anything, it'd be that. It's like you get one and you still have a million more to go."
Because Elliott Key cannot be driven to like some of the other Florida Keys, it is necessary to go to the island by boat. While most people come out on their own, the park also has concession offerings for all others interested.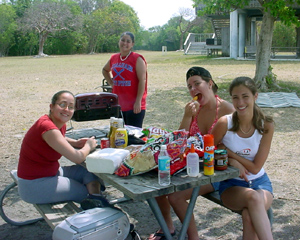 A group of students enjoy a picnic on Elliott Key.
At a flat rate the park's concessionaire takes a minimum of six people out with their daily scuba diving trip and drop them off at the island.
To the added pleasure of the campers, however, the drop off is usually after a three hour tour that is provided by the boat captains as a group of divers is exploring the ocean.
"We work on demand. We only go out to Elliott Key if we have campers," said concessionaire Don Jack.
The concessionaires, which make you fill out release forms and offer a free parking decal for overnight parking, try to help with the transport of people and equipment as much as possible.
"You can take as much equipment as you need. There are some limitations but we generally make the necessary accommodations. If it is absolutely necessary, we take a member of your group on a separate fishing boat and drop him off with the equipment."
The 49 passenger boat is equipped with 46 lifejackets, five fire extinguishers and two life rafts. The captain who is always accompanied by a mate warns, "If you see me jump, you should too. There's no captain going down with his ship on this boat."
Safety measures out on Elliott Key are also taken. A park ranger makes regular trips to and from the island to ensure that everything is in order. And, just in case, cell phones run out of charge or reception, there is a pay phone on the island.
"There's a resident ranger on the island. He may not be on duty for 24 hours, but he's there is an emergency should present itself," said Gonshor.
Once you get past setting up your campsite and making the necessary accommodations, plenty of time is left for you to sit back and relax.
"Since there's not much to do out here, it's the perfect opportunity for all of us to spend time together, get to know each other better," said Baluja. "We can play games, tell stories and forget about all test-taking, project-doing and college-living back at home."
The author tries fishing from the Elliott Key dock.
So, there's no ritzy hotel with a mint on your pillow and comfortable beds upon which to sleep.
Sure, there are no hot showers, no bellboys to carry your luggage, no nice restaurants. But the truth is you can do that anywhere, even back home.
Camping is a unique experience. It's an experience that should not be taken lightly, but should be tried at least once in your lifetime.
"Camping is an experience I will never forget, but also one I will never repeat. At least not at this time of year," said Triguero.
And camping at Elliott Key, though buzzing with mosquitoes, is like staying at the Fontainebleau of campsites.
What more could you ask for?
If You Go
Directions: To Convoy Point, location of the Visitor Center and the marina where the concessionaire takes you out to Elliott Key:
From North: From the Florida Turnpike: Take the Florida Turnpike south, to Exit 6 (Speedway Boulevard). Turn left from exit ramp and continue south to SW 328th Street (North Canal Drive). Turn left and continue to the end of the road. It is approximately five miles, and the entrance is on the left. From U.S. 1: Drive south to Homestead. Turn left on SW 328th Street (North Canal Drive), and continue to the end of the road. It is approximately nine miles, and the entrance is on the left.
From the South: From U.S. 1, drive north to Homestead. Turn right on SW 328th Street (North Canal Drive–first light after Florida Turnpike entrance), and continue to the end of the road. It is approximately nine miles, and the entrance is on the left.
Days and hours of operation: The Convoy Point complex is open from 7 a.m. to 5:30 p.m. daily (closed on Christmas Day) with the Visitor Center open from 8:30 p.m. to 5 p.m.
General Information / Cost of admission:
Individual campsites (up to two tents and/or six people): $10 per night
Group campsites (up to six tents and 25 people): $25 per night
Boat ride to Elliott Key: $24.95 + tax per person
Overnight docking: $15 per boat/per night
Holders of the Golden Age Passport or Golden Access Passport: Receive a 50 percent discount on camping and docking fees.
Contact Information: 305-230-7275 for Biscayne National Park and 305-230-1100 for concessionaire.
Lodging: Lodging accommodations on Elliott key must be provided by campers. This includes tents, sleeping bags, etc.
Food/Facilities: There is no food on the island. All meals must be planned for in advance and brought to the island by campers. It is recommended that campers bring enough food for an extra day in case of an emergency. There are bathrooms and freshwater showers on Elliott Key.
Souvenirs: Visitors can purchase souvenirs such as t-shirts, caps, books, etc. at the Biscayne National Park Visitor's Center. There are, however, no stores on Elliott Key.
Tours: Every first and third Sunday of the month an "Island Dreaming" tour is given by park rangers of Elliott Key.
Special upcoming events: Biscayne National Park hosts a number of activities such as Family Fun Fest, canoeing and kayaking, scuba diving and snorkeling trips, sunset cruises, glass-bottom boat trips, a history discovery series and various art exhibits throughout the year.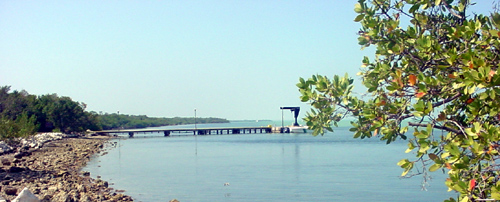 The dock at Elliott Key (Photo by Yenisse Alonso).