Concessions team brings improvements
HOMESTEAD, Fla. — There are some big changes happening at Biscayne National Park this autumn and they are evident to all who visit on this perfectly unpredictable Florida day.
Today, the sidewalks outside the Dante Fascell Visitor Center are being scrubbed within an inch of their life, downed foliage is being collected from around the parking lot and even the park's signs, salty from the nearby ocean are being rinsed to look shiny and new once again.
| | |
| --- | --- |
| | Concessions General Manager Gary Matthews in the Biscayne National Park Visitor Center's gift shop (Photo by Cali Madia). |
Walk up the Visitor Center's winding path and you'll find Gary Matthews, a boisterous and friendly man with an ambitious plan to raise the quality of the Biscayne National Park experience.
After years of remote managing, the park's concession is in the midst of a transition to a family business in which the owner and operator is also the on-site manager.
Though the skies indecisively alternate between foreboding and promising, the ocean air is crisp and refreshing and the wide-open spaces are welcomed. Even the drive to the park was scenic, the last four-mile stretch building anticipation with every seemingly untouched piece of land covered.
Less than an hour away from Florida's unnatural beauties on South Beach, Biscayne National Park's natural splendor is a far cry from Ocean Drive's gaudy flashing lights.
Boasting an impressive 172,000 acres, 95 percent of Biscayne National Park is underwater making access to a boat a crucial necessity in order to fully enjoy the park's enormity. The park is host to a lobster sanctuary, mangroves, undeveloped islands and coral reef and the aquatic portion of the park is open 24 hours a day.
The Visitor Center is tastefully designed with a marine life-themed entrance and picnic tables scatter the area. Today a couple sits at one overlooking the water, munching on snacks and playfully pushing each other around, stopping occasionally to take in the vast magnificence of the ocean and trees that surround them.
| | |
| --- | --- |
| University of Miami student Brandon Grom shows off his kayaking skills off of Convoy Point (Photo by Cali Madia). | |
The park is fairly empty, but Matthews hopes that soon that will change. Currently boasting a newly stocked gift shop of themed novelties as well as hot dogs, sandwiches, ice cream and other tasty goodies, Matthews is also adding wireless Internet access, a Starbucks machine and Nathan's Hotdogs in hopes to draw a local crowd for a scenic lunch.
Known to many as Gator Gary, the founder of AirboatUSA in the Everglades, Matthews is no stranger to South Florida National Parks and has been on many popular shows like Miami Vice, The Amazing Race and CSI Miami.
Having already established success in the Everglades, Gary Matthews and his son, Andy recently undertook a new project as the concessioners of Biscayne National Park, where Gary Matthews says enormous changes are being made.
Matthews, who is the new general manager of the once remotely managed concession said that there will be drastic improvements in the areas of personal service and reliability once his plans take hold. He vows to match the park's open and closed times and is adding a range of new services as well as a new approach for attracting local visitors.
Following a temporary hiatus during which new kayaks were purchased and existing boats were updated, starting Dec. 15, 2008, Biscayne National Underwater Park Inc. will be offering glass bottom boat adventures; Elliott Key, Boca Chita Key, Adams Key and finger channel excursions; and camping on Boca Chita and Elliott Key.
In addition to this, park ranger-hosted trips along the barrier islands and mangroves will also be available. While the concession previously offered many of these services, Matthews hopes to build upon the past products and take them to a whole new level.
| | |
| --- | --- |
| | Pippa Ellis and Cali Madia row their kayaks and search of manatees and crocodiles (Photo by Cali Madia). |
Matthews intends to add special charters for group scuba trips to his long list of services shortly after Dec. 15.
Improving upon previously offered services, purchasing newer and more modern state-of-the-art equipment and adding innovative ideas of his own, Matthews has an elaborate plan to bring Biscayne National Underwater Park Inc. to the high standards that he feels the park deserves.
The Biscayne National Park superintendent, assistant superintendent and staff have all gone out of their way to support the new management team and its future growth…[and they]…deserve the absolute best concession that can be developed," Matthews said.
A one-time airline captain, Matthews' devotion to the National Park Service is palpable. Though his most recent investment is anything-but-guaranteed in this current economy, he said, "it takes heart and soul, not just calculated risk." He says that he has two years to bring Biscayne National Underwater Park Inc. to where it needs to be.
And stopping at the gift shop, it's impossible not to cross your fingers for him. Constantly engaging in hospitable and chummy conversation, Matthews makes an effort to form a relationship with as many of his customers as possible.
| | |
| --- | --- |
| | A flock of wild birds flies over the bay near the Fascell Visitor Center, which is silhouetted in the background (Photo by Cali Madia). |
Matthews' goal is quite simply to have, he says, "…100 percent harmoniousness with the ecosystem and support the mission of the park service…[and] complete customer satisfaction."
Summing up his big hopes for Biscayne National Park, Matthews said he feels that the park is a "crown jewel lost in the sea and it's up to me to recover this jewel and to put it on display to the public."
| | |
| --- | --- |
| University of Miami students Pippa Ellis, author Cali Madia and Brandon Grom stand at Convoy Point after a hard row (Photo by Cali Madia). | |
If You Go
Things to Consider: The weather and the elements. Remember to pack a windbreaker and sunscreen if boating and don't forget bug spray during the summer months. Rain checks are issued as well as full refunds if weather does not permit a safe excursion.
Hours: Water Access: 24 hours a day. Dante Fascell Visitor Center: 9 a.m. to 5 p.m. Biscayne National Underwater Park Inc.: concessions are open from 9 a.m. to 5 p.m.
Address:  9700 SW 328 St, Homestead, Fla. 33033.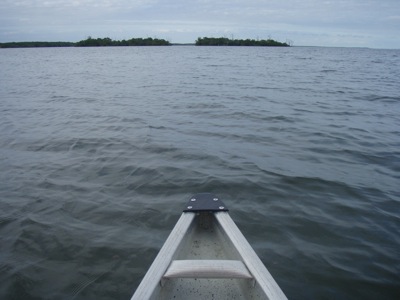 Directions:
From the North: Convoy Point can be reached from either the Florida Turnpike or from U.S. 1. From the Florida Turnpike: Take the Florida Turnpike south, to Exit 6 (Speedway Boulevard). Turn left from exit ramp and continue south to SW 328th Street (North Canal Drive). Turn left and continue to the end of the road. It is approximately five miles and the entrance is on the left.
From U.S. 1: Drive south to Homestead. Turn left on SW 328th Street (North Canal Drive), and continue to the end of the road. It is approximately nine miles, and the entrance is on the left.
From the South: Traveling on U.S. 1 (Overseas Highway), drive north to Homestead. Turn right on SW 328th Street (North Canal Drive — first light after Florida Turnpike entrance), and continue to the end of the road. The entrance is approximately nine miles on the left.
Websites:  Biscayne National Underwater Park, Inc. – http://www.biscayneunderwater.com, Biscayne National Park Service Site – http://www.nps.gov/bisc.
Telephone: Biscayne National Underwater Park, Inc. – 305-230-1100, Biscayne National Park Visitor Services – 305-230-7275.