Treasure trove of wonders await snorkelers
HOMESTEAD, Fla. — Surrounded by 95 percent pristine, sapphire water, Biscayne National Park is the ideal destination for local and international visitors looking to get up close and personal with more than the run-of-the-mill coral reef, sea turtle, blue parrotfish and dolphin.
"I just want to see what's under the surface with my own eyes instead of relying on pictures," said first-time snorkeler Elizabeth Salgueiro.
Her boyfriend, Avi Grshon, had different reasons for going underwater.
| | | |
| --- | --- | --- |
| | | Snorkelers can explore Biscayne Bay's many reefs along with ship wreckages and diverse marine life (Photo courtesy of Biscayne National Park). |
"It's all about facing my fear," he said through clenched teeth as he shivered.
Snorkelers embark on the three-hour tour from the Dante Fascell Visitor Center, whose architecture is modeled after the "House of Refuge," which housed shipwrecked sailors on Miami Beach.
Here, excited and slightly nervous thrill-seekers are given a brief, 15-minute orientation, half an hour prior to boarding the Reef Rover IV.
The Reef Rover's captain, Jim Barlett, said the trip never loses its novelty, regardless of whether he's taking out inexperienced or professional snorkelers.
"This job is like having a day off with pay. You can't beat being in a boat for a living."
| | | |
| --- | --- | --- |
| At right, the Mandalay is one of six shipwrecks that can be found underwater as part of Biscayne's Maritime Trail (Photo courtesy of Biscayne National Park). Next below, Biscayne National Park's Reef Rover IV takes snorkelers out on dives on a daily basis (Photo by Diana Jordan). Last, the porkfish is one of many kinds of fish that can be found roaming Biscayne's waters (Photo courtesy of Biscayne National Park). | | |
Equally enthusiastic about his profession is Biscayne Interpretive Ranger Gary Bremen, who says just one day underwater can lead to unforgettable sights.
If snorkelers are lucky, they'll catch a glimpse of some of the most interesting marine creatures that call Biscayne's waters home … such as the mangrove rivulus, which has both male and female organs."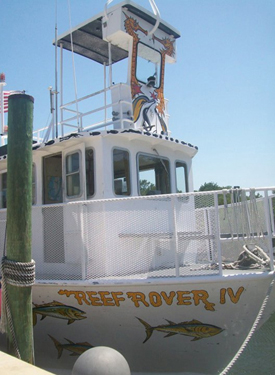 But according to Bremen, the most interesting underwater inhabitant is the bluehead wrasse.
At first glance, this small black and blue fish can be mistaken for any other passing creature, except it is one of the few in the animal kingdom that can not only change its colors, but also its gender in order to claim authority over its group.
Other interesting finds have been discovered along the park's shore and in its waters.
One article, which still sits atop Bremen's desk after five years, is a set of interlocking voodoo dolls that were found by the ranger one Sunday morning in a suspiciously wrapped container.
After investigating the dolls, which were soaked in honey and tied with a red ribbon, Bremen found they had been thrown into the Atlantic in the hopes of finding true love.
While out in the water, a few lucky snorkelers and hopeless romantics might even come across a love letter, or message in a bottle, which are not as uncommon as visitors may think.
Whether you're looking to solve romantic mysteries or explore gender-defying fish, Biscayne's waters cater to anyone looking for a unique experience.
In recent years, adventure-seekers have also sought underwater wreckages such as the Mandalay shipwreck, according to Bremen.
Since 1966, the Mandalay shipwreck has been a main attraction for snorkelers, who can see the wrecks from a distance, and scuba divers hoping to catch a glimpse of the impressive ship. The Mandalay is a part of Biscayne's Maritime Trail, the only underwater archeological trail in the National Park Service system, which is composed of wrecks that occurred over the course of a century including the Lugano, Alicia, Erl King and Arratoon Apcar.
Students from the University of California at Los Angeles chose this snorkeling adventure over other typical South Florida spring break activities.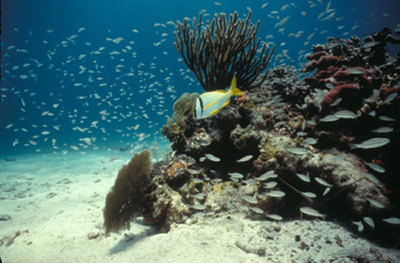 "We heard this was one of the best places in Miami to go snorkeling, so we picked this instead of a day at South Beach," said Benny Yan, a UCLA physics major.
His travel and snorkeling companion, Sean Ren, a UCLA biology major, found the dive to be the epitome of spring break.
"It's different and interesting, especially for me, and it's relaxing-the perfect spring break ingredients."
If You Go
Snorkeling trips are $38 for adults and $30 for children 12 and under.
Reservations are recommended and can be made by calling the park visitor center at 305-230-1100.
The center is located at 9710 SW 328 St. Homestead, FL and can be found off of exit 6 for SW 137 Avenue on the South Florida Turnpike. Turn left onto SW 328 Street. Destination will be on the right.
Hours of operation are 9 a.m. – 5:30 p.m. daily
The three-hour snorkeling trips leave at 1:30 p.m. every day, weather permitting. Call ahead for reservations and weather information.