Near islands, Ventura offers many gems
VENTURA, Calif. – – – From its shops to its eateries, Main Street in Downtown Ventura is speckled with hidden finds.
"I've lived here for almost 25 years," said Ventura resident Diane Creeley.  "I've never been to a more genuine town, and honestly, I hate to even leave it."
Early Californian relics permeate the downtown area of Ventura.  Historic homes, boutiques and restaurants adorn the palm tree-lined road of Main Street.
| | | |
| --- | --- | --- |
| | | Click on the video at left to view a slide show about Main Street and Downtown Ventura, Calif., photographed and prepared by writer Alicia Abalo. |
What sets Ventura apart from other old-fashioned towns are its unique merchants, one-of-a-kind dining experiences, and overall friendly demeanor of its residents.  Downtown Ventura embraces all things eclectic while still preserving real California heritage.
In the early 1950s, Downtown Ventura was a major hub of life and activity, with a booming oil industry and a thriving retail market.  Locals and tourists alike couldn't get enough of the town's vintage essence, but commercial big names took advantage of its popularity, invading the pristine streets with brands and chains.
"The little guys are definitely making a comeback," said Anna Johnson, manager of Luxe Emporium, a French boutique in the heart of Downtown Ventura.  "Downtown has been trying to restore itself for 30 years."
| | | |
| --- | --- | --- |
| At right, Ventura residents Selina Granger and Diane Creeley enjoy a bottle of pinot grigio at Paradise Pantry. Below, We Olive's well-educated staff offers samples of biscuits and cookies that are made using olive oil instead of butter (Photos by Alicia Abalo). | | |
With its antique chandeliers, pink and white striped walls, and affordable price tags, Luxe Emporium is proof that Downtown Ventura is going back to its roots.
There are many shops along Main Street that, like Luxe Emporium, are devoid of meddling by corporate America.  Neighboring the French boutique is Le Monde Emporium, a classic clothing shop with a contemporary edge.
"I try to provide the types of clothing that I would like to wear, at prices I can afford!" said Le Monde owner Sandi Hood.  "At the end of the day, it's not about making money.  It's about being proud of what you put out there."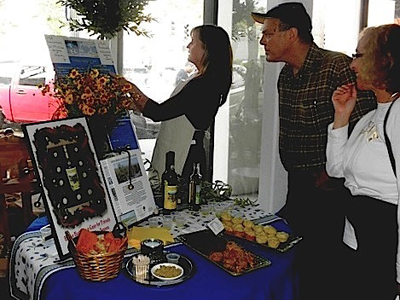 The stores on Main Street aren't exclusive to vintage clothing. Niche markets like the all-British import shop Rosie Lee Imports and the small Californian chain We Olive have found homes in Downtown Ventura.
With only eight locations in the world, WeOlive chose Main Street to be one of its few locales.
WeOlive is a gourmet market that provides fresh and delicious olive oils to its consumers while also educating them about the "benefits of the olive."
Their collection ranges from standard extra-virgin oils to exotic flavors like blood orange and lavender.
"You can really make anything you want with olive oil, and it will probably be even more delicious than before," said Steve Tobey, owner of Ventura's branch of We Olive.  "You can try anything and everything before you buy it here; no one walks out of here empty-handed."
The shop offers a complimentary tasting bar where dozens of olive oils and balsamic vinegars are available for sampling.  Aside from olive oil, We Olive also sells  tasty tapenades, mustards, and chutneys that are laid out on round tables throughout the store, accompanied by bread and toothpicks for convenient sampling.
Tasting seems to be a popular theme in Downtown Ventura as Main Street is also the site of numerous wine shops.  The Westside Cellar provides intimate fine dining, gourmet cheese, and live music on Sundays.  Wednesdays and Saturdays are host to wine tastings, offering more than 300 wines from which to choose.
For those seeking a more casual setting, Paradise Pantry specializes in family wineries and has tastings nearly every day of the week.  In addition to its wines and cheeses, the shop is stocked with handcrafted chocolates, stuffed olives, and cured meats.
| | | |
| --- | --- | --- |
| | | At left, Le Monde Emporium offers chic and affordable clothing for women. Below, the Anacapa Brewing Co., is Ventura's only restaurant and brewery, serving fresh ales and lagers. |
"This place feels like I'm at home, only with a much better wine rack!" said Selina Granger, a Ventura resident and Paradise Pantry regular.
For those who prefer their barley over grapes, Main Street's Anacapa Brewing Co. serves "hand-crafted" ales and lagers created by its head brewer Adam Ball.
Along with homemade beers, Ventura's only restaurant/brewery or "brewpub" has a reputation for savory menu and top-notch service.
"The waiters and bartenders are always very friendly," said Anacapa Brewing enthusiast Raoul Gerge. "I usually order the chicken sandwich, but I tried the filet medallions tonight and the mushroom chipotle sauce was insanely good."
Great eats are easy to find along Main Street, which offers something for everyone.  Tipps Thai Cuisine is heralded by locals as the best Thai food on the West Coast; the Viking Drive-Inn offers fried foods in record time; the Andres Savory Café has simple but delicious European cuisine, and Blenders in the Grass provides inexpensive but nutritious smoothies and fruit juices.
With its shops, bars, and restaurants, Downtown Ventura is a stop that would benefit any passing traveler.  Although modest on its surface, true reward is found in discovering what lies beneath.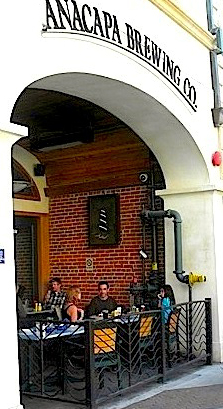 "I moved here in the '80s," Granger said.  "Two decades later, my husband and I are still wandering around like tourists!"
If You Go
Where: East Main Street, Ventura, Calif., 93001, is located about 50 miles northwest of Los Angeles
Description: Casual, palm-lined streets, Victorian houses, and 19th century architecture painted in pale pastels
Where to Stop:
Luxe Emporium – 40 E. Main St., 805-643-LUXE (5893), http://www.lux-emporium.com
Le Monde Emporium – 542 E. Main St., 805-648-7463
Rosie Lee Imports Inc – 673 E. Main St., 805-643-5832, http://www.rosieleeimports.com
We Olive – 294 E. Main St., 805-648-6166, http://www.weolive.com
The Westside Cellar – 222 E. Main St., 805-641-3500, http://www.westsidecellar.com
Paradise Pantry – 677 E. Main St., 805-641-9440, http://www.paradisepantry.com
Anacapa Brewing Co. – 472 E. Main St., 805-643-2337, http://www.anacapabrewing.com
Parking: More than 2,900 free parking spaces in 14 off-street parking lots and along the bordering streets of Thompson Boulevard, Poll Street, and Santa Clara Street.