Fascell Visitor Center steals park's spotlight
HOMESTEAD, Fla. — Animals, plant life and outdoor activities such as snorkeling, canoeing and hiking have long been synonymous with national parks.
What few people consider, however, is the attraction that is frequented by the greatest number of visitors, rain or shine, winter or spring: its visitor centers.
Biscayne National Park's Dante Fascell Visitor Center is no exception, given it sees thousands of guests of all ages who enter and explore the wide range of activities and exhibits on display year round.
| | | |
| --- | --- | --- |
| Click on the video at the right to view a slideshow photographed and narrated by writer Diana Jordan. | | |
"There are always people here checking out the center, especially kids who really love the interactive aspect," said Biscayne's Interpretative Ranger Gary Bremen.
The center is the first stop for most visitors as they enter the park's grounds on the shore of Biscayne Bay. Although its purpose is mainly to guide guests and help them plan their day at the park, this hardly ends up being the case, according to Bremen.
"We see visitors spend a good amount of time here before they head out to the park. It sometimes becomes a large part of their day," he said.
As you sit on the second floor's rocking chairs and look out to the breathtaking bay and walk into the newly renovated museum, it's easy to see why.
This interactive museum offers visitors a glimpse of the park's four ecosystems using lifelike exhibits of animals and plant life that can be found throughout the park. Those that can be found underwater are even displayed beneath painted waves so children in particular can explore and get up close to the marine life that would otherwise be inaccessible to them.
| | | |
| --- | --- | --- |
| | | Life-like exhibits in the Fascell Visitor Center, such as this jellyfish, help children understand the park's marine life (Photos by Diana Jordan). |
Made with painstaking detail, these exhibits can make anyone feel like they've gone snorkeling as they pass fish, crabs and stingrays in their natural habitats.
After exploring the museum, visitors can head over to the center's auditorium where they can see the 11-minute feature film, "Spectrum of Life," highlighting the different animals and wildlife that reside at Biscayne.
"The film gives visitors a better idea of nature and wildlife and what they may want to see while at the park," said Bremen.
Along with a museum and feature film, the center also caters to art-lovers with its gallery, which opened in 2002, and has featured paintings, sculptures and photography taken by local artists inspired by Biscayne's natural beauty.
| | | |
| --- | --- | --- |
| This breathtaking view is enjoyed by guests as they sit atop the Visitor Center's covered porch on the second floor. | | |
"This is some of the best still-life photography I've seen in a while," said Miguel Lomo, a Miami Beach resident.
Photographer Thomas M. Strom's exhibit, Biscayne: Revealed, is currently on display. The exhibit runs from March 4 to June 5 and is a part of the park's Community Artist Program that began in 1997.
While parents admire the center's gallery, children can also enjoy what the park has to offer in a very hands-on way at the Touch Table, one of the most popular exhibits. Here, anything and everything is literally up for grabs as visitors can pick up and take photos with bones and corals among other artifacts.
But no younger guest's visit to the center would be complete without being sworn under oath as a Biscayne National Park junior ranger.
"This is awesome," exclaimed Matthew Garcia, 9, as he raised his hand to take the junior ranger's oath to protect the park and its wildlife as his mother Mayra Garcia, of Miami Lakes, snapped pictures.
| | | |
| --- | --- | --- |
| | | At left, along with exhibits, the Visitor Center's museum offers guests descriptions of the park's diverse ecosystems in various languages for all visitors to enjoy. Below, at first glance, guests will think they've dived underwater as they pass these fish that call Biscayne Bay home. |
"He's always loved animals and being outdoors. I don't know why we hadn't brought him sooner," she said.
Matthew was so impressed he said he'd love to have his birthday party at the museum next year.
In honor of National Park Week in 2011, Biscayne will celebrate Junior Ranger Day on April 23, which will allow young guests selected through an application process to work on their badge requirements by completing activities throughout the park in the morning and finish the day with a free snorkeling trip with a ranger.
On their way out, guests can browse through the gift shop, which offers everything from sweet treats to novels to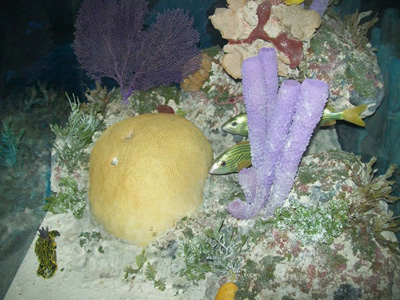 photography books. There is also an adjacent store where they can find park necessities such as sunscreen, souvenirs and food as well as book snorkeling trips and reserve the park's beautiful picnic facility or classroom for school groups.
"This center is something else, but my favorite part has to be this gift shop," said Lomo, who admitted he never leaves empty-handed.
After spending time at the visitor center, however, each guest will leave with something different, especially young rangers like Matthew.

If You Go
The Dante Fascell Visitor Center is located at 9710 SW 328 St., Homestead, Fla.
To get to the park visitor center, take exit 6 for SW 137 Avenue on the South Florida Turnpike. Turn left onto SW 328 Street. Destination will be on the right.
Hours of operation are 9 a.m. – 5:30 p.m. daily.
There is no admission fee.